3 elliptical machine workouts for every fitness level
You don't need long to break a sweat, burn calories and tone up - try one of these elliptical machine workouts instead…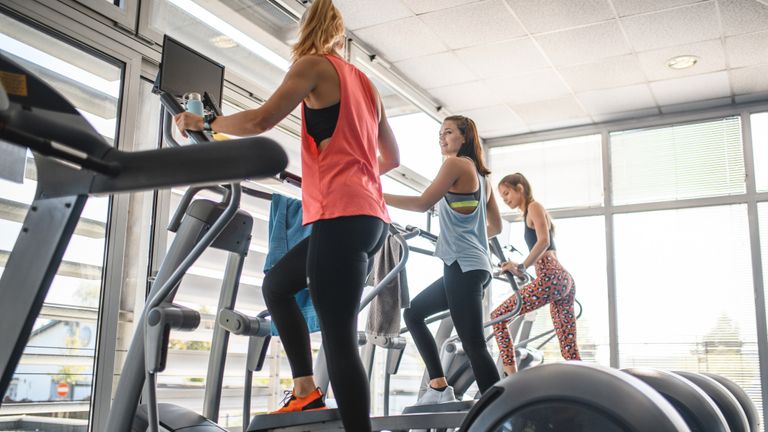 (Image credit: Getty Images)
It's all arms and legs, the ol' elliptical machine (or cross trainer, as they're also known). We see it, we ponder for a moment and then we swerve it. Is it the thought of losing coordination? Or just that we don't know what we're doing?
Well, fun fact; the elliptical (or cross trainer) is actually a great exercise to get the whole body moving for gym newbies and experienced gym goers.
And if you're looking for the best elliptical machine workouts to make the most of your time on the trainer, we're here to help.
Personal trainer Paul Humphries explains that the cross trainer is a great low-impact, high-energy cardiovascular machine, that uses both the lower and upper body while maintaining a strong core. Sounds like the dream machine, right?
Paul adds, 'Unlike treadmills, where the machine works you, cross trainers need plenty of energy just to get them started but once you get going, you can spend a long time on one, while burning a lot of calories.'
Ready to get going? First, a word on form and key terms - and then try one of Paul's killer workouts, tailored to all fitness levels…
How to use an elliptical machine
Before you start, be sure to get your form right. 'To start, press one foot on the lowest of the pedals while placing your hands on the handles,' advises Paul. 'Once you're comfy and stable, move the other foot onto the second pedal, push one of the handles forward and move the pedals in a forward circular motion.
'The correct motion should look and feel similar to a cross-country skier. The set of handles in the centre of the machine are great if you want to give your shoulders a rest or focus the workout on the legs. Oh, and keep your core tight throughout.
Elliptical machine lingo explained
Increasing gradient: This increases height of the front of the machine, thus increasing the amount you have to lift your knees, and therefore increasing energy output.
Higher resistance: This means more tension within the machine and the belt that it works on, making the machine a lot harder to move, making you push harder with both legs and arms.
Beginners' elliptical machine workout
If you're a cross trainer newbie, stay at a constant intensity throughout the following workout…

5 mins: Start on a 2.5 gradient with resistance on 5

5 mins: Up the gradient to 5 and the resistance up to 10

5 mins: Drop back to a 2.5 gradient and 5 resistance

5 mins: Increase the gradient again to 5 and resistance to 10. And you're done!
Intermediate elliptical machine workout
If your fitness levels are decent, keep the intensity high throughout this workout. It should feel HARD.
2 mins: Start with gradient and resistance both on 5
1.5 mins: Up the gradient to 7.5 and the resistance to 10
1.5 mins: Now drop the gradient to 2.5 and the resistance to 5
Repeat four times - and feel the burn!
Advanced elliptical machine workout
3 mins: Start with gradient on 2.5 and resistance on 5

2.5 mins: Up the gradient to 5 and resistance to 7.5 increase your intensity
2 mins: Continue at same intensity with a gradient of 7.5 and resistance on 10
1.5 mins: On a gradient of 10 and a resistance of 15, go as hard and fast as you can.
1 min: Placing hands in to the middle, lower gradient to 2.5 and resistance to 7.5. Go as hard as possible. Repeat 2 times. Well done!
Lucy is Head of Wellness at Pure Sport and was formerly Health and Fitness Editor at various women's magazines, including Woman&Home Feel Good You. She has previously written for titles including Now, Look and Cosmopolitan. She lives and breathes all things fitness; she works out every morning, and mixes it up with runs, weights, boxing and endless box jumps. She is also a Level 3 personal trainer and teaches classes at various London studios, primarily Digme Fitness. Lucy is pre- and post-natal trained and helps new mums get back into fitness after the birth of their baby. Lucy claims that good sleep, plenty of food and a healthy gut (seriously, it's an obsession) are the key to maintaining energy and exercising efficiently. Saying this, she's partial to the odd Negroni on the dance floor with her friends.