A healthy fry-up? It's possible! Here's how...
Always thought a full English breakfast was bad for you? Think again with our healthy twist on the classic…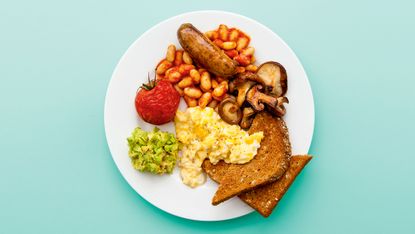 (Image credit: Chris Alack)
If you're wondering how to eat healthy whilst still enjoying the occasional Full English breakfast, we're here to help. Because a healthy fry-up IS possible – you just need to know the elements to keep and which to ditch.
Even better, a health-friendly fry-up can even give you body benefits.
Here's what to pile onto your plate for the ultimate healthy breakfast fry-up…
Baked tomatoes for antioxidants
Tomatoes are packed with vitamins A and C, potassium and folic acid. They also contain high levels of antioxidants including lycopene, which can help prevent heart disease.
Avocado for friendly fats
Avocados might contain fats, but the good news is they're the heart-friendly monounsaturated variety, which can help combat inflammation. They're also a rich source of vitamins B6 and C – great for balancing hormones in women, keeping bones strong and helping to fight off infections. Just be sure not to go overboard – try half an avocado cut into slices, or mashed up for a healthy condiment.
Eggs for protein
Always thought eggs were bad for cholesterol? Researchers at Peking University found that one egg a day can significantly reduce the risk of cardiovascular disease compared to eating no eggs at all. Plus, protein can help boost energy and promote weight loss. One egg contains 6g, along with choline (essential for a healthy brain and liver), omega-3 fatty acids and vitamins B12 and D.
Granary bread for guilt-free grains
Bread has essential fibre, vitamins and minerals and more than 10% of your RDA of zinc, magnesium and protein. Eating 3 slices of wholegrain bread a day can reduce your risk of heart disease by 22%, according to a 2016 study by Imperial College London.
Mushrooms for essential vitamins
The only natural vegan source of vitamin D from food, blood-pressure lowering mushrooms are full of B vitamins and high levels of iron-absorbing copper and selenium – key for a healthy immune system. For your healthy eating fry-up, lightly fry a handful of shiitake mushrooms, which have high immune-boosting properties.
Venison sausages for a lean alternative
Switch out pork sausages – which can be high in fat, salt and nitrates – for venison. It's packed with protein and iron, but low in calories and fat. Eaten in moderation, it has naturally occurring linoleic acid, thought to support a healthy heart. To help keep things lean, limit yourself to one grilled sausage.
Cannellini beans to curb cholesterol
Cannellini beans have a low glycemic index, meaning they release energy gradually. They're also rich in fibre, which is helps lower cholesterol. Try mixing three tablespoons of cooked cannellini with tomato paste, a little vegetable stock and a pinch of turmeric.
Launched in 2020, Fit&Well.com is all about helping you meet your health and fitness goals in ways that are fun and achievable. With news and features on fitness, weight loss, running, nutrition, yoga, wellness and more, we're committed to helping you wherever you are on your fitness journey. We break down the best fitness tech, with reviews, buying guides and the latest deals on fitness and wellness kit, from dumbbells to diffusers.
We cater for all difficulty levels here. It doesn't matter if you're a beginner in the world of fitness or you're gearing up for your tenth marathon: we're all moving towards the same goal – creating a healthier, happier you. From guides on getting started doing walks around the block, to creating the perfect work-from-home space, to eating to fuel your first triathlon. It's all here.