The benefits of cycling explained — plus how to get started if you're a complete beginner
Cycling is to play a key role in the UK government's bid to help the nation lose weight - here's why, along with how to get going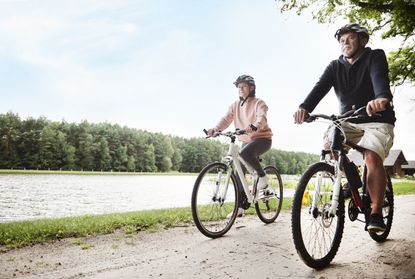 (Image credit: Getty Images)
The benefits of cycling are in the spotlight right now after plans to prescribe the exercise as part of the UK government's response to coronavirus were announced.
Boris Johnson revealed his Better Health strategy on Monday morning (27 July), which aims at cutting levels of obesity nationally.
Plans to help people lose weight over 12 weeks will include GPs prescribing cycling as a way to lose weight, with surgeries providing access to bikes and ministers pledging to improve cycling infrastructure such as separate cycle lanes, traffic-controlled areas and increased cycle parking.
The initiative was announced following a Public Health England report warned that being obese or excessively overweight puts people at greater risk of serious illness or death from Covid-19.
Of course, the benefits of cycling have long been known - and not just from the obvious physical and mental health perspective. Cycling also brings with it environmental and social benefits, as we outline below - along with tips from an Olympic cyclist Lizzie Deignan on how to get started...
Physical benefits of cycling
Cycling is amazing for our bodies – it can control weight, help tone us 
up, reduce joint inflammation and improve lung health. 'It can 
also drastically 
reduce the risk of
heart disease and 
cancer,' says Jonathan Williams, Director of Urban Fitness London.
 'And it helps lower blood pressure, reduce resting heart rate and aids in general muscle strengthening.'
Mental health benefits of cycling
'Being outdoors releases endorphins or happiness hormones,' explains Jonathan. 'Not only are you starting to look better, but your brain is also getting a fix of agility training with navigating, spatial awareness and decision-making.'
Environmental benefits of cycling
David Attenborough already inspired you to ditch plastic? Don't stop there – carry on saving your planet by hopping on your two-wheeler.
'Cycling is free and, compared 
to a vehicle that runs on petrol or diesel, burns only your fat!' says Jonathan.
And, with social-distancing measures and mandatory face masks in place on public transport, cycling is not only a greener option but also a more pleasant one right now.
Social benefits of cycling
Putting your headphones in and hitting the treadmill isn't exactly sociable. 'Cycling is an amazingly social pastime, and if you cast your eye over your local groups pages on social media, you will discover a myriad of cycling groups and clubs which cater for a range of cycling styles and abilities.'
How to get started: an expert guide
If there's anyone who knows the benefits of cycling inside-out, it's World, Commonwealth and National Champion cyclist Lizzie Deignan (née Armitstead, pictured).
Lizzie took up cycling at the age of 15 after the British Olympic cycling team visited her school. She has since gone on to win a silver Olympic medal at London 2012, in addition to a host of other titles. Here she lifts the lid on biking basics for anyone considering taking up cycling…
Buying a bike
'You can get a basic bike at Halfords for £300 or you can get one for £10k,' says Lizzie. 'Don't be put off by the £10k one! You can start off on a cheaper bike.'
What to wear
'It's important that cycling clothes are tight, even if they feel uncomfortable at first. Cycling shorts should have bum padding to avoid saddle pain,' says Lizzie.
As for footwear, start with trainers and then move on to cycling shoes. She explains: 'You don't need expensive ones, but it's a good idea to ride on grass and practice clipping in and out before
 you go on the road.'
Avoiding cycling chafing
To reduce chafing, don't wear pants underneath your cycling shorts. 'It's the worst thing you can do,' says Lizzie.
Fuelling your rides
Fuel yourself up properly before a long ride. 'Before 
I cycle I have porridge with milk, bananas and berries,' says Lizzie, adding: 'Afterwards, I eat protein and carbs, such as an egg on toast.'
Training for cycling
'If you want to get faster but don't have 
much time,
 spin classes will make the 
most of a short
 amount of time,' Lizzie reveals. 'An hour 
on the road is less intensive than an hour on a spin bike, but there are other factors to deal with outside such as weather, balance and traffic.'
Liked this?
Get the Fit&Well Newsletter
Start your week with achievable workout ideas, health tips and wellbeing advice in your inbox.
Lucy is a freelance journalist specializing in health, fitness and lifestyle. She was previously the Health and Fitness Editor across various women's magazines, including Woman&Home, Woman and Woman's Own as well as Editor of Feel Good You. She has also previously written for titles including Now, Look, Cosmopolitan, GQ, Red and The Sun.
She lives and breathes all things fitness; working out every morning with a mix of running, weights, boxing and long walks. Lucy is a Level 3 personal trainer and teaches classes at various London studios. Plus, she's pre- and post-natal trained and helps new mums get back into fitness after the birth of their baby. Lucy claims that good sleep, plenty of food and a healthy gut (seriously, it's an obsession) are the key to maintaining energy and exercising efficiently. Saying this, she's partial to many classes of champagne and tequila on the rocks whilst out with her friends.