Fitbit Versa deals: Great offers on Fitbit's top multi-model smartwatch range
Get Fitbit Versa 3, Versa 2 and Versa Lite – the ultimate fitness watch for style and features - at the best price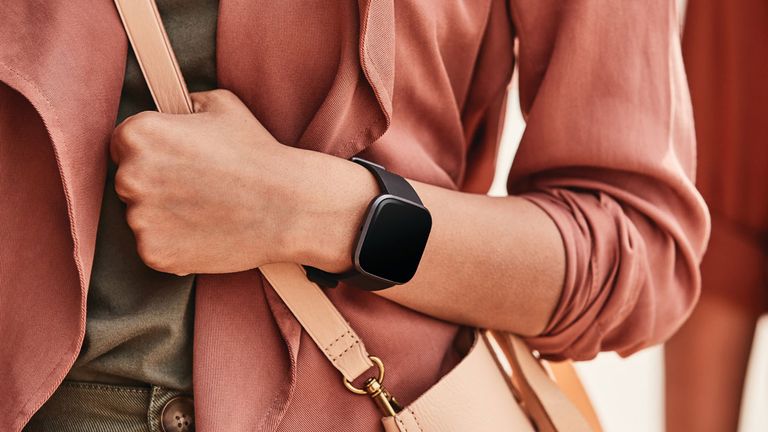 (Image credit: Fitbit)
By Rob Clymo published
Fitbit Versa 3 was officially released late last year, to much excitement - and with good reason.
Along with the revolutionary Fitbit Sense, the Versa 3 incorporates even more buffed-up fitness tracking features like Fitbit's PurePulse 2.0 heart rate tracking technology, and an in-built microphone and speaker to take and receive calls like Buzz Lightyear.
So if you're looking for the best Fitbit deals, the Versa 3 should be on your list of considerations.
However, now the Versa 3 has been unveiled, you'll be able to find yourself the best cheap Fitbit Versa 2 deal, of which there are sure to be many, and enjoy all of its varied features and functions for less. This stylish fitness smartwatch is a great aid to getting in shape, and with the best Versa deals to hand, you needn't sweat over the price.
If the Fitbit Charge 4 – or Alta HR, perhaps – is the best Fitbit for those who like a discreet band, the Versa 2 is the ultimate choice for those who want something more like an Apple Watch, with a bright display, support for contactless payments, notifications and more joining the usual fine Fitbit fitness features. That was too many F's, sorry.
Whilst we're primarily looking at Fitbit Versa 2 deals here, it's also worth considering the Fitbit Versa 2 Special Edition – the same thing with a nicer strap – or the Fitbit Lite, which is a scaled down version that is always cheaper and can sometimes be found at a very low price.
It might even be worth considering a cheap Versa deal – i.e. the original version of this watch – if the price is low enough.
Fitbit Versa deals at major retailers
All Fitbit Versa 2 deals
The Fitbit Versa 2 does a brilliant job of combining health and fitness tracking with great design. That alone makes the Versa 2 incredibly appealing, but when you see the features and functions it offers then a deal on this device makes it seem even harder to resist.
There's a built-in voice assistant, round-the-clock heart rate tracking, in-depth sleep monitoring, smart notifications and enough integrated memory for playing back music via Spotify or by adding Deezer playlists.
Smartphone notifications are handy, the on-screen workouts rock, while real-time pace and distance tracking using your phone's GPS gives you pinpoint data accuracy. Although please note that unlike Charge 4, there is no GPS actually built in to the Versa 2.
SmartTrack lets you automatically record your preferred sporting activities and when you're done for the day there's a complete suite of sleep tracking tools along with scores for better understanding of your rhythms.
You can also use Fitbit Pay to buy water, energy drinks or coffee on the go, so long as you have a card from one of the quite small number of supported banks.
Add on the battery life of over 4 days – way better than any Apple Watch – and you've got a real gem. Being able to track your activity, listen to music and also text, all day every day is ideal. The fab exterior styling is merely the icing on the cake. Yup, the Fit bit Versa 2 is tech to wear anytime and anywhere, not just for working out.
Fitbit Versa 2 Special Edition deals
Track down a best deal on the Fitbit Versa 2 Special Edition and you'll enter into a slightly different fitness tracking smartwatch arena.
While the regular editions of the Fitbit Versa feature enough ergonomically-friendly eye-candy as is, the Special Edition oozes even more style. The main cosmetic difference is what goes around your wrist, with a strap that can be chosen to compliment your preferred casing colour.
Other than that, it's all the usual Versa 2 goodness, with built-in Amazon Alexa voice control, the ability to take a deep dive into your sleep patterns, 24/7 heart tracking, intense music management via Spotify and Deezer playlists with the capacity for 300 or so tunes on your wrist.
Lookout too for notifications for calls, texts and social media nods, while the exercise statistics provided by the Fitbit Versa Special Edition are just as detailed as the other models too.
With over 4 days of battery life, plus the added bonus of being just that little bit more tantalizing to look at and you've got one very cool package indeed.
Fitbit Versa Lite deals
Want to spend a little less on your Fitbit? Head for the best deals on the Fitbit Versa Lite Edition in that case. Less money doesn't necessarily mean a leaner array of features mind.
In fact, it's got oodles of great stuff, including a built-in NFC chip for making contactless payments, Bluetooth and over 4 days of battery life.
Activity monitoring covers step tracking, heart rate, distance, calories burned, active minutes plus hourly activity and stationary time.
It's waterproof to 50 metres making the Versa Lite ideal for the pool or running in the rain while the on-board apps include the likes of fitness, obvs., sport, news, travel and transport, just in case you decide to get the bus home.
Smart Track lets you keep tabs on your preferred exercises, the sleep tracking covers all types of shut-eye monitoring and you can also drill down into your cardio fitness levels and create a personalised score.
Yes indeedy, if you love your data then being able to sync your stats wirelessly to the likes of iOS, Android and Windows tech is a real boon.
And, in the same way as other models, you can customise the Fitbit Versa Lite with different bands and bracelets. The clock face can be personalised too.
Fitbit Versa deals (original version)
This model has been discontinued but you may still find it going cheap online. If it's not significantly lower in price, we suggest you stick to the options above, but the original Versa is not a bad watch as such, although it lacks a few features, including Alexa and Fitbit Pay, and looks a bit plainer – the screen is noticeably more dowdy.
The rest of today's best Fitbit prices
Tech expert Rob Clymo covers multiple bases when it comes to both reviewing and staying in shape, tackling everything from cars and bikes to coffee machines, as well as the latest fitness kit. Keen cyclist Rob can often be found working out, usually by manhandling very large kitchen appliances in and out of the house for testing purposes – one notorious incident saw his plasterwork damaged by LG's weighty and steam-powered 'smart wardrobe', the Styler.