The 10 best yoga YouTube channels to practice at home for free
Classes can be expensive, but with these yoga YouTube channels, you get all the benefits without breaking the bank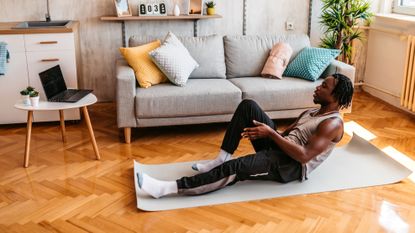 (Image credit: Getty Images)
Get the Fit&Well Newsletter
Start your week with achievable workout ideas, health tips and wellbeing advice in your inbox.
Thank you for signing up to Fit And Well. You will receive a verification email shortly.
There was a problem. Please refresh the page and try again.
Yoga is a great way to look after your body and mind. A regular practice can improve flexibility and cardiovascular health, and reduce pain, stress, and anxiety. But if you're on a budget or pushed for time, the best yoga YouTube channels can help.
While yoga can be practiced anywhere, a growing number of people are using YouTube for free high-quality classes to do at home. All you need is one of the best yoga mats, something comfortable to wear, and an internet connection.
There are more than 2,000 yoga channels on YouTube, featuring millions of videos, so it is hard knowing where to start, and who to trust with your time. To help you out, we've rounded up the best yoga YouTube channels to practice at home.
1. Yoga with Adrienne
Adriene Mishler is a YouTube sensation with more than 12 million subscribers to Yoga with Adrienne, often considered the best yoga YouTube channel, which features a range of easy-to-follow videos and 30-day challenges to help make your yoga practice a daily habit.
Her tone is warm, friendly, and accessible, and her mantra of "find what feels good" invites you to move in a way that suits you. With videos of many lengths—including yoga for beginners, morning yoga, yoga for back pain, and short yoga classes for busy people—it's easy to find one that suits.
2. Yoga with Tim
Tim Senesi is a California-based yoga teacher, and one of the first people to set up a YouTube yoga channel to supplement his in-person classes. His Yoga with Tim channel has more than 300,000 subscribers and a library of over 450 classes.
Those classes feature a focus on clear alignment and posture cues so you can understand poses, while getting a great full-body workout. Try one of his 30-day challenges or vinyasa flow classes to energize while you stretch.
3. Yoga with Kassandra
Yin yoga (a slow form of yoga, where poses are held for a long time to allow the connective tissues to relax) is the focus of Kassandra Reinhardt's Yoga with Kassandra sessions, though she also teaches vinyasa yoga (an energetic style where poses flow together and are linked by the breath).
All forms of yoga work well at home, but restorative styles, like yin, are particularly good as you can follow along by listening and then roll straight into bed afterwards. Reinhardt posts new videos every week—her growing library now has more than 800 videos regularly watched by her 2.2 million subscribers.
4. Arianna Elizabeth
Arianna Elizabeth, founder of the Bright and Salted yoga studio, offers a huge range of beginner and intermediate videos. Classes include power vinyasa classes to improve flexibility, grounding restorative sessions, meditation and breath work.
Her signature sweaty yoga sculpt-and-tone classes that help build muscle. Her goal is to enable you to get stronger, more flexible and more mobile in everyday life, helping you walk, lift items, and tackle physical tasks with greater ease.
5. Breathe and Flow
You get two teachers for the price of one on the Breathe and Flow channel, where husband-and-wife team Bre and Flo Niedhammer aim for you to establish a consistent daily yoga practice via hundreds of free videos.
Bre and Flo teach on the channel, where classes are split by level (beginners, intermediate, and advanced) and length. Their signature style includes a focus on control and strength, strong movements and long holds, all linked by the breath.
6. Jessamyn Stanley
Jessamyn Stanley is an author, yoga teacher and advocate for inclusive yoga. "Every single human being is allowed to accept themselves exactly as they are right now," she says in the trailer video for her YouTube channel, which includes accessible yoga classes suitable for many body types.
Try her yoga for beginners series, including couch potato yoga and yoga for depression, which can help you move your body when you don't feel like it, or tutorials that help break down and explain specific poses.
7. Sarah Beth Yoga
With 1.65 million subscribers and almost 500 videos, Sarah Beth Yoga's channel is about stretching, strengthening, toning and de-stressing through yoga. Her videos are 5-30 minutes long and range from cardio heavy power yoga and vinyasa flows to hatha classes focusing on yoga stretches and restful restorative practice.
In most of her classes, she demonstrates the sequences with a voice over added to explain the poses and transitions, which makes them particularly calming and easy to follow.
8. Cat Meffan
The British teacher Cat Meffan has more than 420 yoga videos, including vinyasa, yin, and rocket classes, with a focus on embodiment: being present in your body and experiencing the sensations as you move and stretch, which is like a more active form of mindfulness meditation.
Her channel has over 280,000 subscribers, with classes split by length from 10-minute morning yoga to hour-long flow classes. Meffan's strong flow and power vinyasa classes are particularly popular.
9. Pregnancy and Postpartum TV
Run by Jessica Pumple, a yoga teacher and pregnancy and postpartum specialist, the Pregnancy and Postpartum TV channel includes yoga classes suitable for all stages of pregnancy, as well as following the birth. Classes are split by trimester, to ensure they are safe and accessible.
There is a particular focus on diastasis-recti (where stomach muscles separate during pregnancy) healing classes, and videos also cover pregnancy-friendly Pilates and HIIT, as well as yoga.
10. Cosmic Kids Yoga
Featuring a fantastic range of engaging videos, Cosmic Kids Yoga founder, Jaime Amor makes yoga fun and accessible for kids. It's "your place for yoga, stories and fun", she explains at the start of each video, which are often themed around a story or film—including Trolls, Encanto, and even dinosaur yoga.
Moves are easy to copy, with expert storytelling that keeps younger yogis entertained. It's screentime with added benefits of movement, mindfulness, and relaxation, and a wonderful introduction to yoga for children.
There are many benefits of yoga, like strengthening your mind-muscle connection, improved posture and flexibility, and an increased sense of mindfulness as you go through your day.
While the best yoga YouTube channels are ideal if you're in the mood for a guided class, if you prefer some quiet time to move your body, this self-guided 10-minute morning yoga routine is a great way to ease into the day.
Get the Fit&Well Newsletter
Start your week with achievable workout ideas, health tips and wellbeing advice in your inbox.
Annabel Lee is a freelance writer specializing in wellbeing with over a decade of experience. Her work has appeared in titles like Glamour, Business Insider, and Huffington Post. Although she no longer teaches, Annabel trained as a yoga and mindfulness teacher and is also a co-host of the Selfie Development podcast, which explores the world of wellness, self-development, and spirituality.