I tried the 'world's toughest workout' and I have never sweated so much in my life
Exercise class Boss Level by home workout app Fiit left our writer Lucy Gornall in pieces - here's what went down...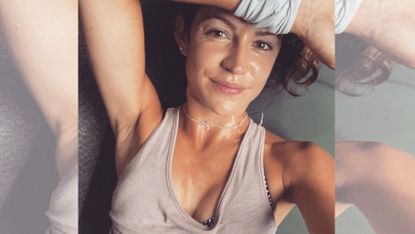 (Image credit: Lucy Gornall)
Get the Fit&Well Newsletter
Start your week with achievable workout ideas, health tips and wellbeing advice in your inbox.
Thank you for signing up to Fit And Well. You will receive a verification email shortly.
There was a problem. Please refresh the page and try again.
When you're invited to try the world's hardest workout, naturally you say yes, right? Well, you do if you're me.
Fiit, one of the best fitness apps to emerge in recent years, has just launched Boss Level, which they've dubbed 'almost certainly the world's toughest home workout' - warning interested parties to 'join at your own risk'. Eek!
With home workouts remaining a popular choice for many despite lockdowns gradually lifting (research shows that as much as 70% of gym-goers in the UK may not go back to the gym), Fiit is clearly attempting to take the 'comfort' out of working out in the comfort of your own home - which was music to my ears.
As a personal trainer who works out nearly every day, I'm always looking for a new challenge to push my fitness that bit further.
So what is it about Fiit Boss Level (which is available to all users of the Fiit app) that's so darn tough? Well, it's essentially a 90 minute class that involves a set of dumbbells and bodyweight exercises. So far, so do-able - or so I thought.
Not even the rather stark but amusing disclaimer (viewable on the Fiit app) which includes phrases such as "do not attempt Fiit Boss Level if... you want to continue to use your body in any way, shape or form for the next few days" could deter me.
And so it was was a sense of excitement - and, perhaps, a touch of naivety - that I embarked on my Fiit Boss Level journey - starting with the prep work...
FIIT Boss Level: Prep
Yes, that's right - before you even attempt the actual class, FIIT recommends following its pre-workout training plan.
So, I duly strap on my FIIT heart rate monitor (a branded version of the Wahoo Tickr X, which gets a mention in our best heart rate monitors buying guide) and my Apple Watch and jump right into the Boss Level: Prep plan.
This is a pretty intense dumbbell and bodyweight plan designed to get you physically and mentally prepared for 'world's toughest home workout ever'.
Instructors Gede and Sean get me off to a sweaty start with two bodyweight-heavy HIIT workouts. Then instructors Corinne and Was introduce the dumbbells (I have a range of weights at home, but if you don't a set of the best adjustable dumbbells is a good investment, as you can change the weight as your ability demands).
I'm put through a mix of lower and upper body work, as well as plenty of mobility work to keep me flexible. Yes, it's tough, but I have endured tougher. So I feel pretty confident going into the main event: FIIT Boss Level.
FIIT Boss Level: What it was like?
I choose to do a full body class, played from my FIIT app and projected onto my television.
My instructor Adrienne began the class by saying: 'It's not beginner, it's not intermediate, and there's no regressions.'
Crikey.
As always, the FIIT studio in which the workouts are filmed looks like a nightclub. It's blacked out, there are lights streaming everywhere and the dance music is addictive.
The warm up is quite long, incorporating a range of moves from reverse lunges through to walk outs and various mobility moves. I certainly feel prepped and my body limbers up - but, dare I say it, I'm panting a little. Already.
In the first cardio section, the aim is to get my heart rate up and keep it up, so I find myself rocking out 'jump-jump-lunge' combos.
Each move is 45 seconds with a... Oh wait, no there is no break. Me being me, I'm loving it - but I can certainly see how this is NOT a class for beginners or even intermediates.
Star jumps, shadow boxing, mountain climbers, burpees... They're all here in this 'non stop' block. Adrienne is very motivating and doesn't let me stay still.
The next block sees Sean leading what he's named 'the Devil's Workout'; essentially six reps of three moves, doing as many times as possible in three minutes. I sweat through three rounds of this.
Between each round I was blessed with a short but sweet 45-second rest period (finally!); barely enough for a sip of water, but I'll take anything I can get. By this point my forehead is damp and I have that sports bra sweat going on.
I'm also wondering when this ends; the fact that the workout is split between different instructors does make me wonder whether it's too hard for one individual instructor to even complete. At the bottom of the screen is the timer bar... I have 63 minutes left. I've barely made a dent in this workout!
Onwards we go.
The next section is led by Gede and starts with a Buy In/Buy Out. This is 90 seconds long and Gede tells me to do seven reps of three moves, as many times as possible in that 90 seconds. These include Devil's Cluster, a complex dumbbell move.
Then after a short breather, it's 30 seconds of various bodyweight and dumbbell-based moves, with 10 seconds between each move - think weighted squat jumps, lunge jumps and dumbbell swings.
This has been the hardest round so far, but thankfully it goes quite fast and I am blessed with a nice long rest - five whole minutes. I am over the moon.
'So it's time for a five-minute plank', shouts Gede. Oh.
It's not just a straight up five-minute plank hold though. It's five minutes of various plank variations such as side planks and a plank saw; essentially rocking back and forth whilst still balancing on forearms and toes. My core is on fire.
Next up, it's instructor Gus with the 'Explode and Reload' round, involving more bodyweight and dumbbell moves. For 20 seconds I'm working with the dumbbells doing squat thrusters, then it's straight into 40 seconds of bodyweight squat jumps. After 20 seconds of rest it's another two moves. And so on.
'Keep going!', shouts Gus. I won't say what was going through my head.
Round six is next and Luke screams that the energy and power delivered by Gus is 'here to stay'. I blow the hair strands out of my face that keep sticking to the dripping sweat on my forehead and resolve to dig deep.
Luke explains that we've got five exercises, repeated two times. Mini bend in the knees into four heel claps followed by two plyo-lunges for 40 seconds is one such move. These are all energetic moves that keep my heart rate high. I check my Apple Watch; 170bpm. My max heart rate is 190, so it's beating fairly rapidly.
After 90 seconds of rest it's the finisher, which Luke says is 'designed to finish you'. Help!
It's an EMOM AMRAP round. EMOM stands for Every Minute On the Minute whilst AMRAP stands for As Many Reps As Possible.
So I am given five reps of three different burpee variations to complete in a minute. Any remaining time in that minute is my rest time.
The next minute is an AMRAP, where I have to do as many reps of a certain move as I can in 60 seconds. Then it's back to the 3 moves and then the AMRAP minute. This goes on for several rounds. I have to be honest, if I didn't do another burpee again in my life, it wouldn't be the worst thing.
When the round is up, Luke shouts: 'You're officially a certified BOSS'. Hell yeah I am!
Then it's straight into a nice stretch session and I. AM. DONE. Here's my happy, sweaty post-workout face to prove it...
FIIT Boss Level: My verdict
The hype around Boss Level is justified; this really is Boss Level. I was optimistic at first as there are so many 'toughest workouts in the world' out there, but for a home workout with just one set of dumbbells, yeah - this probably is the toughest in the world. And I've tried a lot of home workouts.
As ever with Fiit, the instructors are great and incredibly motivating. There were times when I wanted to just walk out of my lounge and go and put the kettle on. This is the danger of home workouts as you can just leave it at any point, unlike a gym class where walking out would be frowned upon.
However, thanks to the instructors, I was hooked. And the music was great; at no point did the beat slow down.
As for calories burnt? My Apple Watch tracked 650 calorie burn, which for a home workout is brilliant.
Would I do it again? YES. A big resounding yes.
Is it for the un-fit? NO. A big resounding no. However, the Boss Level Prep workouts will definitely help you get fitter, quicker.
And if you're not quite ready for that, Fiit also regularly releases a range of other classes, from Pilates to yoga and HIIT to barre. Access to the workout platform starts from £10 a month if you sign up for a 12-month plan, or £20 a month if you opt for a rolling contract (the price converts to local currency for users outside of the UK at the point of checkout). A 14-day free trial is also available. Click one of the options below to get started.
Get the Fit&Well Newsletter
Start your week with achievable workout ideas, health tips and wellbeing advice in your inbox.
Lucy is a freelance journalist specializing in health, fitness and lifestyle. She was previously the Health and Fitness Editor across various women's magazines, including Woman&Home, Woman and Woman's Own as well as Editor of Feel Good You. She has also previously written for titles including Now, Look, Cosmopolitan, GQ, Red and The Sun.
She lives and breathes all things fitness; working out every morning with a mix of running, weights, boxing and long walks. Lucy is a Level 3 personal trainer and teaches classes at various London studios. Plus, she's pre- and post-natal trained and helps new mums get back into fitness after the birth of their baby. Lucy claims that good sleep, plenty of food and a healthy gut (seriously, it's an obsession) are the key to maintaining energy and exercising efficiently. Saying this, she's partial to many classes of champagne and tequila on the rocks whilst out with her friends.