11 easy ways to maximize your walks: burn more calories and boost your mood
Make the most of your daily walks with these simple but effective expert tips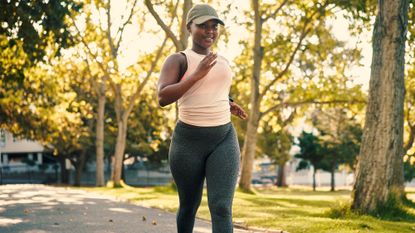 (Image credit: Getty Images)
Get the Fit&Well Newsletter
Start your week with achievable workout ideas, health tips and wellbeing advice in your inbox.
Thank you for signing up to Fit And Well. You will receive a verification email shortly.
There was a problem. Please refresh the page and try again.
If you've made daily walks part of your weekly fitness routine, you may be wondering how you can up the ante to burn more calories and really reap the benefits of your daily steps.
Government guidelines in the US recommend that adults do at least 150 to 300 minutes of moderate-intensity (or 75 to 150 minutes of vigorous-intensity exercise) weekly, and walking can be a key part of this.
However, we're not talking about casual strolls - a 2019 study found that adults aged 21 to 40 needed to clock up around 100 steps per minute for their walks to count as moderate-intensity activity (the best fitness trackers are an invaluable tool in tracking your step count).
If you're already hitting the right pace, there are a number of additional ways you can maximize your walks to up your calorie burns and even improve your mood. Below you'll find our 11 top tips for doing just that - so lace up your best shoes for walking and get out there!
1. Brace your core
'Engage more muscles as you walk by making sure that your abdominals are braced and your arms are swinging, as you would do on a cross trainer,' says personal trainer Scott Laidler. 'This walking style is much more energetic, so you'll automatically burn more calories. And it'll boost your heart rate by around five beats per minute, which will get you into the fat-burning zone (105-120bpm).'
2. Listen to music
Studies have shown that listening to music boosts physical activity - but what you listen to plays a major role.
It's all about the song's tempo, which is measured in beats per minute (BPM). For a walking warm-up, choose songs that have a BPM of 90-115, then step things up to 115-130. And if you want to get your power walk on, the American Council of Exercise advises aiming for tunes with a 137-139 BPM.
Below we've listed some of our favorite walking songs (and we've also picked the best workout earbuds to listen to them on), and you can find more in our article on the best workout music.
She Will Be Loved, Maroon Five (101 BPM)
Kiss, Prince (111 BPM)
Get Lucky, Daft Punk feat. Pharrell Williams (116 BPM)
Over and Over, Hot Chip (120 BPM)
Best of You, Foo Fighters (130 BPM)
Marry The Night, Lady Gaga (131 BPM)
Jai Ho, Pussycat Dolls (136 BPM)
Paradise, George Ezra (138 BPM)
Eleanor Rigby, The Beatles (138 BPM)
Lips Are Movin', Meghan Trainor (139 BPM)
3. Walk tall
Walking tall with correct posture will help you avoid any aches or injuries. One really simple trick to help you walk tall is to stand with your heels, back and head against a wall, then try to stay in that position when you set off. For extra help, invest in a posture corrector such as the Lumo Lift activity and posture sensor – clipped onto your clothing, it vibrates every time you slouch to encourage you to stand straight.
4. Go slow on the stairs
By taking the stairs one at a time you will burn more calories than if you bound up them, according to a study by the University of Roehampton. The researchers found that ascending five flights of stairs one at a time torched 302 calories on average, while taking them to at a time burnt just 260.
5. Don't go direct
'If you need to be at a certain place by a set time, work out an indirect route that will take you a bit longer,' suggests Laidler. 'This will ensure a fast walking pace, giving you cardio and fat-loss benefits without taking any extra time.'
6. Carry weights
'Carry light weights to build lean muscle as you go,' says Laidler. Research has shown that the calories burn of carrying weights whilst walking was similar to that of running. Be sure to opt for light weights that can be easily gripped (such as a pair of dumbbells) to avoid strain or injury.
7. Try a new route
There are bound to be roads within minutes of your home that you've never set foot on. Make it your mission to walk a different never-ventured-down path once a week. It'll spark your enthusiasm and, if you get lost, you'll clock extra steps.
8. Walk happy
Research published in the Journal of Behavior Therapy and Experimental Psychiatry found that walking 'like you're happy' (think swinging arms, a bounce in your step and a big smile) improves your mood.
9. Take the path of most resistance
'Walk through long grass or sand,' suggests Laidler. 'The drag factor will mean you work harder.' Indeed, research published in Journal of Experimental Biology concluded that walking on sand requires 2.1-2.7 times more energy expenditure than walking on a hard surface at the same speed.
10. Cross the road
Walk your commute, but losing enthusiasm? Here's what to do – cross to the opposite pavement. Chances are you always walk on the same side, but switching will give you a fresh perspective on the same sights.
11. Mediate as you walk
A side helping of de-stressing with your stroll? Yes, please. The repetitive nature of walking makes it a brilliant aide to mindfulness (especially if you can't bear the thought of sitting cross-legged and counting your breath). Meditation apps such as Calm and Headspace offer mindful walking programs and walking meditations.
Get the Fit&Well Newsletter
Start your week with achievable workout ideas, health tips and wellbeing advice in your inbox.
Launched in 2020, Fit&Well.com is all about helping you meet your health and fitness goals in ways that are fun and achievable. With news and features on fitness, weight loss, running, nutrition, yoga, wellness and more, we're committed to helping you wherever you are on your fitness journey. We break down the best fitness tech, with reviews, buying guides and the latest deals on fitness and wellness kit, from dumbbells to diffusers.
We cater for all difficulty levels here. It doesn't matter if you're a beginner in the world of fitness or you're gearing up for your tenth marathon: we're all moving towards the same goal – creating a healthier, happier you. From guides on getting started doing walks around the block, to creating the perfect work-from-home space, to eating to fuel your first triathlon. It's all here.