How to clean white sneakers - and keep them that way
There's nothing like a good pair of clean white sneakers - but how to keep them looking pristine? Just follow our expert advice...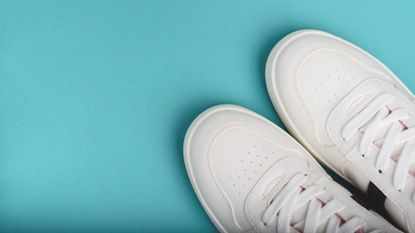 (Image credit: Getty Images)
If you're a fan of clean white sneakers, then you'll likely already know that keeping them in tip-top condition can feel like a full time job.
So how can you keep your best cross training shoes gleaming white and pristine? Happily, there are ways to not only clean white sneakers, but also stop them from getting dirty in the first place.
We're spoilt for choice when it comes to sports shoes these days, with everyone having a favorite style - from colorful retro varieties to sleek all-black sneaks.
Some folks like chose to personalize their kicks, while most everyone has a favorite brand.
And then there's the white sneaker crew. These all-white aficionados (of which I confess to being one) typically pride themselves on sporting spotless shoes - and even the slightest of marks can ruin their day.
However, there is one big problem with this commitment to gleaming white sneaks - and that's keeping them clean.
Working out - especially outdoors - can mean our shoes encounter all kinds of terrain and weather including mud, rain and grass. This inevitably leads to the whitest of white sneakers looking more than a little dirty - every white sneaker lover's worst nightmare.
Lewis Ames from Ocean Free, a UK cleaning and disinfectant manufacturer, is an expert in keeping things clean. Below he shares his top tips on how to clean white sneakers, as well as the best ways to clean up different areas of your shoes.
Oh, and FYI - many of our best running shoes for women and best running shoes for men picks come in all-white options. So if you're looking for your next pair of white sneakers, check them out.
How to clean white sneakers
There are different ways to keep your white sneakers clean, and this will vary depending on the fabric that they are made from.
Canvas, rubber and textile white sneakers
Textile includes fabrics such as cotton, polyester and nylon.
To keep these clean, Ames recommends using either liquid washing powder or baking soda with water to brighten white trainers. If you're using liquid washing powder, it's best to create a pool of soapy water and use a hard bristle brush to scrub the shoes to brighten.
'Avoid submerging the trainers in water as this could possibly affect the shape and fit of the workout shoes,' advises Ames.
For a quicker solution, use a microfiber cloth with a universal disinfectant spray. This can also kill germs. Microfiber clothes are made from tiny fibers that are great at cleaning and absorbing liquid.
Leather white sneakers
Leather sneakers need caring for, and often call for a more professional clean. Lewis recommends a professional leather cleaning solution, often called a cleaning milk.
These are available to buy, or you can make one at home.
'If you want to make use of what you have at home, you can dilute a small amount of bleach with white vinegar and a small amount of diluted shampoo,' says Ames.
'If you use the at-home DIY option, it's important that the solution is weak as chemicals may discolor the leather.'
He adds: 'Instead of a big bristle brush, opt for a toothbrush which you can be more gentle and diligent with.'
Once finished, use a leather balm to help sustain the leather quality and to act as a barrier from the outside elements.
Synthetic white sneakers
Synthetic fabrics tend to degrade faster than leather as they are less durable and often of a lower quality.
You should therefore avoid scrubbing your white synthetic sneakers. Instead use a cloth to wipe the material using soapy hot water.
How to clean different areas of white sneakers
As well as different fabrics, certain elements of your white sneakers will require different cleaning techniques.
Cleaning the sole
For the sole of the shoe, use a hard bristle brush dipped in cleaning solution and hot water to remove dirt and clean up your white sneakers.
'Move the brush in circular motions so that the solution becomes bubbly, but be sure to rinse the brush every time the bubbles start to become brown and discolored - otherwise you're cleaning the dirt and residue you want off you white trainers back on,' advises Ames.
Cleaning the midsole
As for the midsole of the shoe, Ames recommends using a sponge dipped in cleaning solution and hot water to gently remove discolored build up.
'Use a microfiber towel to help them dry and to avoid any dry stains.'
Cleaning the toe box, heel and upper shoe
'Use a dab and twist motion with a disinfectant antibacterial cleaning wipe,' says Ames. 'Wipes should work on most materials to remove visible soil.'
This technique helps to lift the dirt from the canvas. However, if more of a deep clean is required, use a hard bristle brush dipped in cleaning solution and hot water, and brush onto the shoes in circular motions.
For excess solution/build up, use a microfiber towel to soak up and leave to dry.
Cleaning the tongue
Next up is the tongue on your white sneakers. Lewis says that using cleaning wipes on the tongue is best for keeping your workout shoe in top form, but to brighten it further, you could in fact try toothpaste.
Cleaning the laces
Don't forget the laces when cleaning your white sneakers! When dirty, they can really destroy the clean look of the shoes, so it's key to keep them clean too.
'Clean these separately,' advises Ames, who recommends submerging them in hot, soapy water and leaving them for 30 minutes before taking them out to dry.
He adds: 'Avoid putting them in the washing machine as they may shrink in size and change the condition of the fabric.'
Top tips to keep your white sneakers clean
It would be easy for us to tell you that in order to keep your white sneakers clean, it's best to avoid working out in them. However, we're never going to advise that - this is a health and fitness site, after all.
Luckily, there are a few simple tips and tricks that will keep your white sneakers sparkling. Here are Ames top recommendations...
Keep a toothbrush handy
Old toothbrushes are a useful tool in your sneaker cleaning toolbox. Ames explains that the tiny bristles get into the shoe crevices easily and more accurately than some other brushes.
He adds that whitening toothpaste can be useful for whitening sneakers too!
'Used in a small amount on an old toothbrush, in a circular brushing motion, sweep the toothpaste onto a white pair of trainers and watch them appear instantly brighter and whiter.'
Treat stains immediately
Speed isn't just important in your workout, according to Ames.
'Getting to a stain or mark as soon as you can to avoid it setting will make getting the stain out easier,' he says. 'Try placing baking soda or the liquid powder you use on your washing on the stain before removing after a few minutes. '
Weather-proof your shoes
Ames advises using a weather-proofing spray to keep your trainers fresh and white for longer.
'This will help barricade the white shoes from elements caught in the wind that spray onto your shoes without you realizing,' he says. 'If you're wearing your white trainers outside, always check them when you come in – a simple wipe may be all it needs!'
Lewis adds that even hairspray can act as a barrier to stop dirt sticking and to easily clean off your white workout shoes
Always wear socks
It's also important to wear socks in your white sneakers. This stops sweat marks staining the shoes, plus they act as a barrier between your foot and the trainer.
Get the Fit&Well Newsletter
Start your week with achievable workout ideas, health tips and wellbeing advice in your inbox.
Lucy is a freelance journalist specializing in health, fitness and lifestyle. She was previously the Health and Fitness Editor across various women's magazines, including Woman&Home, Woman and Woman's Own as well as Editor of Feel Good You. She has also previously written for titles including Now, Look, Cosmopolitan, GQ, Red and The Sun.
She lives and breathes all things fitness; working out every morning with a mix of running, weights, boxing and long walks. Lucy is a Level 3 personal trainer and teaches classes at various London studios. Plus, she's pre- and post-natal trained and helps new mums get back into fitness after the birth of their baby. Lucy claims that good sleep, plenty of food and a healthy gut (seriously, it's an obsession) are the key to maintaining energy and exercising efficiently. Saying this, she's partial to many classes of champagne and tequila on the rocks whilst out with her friends.