How to use Strava - plus is the fitness app any good?
Wondering how to use Strava? Allow us to break down the activity tracking and analysis app for you...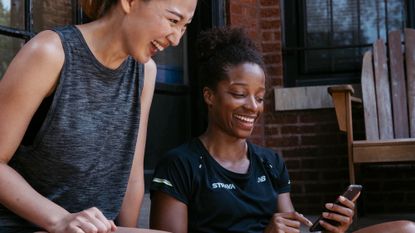 (Image credit: Strava)
'How to use Strava?' is a common question amongst active types (or those who aspire to be so) who've heard of the app but aren't exactly sure what it is or what is does.
If that's you, then never fear - for we are here to enlighten you with this, our guide to everything you need to know about Strava!
Let's dive right in with the basics, before we get into the nitty gritty of exactly how to use Strava yourself - and how to get the most out of it.
Ok, so what is Strava?
Strava is an exercise-tracking app that's popular with cyclists and runners, and arguably one of the best fitness apps on the market today if you're into either (or both) of these activities.
It tracks your activities via GPS, provides data and metrics on them and lets you share them with your followers.
In this way, it crosses fitness with social media – you can upload photos from your activities, and see photos and activities posted by those you follow.
The app has never had more users, largely due to the fact that many discovered its benefits during lockdown in 2020.
At the end of 2020, CEO of Strava Michael Horvath revealed that the app has a worldwide audience of more than 73 million users. The Strava community shared more than 1.1 billion activities in 2020, and over 1 million runners joined the company's monthly 5k challenge in May, the highest number in its history.
Strava – which is Swedish for 'strive' – launched in 2009, and in the decade-plus since has added millions of users while basic membership has remained free.
Many early users were attracted to the unique segment leaderboard feature – sections of trail or road where your time is ranked against other users who have cycled or run that section.
How does Strava work?
Strava can record each activity you do – be it cycle ride, run, hike or swim (or many other sports) – and displays it in your feed. You can choose whether your activity is public or private.
This activity can be recorded directly on the app using GPS data or synched with your fitness watch or activity tracker.
Once it's uploaded you can view a wide range of metrics, from distance, speed, heart rate and elevation, plus a whole load more which we'll go into in more depth later.
The huge benefit with Strava is that basic membership is free. For this, you get access to a raft of impressive features.
There's also the option to subscribe for a monthly fee of $7.99/£6.99 (or $59.99/£47.99 paid annually), which provides access to extra features and data-analysis tools. This is particularly valuable for those looking to analyse their training and set training targets.
How to use Strava's free features
As an unpaid user of Strava, you have access to many features that will satisfy the average user.
One of the biggest attractions for many users is the ability to follow other Strava users, and for users to follow you. You will then see your followers' activities in your feed.
One unexpected bonus to the app is that you can follow professional athletes too – cyclists including Tour de France winner Tadej Pogacar, Ironman athlete Lucy Charles-Barclay, ultrarunner Kilian Jornet and 5,000m world record holder Joshua Cheptegei, who famously uploaded his 12:34 record 5k run last August, gaining more than 20k kudos.
Do not underestimate the power of kudos – Strava as a social media platform is a positive place, where followers praise your activities and post comments giving you encouragement and passing on good vibes rather than negativity and bullying found on certain other platforms.
The app handily keeps tabs of you weekly, yearly and all-time totals, including distance, elevation and time. You can log your PBs and add photos to your activities, which adds a whole new dimension to sharing rides and bike rides with your followers.
How to use Strava: virtual challenges
Strava features an array of monthly challenges that are free to enter and if you complete it, will result in a virtual trophy. These can vary from a monthly 5k to challenges where you have to record a certain amount of activity or distance across a number of days.
These add levels of all-important motivation to help get you out the door, and occasionally results in you running a little farther than you planned just to get that 'Half Marathon' badge.
How to use Strava: segments
One of Strava's most talked about features is its 'segments'. These are short sections of road or trail created and named by users where, if you run or cycle it, you are ranked against all other Strava users who have completed that same segment.
Some of the more popular segments, such as ones in London's Richmond Park, have racked up more than 2.5m attempts by 100,000 people.
If you beat a previous time on the segment, you are awarded a virtual PB medal, and if you gain a top 10 placing you receive a virtual trophy. Again, it's the small things, but if you win a virtual trophy you might feel like kicking back and ordering an (actual) takeaway pizza to celebrate.
How to use Strava: Local Legend
Again, another virtual award, and a popular 2020 addition as it aids motivation – if you run or cycle a particular segment the most times of anyone else in any 90-day period you are awarded Local Legend status for that segment.
How to use Strava: subscriber-only content
There is a wide range of extra content available for those who subscribe to Strava. Here are some of the highlights:
Beacon: This is a safety feature that lets selected friends or family tack you on your run or cycle ride, meaning you can alert them in case of emergency.
Segment leaderboards: As mentioned earlier, segments are an important part of Strava for many athletes. In the free version, you can see your result and placing, and the top 10, but to access the entire leaderboard, filter and analyse your results you need to stump up for the monthly membership.
Routes: Subscribers have the ability to create routes on the app's maps and export them to devices to follow next time you do an activity.
Matched runs: If you run a particular route regularly, Strava automatically compares your time with your previous efforts. It tells you if you are trending faster or slower, and you can see all of your previous efforts with one click on the graph. This is a great and quick way of seeing your progress over time.
Final thoughts on using Strava
There's a reason behind Strava's popularity – the ability to share your activities and the community aspect of the app is what makes it popular with many users. For a free app, it can't be beaten.
Similar fitness apps to consider include RunKeeper, MyFitnessPal, Google Fit, Komoot and Training Peaks.
Activity trackers also often come with access to their own apps, for example Garmin Connect offers many similar features to Strava.
However, we think that the free features make it an essential download for fitness enthusiasts in itself, and the community aspect helps with motivation. The annual subscription is not hugely expensive.
Some users are not keen on the ability to share rides, but the app provides the option to keep your activities private, meaning they are not added to leaderboards.
All in all, Strava is a worthy addition to any fitness fan's apps. It lets you track your training, analyse your data and adds motivation and inspiration by letting you see others' activities and other people see yours.
Get the Fit&Well Newsletter
Start your week with achievable workout ideas, health tips and wellbeing advice in your inbox.
Howard is a freelance health and fitness journalist and copywriter. He has written for publications including ShortList, Runner's World, Trail Running, Women's Running, Red Bulletin, Wareable and Cycling Weekly. He enjoys nothing more than lacing up his trail shoes and heading out to explore new trails. He's run ultramarathons everywhere from the French Alps and Canadian mountains to the Welsh coast and Peak District. When not running, he's usually found hitting his local MTB singletrack trails or on a quest to find the country's best cinnamon bun.