Jaybird Vista vs Beats Powerbeats Pro: Which workout earphones are worth your money?
We compare two top-rated earbuds, the Powerbeats Pro and Jaybird Vista, to see which is most worthy of a spot in your gym bag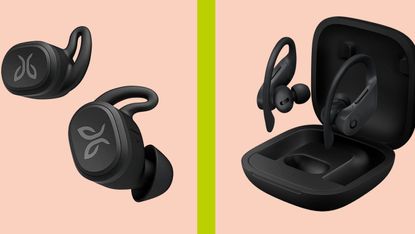 (Image credit: Jaybird/Beats By Dre)
Get the Fit&Well Newsletter
Start your week with achievable workout ideas, health tips and wellbeing advice in your inbox.
Thank you for signing up to Fit And Well. You will receive a verification email shortly.
There was a problem. Please refresh the page and try again.
What is a workout without music? Well, it's barely worth thinking about. And if drowning out the sound of your own panting breath isn't a big enough excuse to invest in some decent workout earphones, there are also countless studies that have proven a link between music and exercise performance.
If you've already been looking for the best workout earbuds out there, there's no doubt you've stumbled across the Beats Powerbeats Pro, known for their unshakable grip, and the feature-packed, weather-proof Jaybird Vista.
So filling your ears with some bassy tunes might not only distract you from an arduous set of goblet squats, it might also help you smash your fitness goals at the same time.
While it's clear that a good set of Bluetooth earphones is paramount when you're going about your daily jog, run or cycle, knowing which are worth investing in is another thing entirely.
Both are undeniably great wireless earbuds, but which most deserves to be in your gym bag the most? We've compared the two models in a head-to-head battle to find out!
Jaybird Vista vs. Beats Powerbeats Pro: Design
Despite both being designed for sports, the Jaybird Vista and Beats Powerbeats Pro couldn't look more different. While the Vista are compact buds no wider than a 10p coin that screw into the lug holes, the Powerbeats Pro 'phones have an in-ear system joined by hooks that loop around the top and back, making them almost unshakeable.
These stark differences in design means that it's hard to compare the two models directly. Which earphones are best for you will depend entirely on your preference and how you intend to use them. For example, the Vista are ideal for those who want total freedom when they are working out and not really notice they're wearing them, whereas the Powerbeats Pro are probably best suited to those who want earphones that will remain secure during long runs, for instance.
When it comes to comfort, the Vista buds have been based on the scans of thousands of ears and built from there to offer a comfortable and secure design that suits just about anyone. This, coupled with a super lightweight construction, makes them some of the most comfortable true wireless earbuds currently on the market.
As for the Powerbeats Pro, these differ in that they push upwards and into the inner ear, while the hooks support them from above. Some people might find this a little invasive but if you're used to wearing in-ear buds, you're likely to find them super comfortable and secure. They aren't as easy to just pop in the ear as the Vista, however, and will require some fiddling before you're ready to get a sweat on.
WINNER: Draw
Jaybird Vista vs. Beats Powerbeats Pro: Audio Performance
Both Beats and Jaybird are known for their bassy sound signatures, features that not everyone is a fan of. Thankfully, both brands have toned this down a little with its latest releases. Instead of overpowering bass lines, both sets of earphones produce a great balanced audio experience across low, mid and high frequencies. A good level of bass is still present, but it just means that all genres of music can be played without complaint, be it rock, pop, or even dance.
There isn't much of a difference in sound reproduction between the Vista and the Powerbeats Pro, but If we had to choose, we'd have to opt for the Jaybird's offering - mainly because of the audio customisation on offer. The Vista earbuds sync to Jaybird's nifty app, which allows you to opt for a different style of your audio through a selection of EQ options.
In case you're wondering, there is no noise cancellation on either of these earbuds.
WINNER: Jaybird Vista
Jaybird Vista vs. Beats Powerbeats Pro: Battery Life
It's much easier to pick a winner when it comes to battery life. The Powerbeats Pro boasts up to 9 hours of listening time per charge, which is amazing considering how much battery life can negatively impact a great pair of wireless earbuds. This amazing performance is coupled with Beats' nifty Fast Fuel technology, in which a quick 15-minute charge will give a whopping 4.5 hours of playtime.
As for the Vista buds, we found they came in at just under the quoted battery life of six hours per charge, which isn't bad at all - especially when comparing them to many of their competitors. Still, it's nowhere near the performance you get out of the Powerbeats Pro, which offer a third more power.
WINNER: Beats Powerbeats Pro
Jaybird Vista vs. Beats Powerbeats Pro: Price
Both the Powerbeats Pro and the Vista wireless earbuds are available to buy now, worldwide.
The Powerbeats Pro retail for £219.95 in the UK and $219.95 in the US. However, you can pick up a pair for much less if you shop around, especially if you're happy to purchase one of the more garish colours. The moss colourway for instance, can be picked up at Curry's for just £149.95.
The Jaybird Vista buds are great value for money and currently retail for £159 in the UK and $159 in the US, like this pair from Best Buy. This is much lower than when the buds were launched in August 2019, and might be found for even less if you're willing to hunt around online for them.
Jaybird Vista vs. Beats Powerbeats Pro: Verdict
Both the Beats Powerbeats Pro and the Jaybird Vista offer amazing sound and a great set of features for those looking for the best workout earphones, but choosing the right pair for you ultimately comes down to personal preference.
Do you find that wireless buds have a tendency to fall out of your ears when you get sweaty? Go for the Beats. Are you more bothered about owning an unobtrusive pair of earphones that are lightweight, portable and can be worn outside of fitness, then the Vista are your best bet.
Get the Fit&Well Newsletter
Start your week with achievable workout ideas, health tips and wellbeing advice in your inbox.
Lee Bell is a London-based journalist, copywriter, specializing in all things tech and lifestyle. He is also a qualified personal trainer. He started his journalism career a decade ago as a reporter covering the latest gadgets and innovations at tech tabloid The Inquirer. Lee went freelance in 2016 to broaden his expertise, moving into news, reviews and feature writing for a host of national print and online lifestyle titles such as GQ, Forbes, Esquire, Men's Health, Wired, The Metro, and The Mirror. He has an insatiable appetite for travel, Dharma yoga, and the odd outdoor challenge.