Beats Powerbeats Pro review: nearly perfect, except for one missing feature
The Powerbeats Pro look and sound great, but the lack of noise cancellation is inexcusable at this price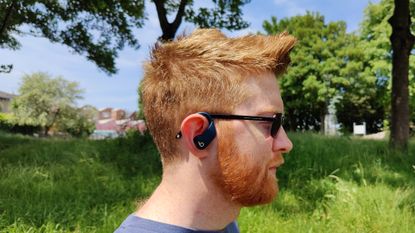 (Image credit: Ian Stokes)
The Powerbeats Pro are almost the total package. They're comfortable, stylish, and offer great sound quality. We just can't get past the lack of noise cancelling, though. Add that to the gargantuan charging case and we'd struggle to recommend them over other top choices—especially at the regular retail price.
Reasons to buy
+

Good audio quality

+

Won't fall out during exercise

+

Stylish design
Reasons to avoid
-

No noise cancellation

-

The case is enormous

-

Expensive
It's time to put Beats' most expensive earbuds to the test in our Beats Powerbeats Pro review. Beats are one of the most premium brands in the headphone space at the moment, and it's put a lot of work into shaking the early "style over substance" reputation that it picked up, but do these high-end earbuds do enough to justify their lofty price tag?
On paper, Powerbeats Pro come with a lot of the features you'd expect to see from the best workout earbuds. They're truly wireless, have great battery life, and offer sweat and water resistance to keep them going during sweaty workouts or outside exercise.
They also have an ear hook design to keep them firmly attached during intense training. There is one major omission from the package though—the lack of noise-canceling tech.
That's a pretty major downside, especially when you consider that other fitness-focused headphones like the Jabra Elite 7 Active or Sony WF-1000XM4 do pack some form of noise cancellation.
So, do the Powerbeats Pro have other strengths to justify this, and their hefty price tag, or does the competition leave them in the dust? Check out our Powerbeats Pro review for the full breakdown.
Beats Powerbeats Pro review: price and features
The Powerbeats Pro are on the pricier side of the workout headphones that we've looked at, costing $249.95/£219.95. For the price, you get the headphones, a set of changeable ear tips, the charging case, and a Lightning to USB-A charging cable. There is no mains adapter included, though you can buy one separately if needed.
There are three color options to choose from; Black, Ivory, and Navy. If you buy them from the Beats or Apple website, you can also personalize your Powerbeats Pros with a custom engraving.
Unlike most other Beats earbuds, the Powerbeats Pro are aimed squarely at the fitness market, and there are a couple of key features that showcase that. The most obvious adjustment is the ear hooks which lock the earbuds firmly in place to stop them from falling out during exercise.
I thoroughly tested this feature and nearly knocked myself out trying to get them to fall off to no avail, so you can be sure that once you've put these earbuds in, they're not going to fall out during exercise. I found actually putting them on can be a little undignified though, as it's a bit of a hassle trying to get the loops over your ears.
Another fitness-focused feature of the Powerbeats Pro is that they're both sweat and water resistant, with an IPX4 water resistance rating. They're not waterproof so you can't go swimming with them, but they should survive a downpour while you're out for a jog. I wore these out in the rain on multiple occasions and had no issues.
The Powerbeats Pro are fully wireless and connect to your device via Bluetooth. There are controls on each earbud, with physical buttons rather than touch controls.
The Beats logo on each earbud is the main pause/play button, and then there are volume controls on top of the bud. These controls are functionally identical on both sides, so you can skip tracks or pause with either hand depending on which is easier at the time.
Battery life on the Powerbeats Pros is decent, but not exceptional. Apple advertises around nine hours on a single charge, with just shy of another two full charges in the charging case for a total of "more than 24 hours of playback".
When they do run out of juice, Powerbeats Pro also have a Fast Fuel feature that offers 1.5 hours of playback after five minutes charging—ideal for when you find out you forgot to charge them five minutes before you're heading out to the gym.
Beats Powerbeats Pro review: sound quality
While all the swanky fitness features are important, at the end of the day these are still a pair of earbuds, so sound quality is massively important. Fortunately, I have to say that I've been impressed by the output of the Powerbeats Pros.
As with other recent Beats headphones, the overpowering bass that the brand was famous for in the past has been dialed back in favor of a more balanced sound profile.
Don't get me wrong, you can still get some punchy bass through on the tracks that need it, like Muse's Hysteria or Deadmau5's Faxing Berlin, but it doesn't drown everything else out.
I went to some classic tunes to test out the highs. Steely Dan's Do It Again sounded great through the Pros, with that opening medley coming through with good clarity. Likewise the highs on Future's Mask Off came through clearly too.
They're not going to blow dedicated audiophiles away; my everyday earbuds are a pair of Beats Studio Buds and I definitely prefer those for normal use, but as a pair of workout earbuds, they're definitely up to the task.
That brings me onto one of the major downsides of the Powerbeats Pro—the lack of noise-cancelation. If you're out for a run in a quiet park or your gym isn't too busy, it's not going to be an issue, but the lack of noise cancellation was super noticeable when I used these on public transport or near busy roads.
I tend to have the volume a little higher than I should, and that covers for some of this weakness, but it's not an ideal solution, especially since listening to music at loud volumes for extended periods can lead to hearing damage. So just be aware that if you're usually working out in loud environments, these might not be the earbuds for you.
Beats Powerbeats Pro review: design and comfort
The Powerbeats Pro look pretty sleek, assuming you're into the ear hook style of headphones. The entire earbud is one solid color, with the recognisable Beats logo emblazoned on the side button.
I found that the standard eartips worked fine for me, but you also get three additional pairs of tips in different sizes to help you find a more comfortable fit if needed. Changing the tips is a little fiddly, but nothing too bad.
The earhooks themselves are flexible, which lets you wrangle them around your ears when you're putting on, or taking off the earbuds. This flexibility also means that they should feel comfortable to wear for a larger range of users.
I found the Powerbeats Pro to be very comfortable to wear during long sessions, and the earhook ensured that they never felt loose, or like they were going to fall out.
The earhooks do substantially increase the size of the earbuds though which directly creates the other big issue with the Powerbeats Pros—the size of the case. This thing is an absolute unit.
It has to be this big to accommodate the large ear loops that weld them onto your head during a workout, but it makes the case simply too big to carry in your pocket comfortably.
Beats Powerbeats Pro review: battery life
As I mentioned earlier, Beats claim a 9-hour battery life for the earbuds, with a total of 24 hours when you count the extra charges in the case. While I didn't count it with a stopwatch, during my time testing the Powerbeats Pro I never had an issue with battery life.
The only issue I did have was with the Beats app on my Android phone, which would never detect the battery life left in my earbuds properly, meaning I often had no way of knowing how much battery charge I had left.
Beats Powerbeats Pro review: user reviews
Apple and Beats don't have customer review sections on their websites, so I wasn't able to gather any data from there, but the Powerbeats Pro do have an overwhelmingly positive rating on Amazon with a 4.6 star rating from 73,793 reviews.
Positive reviews often mentioned the great sound quality, battery life, and fit. Even the most positive reviewers did concur with us on the bulky case though. Other negative reviews noted that they found the mid-range tones lacking.
Beats Powerbeats Pro review: verdict
The Powerbeats Pro are a decent pair of fitness headphones and if they were a little bit cheaper, I'd have a much easier time recommending them. The sound quality is great, they're comfortable to wear and the battery life is top notch too.
But at $250, we'd expect everything to be near perfect, and there are a couple of issues that hold them back. The mid-range gets a little lost, there is no noise-canceling, and the case is bigger than some sedans.
If you can find them at a decent discount, or you're an absolute Beats fanatic then we'd definitely recommend the Powerbeats Pro, but for everyone else, the price of entry is just a little too steep.
Also consider
1. Jabra Elite 7 Active
If you're looking for premium workout earbuds that do come with active noise cancellation, then the Jabra Elite Active 7 have you covered. On top of that, they're water and sweat resistant, and have a much smaller case that can easily fit in your pocket. Oh, and they're cheaper than the Powerbeats Pro too.
2. Skullcandy Push Active
On the other end of the price scale, Skullcandy Push Active offer exceptional value for money if you're looking for workout earbuds that don't break the bank. They don't have fancy features like ANC, but they're comfortable, cheap, come with hands-free voice commands, and have a seriously impressive battery life.
Get the Fit&Well Newsletter
Start your week with achievable workout ideas, health tips and wellbeing advice in your inbox.
Ian Stokes is a freelance tech writer based in the UK who serves as Tech & Entertainment Editor on two of Fit&Well's sister sites, Live Science and Space.com. He has spent the last six years reviewing everything from laptops and video games to fitness headphones to massage guns. Despite his love of the nerdier pursuits in life, Ian likes to stay in shape through walks, five-a-side football matches, and swimming sessions, as well as the occasional trip to the gym. His nemesis is the rowing machine. Ian has a degree in Biology and a PhD in chemistry from the University of Keele and now works on two of Future's premier popular science websites.