Should you replace a meal with a protein shake?
We've asked the experts should you replace a meal with a protein shake?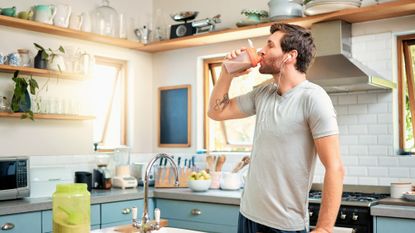 (Image credit: Getty Images)
You may wonder, should you replace a meal with a protein shake? While protein shakes and meal replacement shakes are two separate things, a protein shake can make an excellent base for a breakfast smoothie or a snack to keep you going through the day.
But can you forgo the extras and just have a shake if you're looking to lose weight with some of the best protein powder for weight loss or if you want to keep yourself in a successful calorie deficit?
We've spoken to some sports and nutrition experts to get their views on protein shakes and whether or not they can be used as an effective meal replacement. We also asked them if there are any weight loss benefits and side effects, as well as whether or not you can replace your usual lunch with a protein shake.
Should you replace a meal with a protein shake?
For many of us, thinking up three good, nutritious meals a day can feel like a lot, so is it possible to hack it down to two by replacing a meal with a protein shake?
We spoke to Jamal Ramsey, a Sports Science graduate and cofounder of female health startup JRNY, who explained that protein shakes aren't the same as meal replacement shakes and shouldn't be treated as such.
Jamal Ramsay has a degree in Sports Science and has spent five years advising women on their health and nutrition at the healthcare group BUPA. He has since gone on to cofound female health startup JRNY.
"Because a protein shake isn't designed as a meal replacement, you would probably get better nutrition from a balanced meal," he says. "A protein shake may not have enough fiber; you may feel hungry an hour or two later. If your goal is to lose/manage weight, we'd recommend having a shake an hour or two before your meal and then having a small meal later on."
In general, you may wonder, is protein powder good for you? There is some concern that protein overconsumption may cause health problems. This is especially the case if you rely heavily on red or processed meats to hit your protein goal every day, as these types of animal products have a lot of adverse side effects.
An article by Harvard Health indicates that high protein consumption can lead to health problems such as kidney stones. However, you should be fine if you choose a high-quality protein found in most good protein powders and the best protein powders for women.
Dr. Gary Bartlett, an NHS GP, Team GB snowboarder, and Bio-Synergy ambassador, explains the difference between a meal replacement shake and a protein shake.
"A meal replacement has a legal definition regarding calories, the amount of protein, carbohydrates, fats, vitamins, and minerals, so a protein powder could be used if blended with other ingredients to meet these criteria," he says.
Dr. Gary Bartlett is a professional athlete and full-time squad member on the British Snowboarding Team, representing Great Britain in the Snowboard cross. He is also a qualified medical doctor and fully qualified as a General Practitioner in August 2015.
Should you replace lunch with a protein shake?
Lunch is often a busy meal, eaten on the go, so it makes sense to have a protein shake at this time if you're in a rush. But how healthy is this practice in reality? Ramsey explains that it is still better to have a meal as well as a protein shake.
"You may end up hungrier later on if you replace a meal with a protein shake," he says. "That's why we'd recommend having a shake an hour or two before your meal and then having a small meal later on so that you consume less calories than you normally would."
Nutritionist, Healthspan Elite Head of Nutrition and bestselling author, Rob Hobson, tells Fit&Well he prefers to replace breakfast with a shake over other meals. "I personally think the best meal to replace is breakfast.
"Lunch has to get you through to dinner, and I think it would be better to eat something more substantial, including healthy fats and complex carbs to satiate you," he says.
Rob Hobson offers consulting nutritionist services, nutrition training, brand media representation, and general nutrition guidance. Award-winning Registered nutritionist RNutr, SENR, BSc (nutrition), PGdip (sports nutrition), MSc (public health nutrition) Consultant.
Can you replace meals with protein shakes to lose weight?
Many of us want to replace a meal with a protein shake to maintain a calorie deficit (where your body uses more calories than you consume) to lose weight. Dr. Bartlett tells us that you can trade out a meal for a shake, but you might miss out on other essential nutrients as a result.
"As protein leaves you feeling fuller for longer and contributes to your daily macros, protein shakes can be a valuable addition as part of your overall calories, but as a general rule, I would try to eat a balanced meal and aim for a calorie deficit," he says.
"If replacing meals with a protein shake, you may not be getting all the nutrients that you need, although this will depend on what else you are eating on a daily basis. Overall, a good quality protein shake is a convenient way to top up your daily protein requirements and contribute to a healthy diet."
A review in the Journal of the American College for Nutrition found reductions in body weight and fat mass in adults who took a whey protein supplement. Consuming 30g of protein at meals may also help with appetite control, feelings of fullness, and weight management, according to a further review in Applied Physiology, Nutrition, and Metabolism.
Hobson explains how a protein shake over a meal may help you lose weight. "Meal replacements as a shake for breakfast do seem to work well for some people trying to lose or maintain their weight.," he says. "I see no problem with this if it really is what works for you.
"What I would advise is that the remaining meals you eat during the day are varied and well balanced to ensure a good intake of key nutrients as protein shakes are not the same as meal replacement shakes which are fortified with vitamins and minerals."
We also spoke to Holly Heasman, a Certified Nutrition Coach and Personal Trainer for SHREDDY, who explained a protein shake might add value to your weight loss efforts. "If the goal is to lose weight, a high-protein diet is a pretty good place to start."
L3 Personal Trainer. Nutrition Coach. EIQ Nutrition coach (in progress). Recipe developer. Holly believes that a 360 approach to health is crucial: physical health, nutritional health, social health, and mental health. She works with clients to develop a holistic approach to well-being and to implement long-lasting, achievable behaviors toward optimal health.
"Amongst other things, it promotes satiety, prevents muscle loss, can reduce cravings, and has the highest thermic effect. Basically, it requires the most energy to utilize and absorb protein…burning calories just for eating!" she says.
"However, we would never recommend replacing meals with protein shakes. Sure, shakes are a convenient way to increase protein. But it's important to include all foods to optimize your nutrient intake. For the main meals, focus on lean proteins, amongst a plate of whole foods and healthy fats!"
Get the Fit&Well Newsletter
Start your week with achievable workout ideas, health tips and wellbeing advice in your inbox.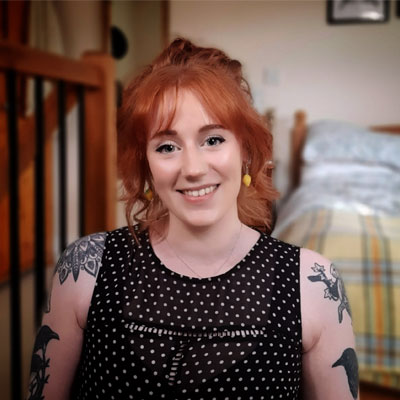 Lou Mudge is a Health Writer at Future Plc, working across Fit&Well and Coach. She previously worked for Live Science, and regularly writes for Space.com and Pet's Radar. Based in Bath, UK, she has a passion for food, nutrition and health and is eager to demystify diet culture in order to make health and fitness accessible to everybody.
Multiple diagnoses in her early twenties sparked an interest in the gut-brain axis and the impact that diet and exercise can have on both physical and mental health. She was put on the FODMAP elimination diet during this time and learned to adapt recipes to fit these parameters, while retaining core flavors and textures, and now enjoys cooking for gut health.