'I tried smart insoles and they changed the way I run'
How Nurvv Run Insoles helped our writer become a better runner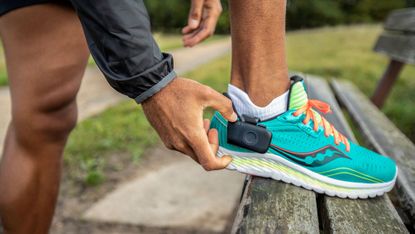 (Image credit: Nurvv)
With smart TVs, phones and watches, it wasn't long before smart insoles would become a thing.
Nurvv Run Insoles are one of the first smart insoles on the market, and aim to track the way you run in more detail than even the best running watches.
Just like normal insoles they attach directly to the inside of your running shoes. But unlike other insoles they're pressured and have motion sensors that track and measure your running technique. They also have GPS trackers that sit on the side of your shoe and are connected to the sole.
The soles connect to the Nurvv app via Bluetooth, offering feedback on not only the usual stats such as distance, time, pace, splits, elevation, heart rate and calories burned, but also your cadence, step length, footstrike, pronation and balance. Using this data, the app starts to record your running health score, giving you a rating out of 100.
I've been running for years, but knew I needed some guidance, especially as I'd started to get various injures. Without a running coach or physio on hand, I wasn't sure whether I was pacing myself wrong, I had the wrong running shoes, if my footstrike that was off - or a combination of all the above.
I also wanted to achieve a PB for my 5K time, but I was struggling with my pace, especially at the beginning and end of my runs, when my body was naturally tired.
With this in mind, I slipped a set of Nurvv Run Insoles into my best running shoes, laced up and headed out. The results? Impressive. Here's three areas where this new technology actually helped me to become a better runner.
Increasing my pace
At the end of last year, I had to completely rethink my running pattern and start from scratch – I'd run for years but bad habits had crept in, so I pulled it back, pacing myself at the beginning of each run and then gently increasing it as I warmed up.
But even though I felt more comfortable and could run longer distances, I'd gotten to the point where I wanted to increase my pace. My goal was to achieve a 5K run in under 30 minutes – without injuring myself.
Once I'd recorded a few base runs with the smart insoles, I was able to look at the detailed feedback in the Nurvv app about how I was running. I specifically looked at how I performed on each kilometre – it showed that my third and fourth kms were my fastest at just over 6 minutes for each, while my first, second and last were slowing me down.
While I still wanted to pace myself on the first lap I knew if I increased my pace on the second and last lap I would be well on my way to doing a 5K in under 30 minutes.
Another neat feature I used was the app's live coaching, which provided me with audio and visual cues when I needed to make adjustments to my run. These reminders really helped; when my pace started to slow through tiredness, it gave me a little nudge to keep going and pick up my pace and step length.
The first few runs I did post-analysis and with the live coaching turned on, I struggled to speed up - my body seemed to have set into a comfortable rhythm of my old pace. But as I kept on pushing my pace a little further each time, I finally reached my PB: a 5K in under 30 minutes.
Understanding my footstrike
The running health score also analyses parts of your running that need work, including your footstrike (or gait) and any associated pronation.
I already knew that I was flat footed, but the detailed findings showed that because of my flat feet, when I ran I had an overpronated foot strike, which means I land on the back of my heel and then my foot rolls inward excessively. This probably accounts for the injuries I get whenever I run a lot, normally around my left glutes or behind my left knee. This information is similar to the data gathered via a gait analysis, which can help determine the sort of support you need from your running shoes.
Once the app records this info, it gives you technique tips for future runs, while also recommending strength workouts that will strengthen muscles in your glutes and legs (research shows that strength training up to three times produces better results for runners).
After adding two strength workouts into my weekly fitness schedule, concentrating on my legs, glutes and abs, I really started to see improvements. It gave me the confidence to push my pace and distance without fear of injury.
Overtraining
Recovery is a key part of any fitness routine, but I admit I find it hard to have rest days, tending to mix up my run days with cardio (and now strength) sessions. If I miss a day off training I feel guilty, as though I'm not pushing my body.
But I knew I couldn't keep overtraining - and my body agreed. The resulting tiredness would show up in my training or other areas of my wellbeing, like my sleep patterns.
So when my health score in the Nurvv app indicated I was in fact over training and suggested I needed a rest day, I begrudgingly took notice. I decided to take two days off a week from 'harder' workouts, instead doing some gentle yoga and relaxation.
The results were noticeable. Over the next few weeks, I really started to see the difference in my running. I didn't feel constantly exhausted, which definitely contributed to me clocking up longer and faster runs.
Sarah is a freelance journalist who writes about fitness and wellbeing for the BBC, Woman&Home and Tech Radar. During lockdown she found her love of running outside again and now attempts to run around 50 miles a month. When it comes to other fitness, she loves a sweaty cardio session – although since she's been working out from home she's sure her downstairs neighbors aren't too happy about it. She also loves to challenge herself - and has signed up to do hiking holidays, intense bootcamps and last year she went on her dream activity holiday: paddle boarding around deserted islands in Croatia. On her rest days, she loves to recover with a simple yoga flow session – the perfect antidote to her active fitness schedule.