Sole E95 vs Technogym Synchro Forma: Which elliptical machine is for you?
We compare the top cross trainers, the Sole E95 and the Synchro Forma, to find out which is worth your cash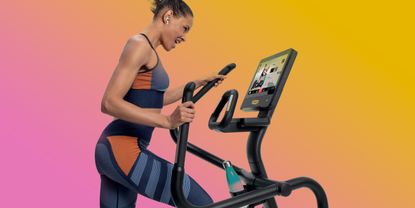 (Image credit: Technogym/Sole E95)
Get the Fit&Well Newsletter
Start your week with achievable workout ideas, health tips and wellbeing advice in your inbox.
Thank you for signing up to Fit And Well. You will receive a verification email shortly.
There was a problem. Please refresh the page and try again.
Ellipticals are some of the best exercise machines you can get when it comes to weight loss. As a low-impact alternative to the treadmill, they are ideal multi-muscle home training machines for those wanting to get fit but don't really like running, or have foot issues.
If you've been thinking about purchasing one for yourself, it's likely you will have found that – with so many different working parts to take note of – finding the best elliptical machine for you can be a little overwhelming. After much googling, you'll probably find yourself weighing up the pros and cons for two of the most prominent models on the market: the Sole E95 and the Technogym Synchro Forma.
So, if you're stuck between the two, read our head-to-head review which will outline, in simple terms, which machine will best suit your needs. We've rated the Sole E95 and Technogym Synchro Forma on Design, Performance and Price to find which comes out on top.
Design and portability
If you were to line up both the Sole E95 and the Technogym Synchro Forma side-by-side, you'd probably think they look alike. It's not until you start to look closer and delve deeper into the specifics of these two machines that their differences come to the fore.
Let's start by saying that neither pieces of gym equipment are foldable, so you'll have to ensure you have the right amount of space in your home to accommodate them. For comparison's sake, the E95 measures 211x157x 69cm, while the Synchro Forma comes in at a slightly larger 204x164x78cm, meaning Sole's machine might be preferable if you're really tight on space.
However, the Synchro Forma is more weighty, coming in at 148kg over the E95's 125kg. Weight is usually a negative thing in product features. In the case of an elliptical machine, though, it means a sturdier, higher-quality design that won't only support all user weights but is bound to stand the test of time.
This is certainly the case for the Synchro Forma. It uses super high quality materials and has an elegant matte black and satin silver finish complemented by a minimal tracking display. This cross trainer definitely outshines the E95 in the looks department.
WINNER: Technogym Synchro Forma. Hands down the most attractive cross trainer of the two.
Performance during workouts
The Synchro Forma might win in the looks department, but that doesn't mean this machine is style over substance. Its sleek looks are met with an exceptionally sturdy, solid construction that feels built to last. This is probably because it's based on those commercial models you see in fancy gyms, adapted for the home. It's a top quality machine with a sturdy and familiar feeling, making it very easy to use during elliptical machine workouts.
However, it only touts 12 resistance levels, which isn't many in the world of ellipticals. This means it's more limited in how easy or hard you can workout. Nevertheless, this machine really shines when it comes to tech. For starters, there's on-the-fly heart rate monitoring built into the central hand grips via new hand sensors that constantly monitor your heart rate and eliminate the need for a chest strap, incorporating one of the best heart rate monitors.
Joining this is automatic data tracking via a Bluetooth Forma Training Link, a port that you can connect your personal iPad to, track your training data and access all your favourite content. Super neat.
The Sole E95 is also very highly regarded when it comes to home gym machines thanks to its extensive feature set. It, too, is solid, boasting super smooth operation and a host of customisable features that makes it a great all-rounder. It includes a pretty heavy 12kg flywheel alongside a whopping 20 levels of resistance, an adjustable stride of between 8 and 24inch to accommodate all user heights, and a near-silent drive system that feels both stable and smooth during use without making a racket.
Another highlight is the fully-adjustable ramp angle that can be increased to 40 degrees so can work every muscle in your legs without it overworking the knees. In terms of tech, there's an onboard computer featuring a sizable 9-inch LCD monitor and built-in Bluetooth speakers. With all this, you're getting most of the perks found in a commercial-grade machine despite its lower price tag.
WINNER: Technogym Synchro Forma. This machine just has better overall performance thanks to its high quality materials and the innovative tech built in.
Price (US/UK)
The Sole E95 is available to buy now and can cost anywhere between $2,000-$3,000/£1,500-£2,000, depending on where you shop. We found it for $1,899 at Sole's official US online store and £1,499 at the Fitness Store in the UK.
The Technogym Synchro Forma has a list price of £3,390.00 in the UK, however it can be bought from most third-party retailers for much less, including Fitness Superstore, where we found it currently on offer for £2,882. There's no official stockist for the Synchro Forma in the US, but it can be purchased in the UK and shipped over for a conversion price of around $4,000.
WINNER: Sole E95. Based on price alone, Sole's cross trainer will cost you almost half the price. It might not be quite as premium in feel and appearance, but it's definitely close enough to warrant buying this machine over Technogym's offering.
Sole E95 and Technogym Synchro Forma: Verdict
Both the Sole E95 and the Technogym Synchro Forma have pros and cons to consider, but the major difference here is price. There's almost £1500 between the two, which is quite astonishing, really.
This means it's not hard to advise which machine to opt for if you want a quality piece of equipment without breaking the bank. Overall, the Sole E95 is one of the best elliptical machines for most people, offering great quality design and features for an accessible price.
However, if money is no object and you're willing to pay whatever it takes to get the best of the best then the Technogym Synchro Forma is the one for you. This machine is quite simply the most premium elliptical machine on the market, boasting some excellent, high tech features that will make just about any lengthy workout enjoyable.
Get the Fit&Well Newsletter
Start your week with achievable workout ideas, health tips and wellbeing advice in your inbox.
Lee Bell is a London-based journalist, copywriter, specializing in all things tech and lifestyle. He is also a qualified personal trainer. He started his journalism career a decade ago as a reporter covering the latest gadgets and innovations at tech tabloid The Inquirer. Lee went freelance in 2016 to broaden his expertise, moving into news, reviews and feature writing for a host of national print and online lifestyle titles such as GQ, Forbes, Esquire, Men's Health, Wired, The Metro, and The Mirror. He has an insatiable appetite for travel, Dharma yoga, and the odd outdoor challenge.