Sony WF-1000M4 vs Apple AirPods Pro: which workout earbuds are right for you?
We're comparing Sony WF-1000M4 vs Apple AirPods Pro to help you decide between these workout headphones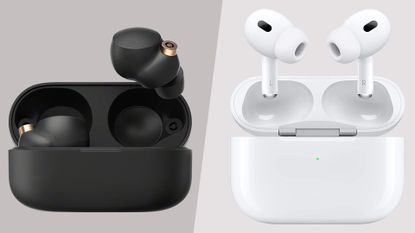 (Image credit: Sony/Apple)
It's hard to compare the Sony WF-1000M4 vs Apple AirPods Pro; both sets are some of the best-sounding earbuds around. But these are high-end, feature-rich sets that do more than deliver good sound. But which should you pick up for your next workout?
While you could choose from any of the best workout earbuds, the sound quality is the crucial selling point of the Sony and Apple sets. Although there are audiophile-friendly alternatives, these find a difficult balance between price, features, and performance.
Few are likely to find themselves disappointed by either. However, iPhone users should likely lean towards the AirPods Pro. The Sony WF-1000XM4 have the edge for Android users because of their longer battery life and tendency to be available at a lower price.
But that broad generalization won't be right for everyone. So, to help you decide between these two high-quality sets of workout earbuds, we've compared the Sony WF-1000M4 vs Apple AirPods Pro across price, features, design, and sound quality.
Sony WF-1000XM4 earbuds review: five-star headphones that are worth the money
The Sony WF-1000XM4 are audiophile-friendly workout earbuds with a impressive noise cancellation and sound quality. But you can get more for your money elsewhere.
For
Unbeatable sound quality
Impressive noise cancellation
Stay in place during workouts
Against
Steep learning curve
Not the best value for money
Apple AirPods Pro review: Elite-tier workout earbuds for iPhone users
The Apple AirPods Pro are some of the top workout earbuds for iPhone users, with high-quality audio and integration with Apple's services. But Android users are be better off with the Sony WF-1000XM4.
For
Ideal for iPhone users
Snug fit
Apple's Spatial Audio
Against
Not great for Android users
Stem design takes getting used to
Sony WF-1000M4 vs Apple AirPods Pro: price and release date
Apple released the original AirPods Pro in September 2019, and an updated version in September 2022. This newer model significantly improved the sound quality and active noise cancellation (ANC). Although the second-generation set has plenty of improvements, you still pick up the original pair at a discounted price.
Meanwhile, Sony released the WF-1000XM4 in June 2021. They are part of a range of some of the most celebrated true wireless earphones, which began in 2018. If you judge by the manufacturer's suggested retail price (MSRP), the Sony pair is the most expensive.
The WF-1000XM4 retail for $279/£250, while the Apple AirPods Pro cost $249/£239. However, Apple rarely offers discounts on its products, so you're more likely to find a deal on the Sony set if you hunt around. Our on-page tech also automatically finds the best prices to save you time.
Sony WF-1000M4 vs Apple AirPods Pro: design and fit
Both of these earbuds are known as in-ear monitors (IEMs). This means they use little silicone or foam tips that block your ear canal, unlike the classic "non-Pro" AirPods, which hang more loosely in your ear. It's also why we recommend the AirPods Pro over the AirPods for exercise.
IEMs are the most practical earphones, as they block outside noise and don't leak sound. You won't annoy nearby folks on public transit with your music and are less likely to damage your hearing by putting up the volume to compete with the noise.
However, the visual difference between the Sony WF-1000XM4 and AirPods Pro is immediately apparent. Apple earphones have a stalk that dips below your tragus (the harder part of your ear closest to your cheek), while the Sony pair adopts a more 'classic' earphones look.
Apple uses classic silicone tips, and Sony uses more unusual polyurethane foam ones. The fit of these pairs largely depends on how well the three sizes of tips match the size of your ear canals. Foam tips typically offer a more secure fit, but they can get a little nasty after a while, whereas silicone tips will often last the lifespan of the earphones.
Disappointingly, neither set has excellent water resistance, as both are only IPX4-rated for water splashes. So, you won't be able to run with these in the rain or accidentally drop them in your drink. There's a practical reason for this, though.
It's a side effect of their advanced noise cancellation. There are multiple microphones on these earpieces, and each is a point where water can enter and ruin the show.
Sony WF-1000M4 vs Apple AirPods Pro: sound quality
Technically, the Sony WF-1000XM4 have superior audio tech inside, but there's more to sound quality than the internal speaker; Apple made considerable improvements to sound quality in the 2nd Generation AirPod Pros.
Where the older pair was a clear step below the Sony WF-1000XM4, the latest set has a different character and is of comparable quality. The Apple AirPod Pro earphones have well-balanced, mature-sounding tuning. And the bass is more restrained and tasteful than other headphones.
But let's consider that the Sony WF-1000XM4 have a warmer sound, with slightly deeper-sounding bass but less of a sense of energy in the higher registers. You may prefer the Sony style if a smoother character appeals, but in a technical sense, Apple's tuning may be better.
As with most Apple products, you have less control over them, so the performance out-of-the-box is mostly what you're stuck with. However, Sony gives you more control over the sound, with EQ built into the companion app on your phone. More treble "zing" is on offer if you want it.
Sony WF-1000M4 vs Apple AirPods Pro: features
Aside from sound quality, noise cancellation is one of the most essential features. Both sets have high-quality active noise cancellation (ANC), helping you focus on your workouts. However, we found that the Sony set performed slightly better during our tests.
This is because the Sony WF-1000XM4 are also designed for passive noise cancellation, with the physical design also blocking sounds from reaching your ear. Sony's polyurethane foam does the job better, letting the earphones eliminate more high-frequency noise.
But we did find that the ANC on the second-generation AirPods Pro was more effective at blocking out some lower frequencies, which makes them a better choice for removing the sounds of traffic, planes, or gym machines.
And when we took each set outside, Apple's wind noise reduction was slightly better than Sony's. Generally, there wasn't much difference, but the common whistling noise caused by the ANC afflicted neither set. We did also feel Apple has a slight edge for call quality too.
You can use the Sony WF-1000M4 and Apple AirPods Pro with any Bluetooth-enabled device, but the AirPods Pro are designed to work best with other Apple devices. There are exclusive features, like Spatial Audio and Siri integration, which only work if connected to an iPhone, iPad, or Mac.
Sony WF-1000M4 vs Apple AirPods Pro: battery life
The Sony WF-1000XM4 have a massive lead in battery life, though. You can expect the pair to last 7.5 to 8 hours between charges with ANC, compared to 5.5 to 6 hours in the AirPods Pro.
Those two hours make a big difference to how these earphones are to live with, month after month. And while we rarely switch off ANC, the WF-1000XM4 can last up to 12 hours a charge with no noise cancellation.
Then again, the Sony case only holds power for two total charges, far lower than Apple's four full charges for the AirPods Pro. Plus, if you get the second-generation AirPods Pro, a small speaker on the case emits a tone if you're trying to locate them using Apple's Find My app.
Sony WF-1000M4 vs Apple AirPods Pro: verdict
If you've been debating the Sony WF-1000M4 vs Apple AirPods Pro, both sets are strong contenders for your workouts. These wireless earbuds have great battery life, excellent sound quality, and noise cancellation.
On the surface, it's easy to think there's not much difference between them. However, the Apple charging case holds more power, and the AirPods are the ideal choice if you're already invested in the Apple ecosystem.
But the Sony set are designed to block sounds too passively, so if you're trying to drown out a noisy gym, they're the better option. Plus, if you use an Android smartphone, they're a high-performance alternative to the iPhone-focused AirPods.
Neither are specifically designed for exercise, so it's worth keeping your options open. Jabra also produces a range of noise-canceling, long-lasting workout earbuds, so take a look at our comparison of the Jabra Elite 75t vs 85t if you want more choice.
Get the Fit&Well Newsletter
Start your week with achievable workout ideas, health tips and wellbeing advice in your inbox.
Andrew is a freelance contributor to Fit&Well. He has written about health and fitness for more than a decade, specializing in consumer tech. When not testing fitness tech for Fit&Well he writes about fitness for Forbes and contributes to publications including WIRED, TechRadar, Stuff, Trusted Reviews and others. Andrew runs to keep fit, and can often be round jogging around the parks of South London with several wearables and a heart rate strap attached. He also enjoys indoor cycling, using a turbo trainer and platforms like Zwift to get some kilometers in while avoiding London's busy streets.