Sony WF-1000XM4 earbuds review: five-star headphones that are worth the money
Our Sony WF-1000XM4 earbuds review is an essential read for anyone searching for the ultimate noise-canceling headphones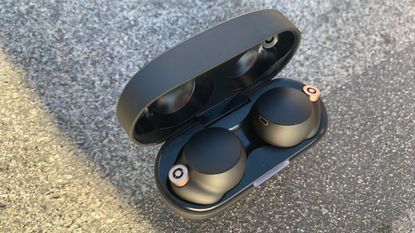 (Image credit: Molly Cleary)
The Sony WF-1000XM4 earbuds will become a city-dweller's best friend, with noise-canceling technology that will revolutionize how you can listen to music and experience the world around you. It also has pitch-perfect audio quality, so you can become immersed in sound as you run, walk, or jog.
Reasons to buy
+

Unbeatable sound quality

+

Incredible noise-canceling technology

+

Expensive feel

+

Stay in place when working out
Reasons to avoid
-

An expensive investment

-

Can be a steep learning curve at first
This Sony WF-1000XM4 earbuds review delves into whether they are worthy of the reputation they have as the most advanced noise-canceling earbuds on the market, and if they are worthy of the top running headphones title.
There are standout smart features that appear on many of the best workout earbuds too—most noticeably the speak to chat setting, where ambient noise is detected so that you can conduct a conversation without needing to pause your music manually.
These Sony earbuds have been perfected through a series of updates, with the latest version featuring a new processor to make the noise-canceling experience seamless. Modifications have also been made to allow even compressed music files to sound fuller and richer.
A pair of headphones are a training essential for many, and one feature that everyone wants is long battery life to save you from constantly needing to charge up yet another device. With quick charging and a luxurious feeling case that holds a bonus 24 hours of charge, these earbuds definitely allow you a generous amount of time before you need to plug them in.
Clearly, the quality of these earbuds is exceptionally high, but should you take the leap and invest in these for running or walking if you're just starting out on your fitness journey? In this Sony WF-1000XM4 earbuds review, we're going to get into our experience of these earbuds out in the world, so that you know if they're suitable for you.
Sony WF-1000XM4 earbuds review: price & features
The Sony WF-1000XM4 earbuds retail for $248.00 / £250.00 and are available on Amazon in two different colors; black or white. These earbuds are marketed as industry-leading when it comes to noise cancellation, with an integrated processor, dual noise sensor microphones, and interchangeable noise isolation earbud tips to help fit an individual's ear canals just right.
To improve sound quality, these earbuds use software to upscale your audio and make the sounds you hear much richer and more immersive. During everyday use, you can activate the Adaptive Sound Control setting to adjust the sounds around you to suit your situation and allow you to still be aware of your surroundings.
Helpfully, the earbuds are compatible with various voice assistants so you can carry out hands-free phone calls. They're also water-resistant. When it comes to charging, you can gain 60 minutes of use with a five-minute charging stint, and use the included case for 36 hours of overall power. As you can tell, features are generously packed into every area of these headphones.
Sony WF-1000XM4 earbuds review: noise-canceling technology
Irritating traffic sounds and distracting interferences genuinely become a thing of the past when using the Sony WF-1000XM4 earbuds, so much so that it can feel slightly dangerous to be using them out on the street. In order to get the noise-canceling technology just right, these earbuds come with a number of different-sized Noise Isolation Earbud Tips.
Upon trying these headphones out, we learned that it's essential to get the fit of these earbuds exactly right for your ear canal in order for the technology to excel. It's also crucial to be careful when pushing them into your delicate ears, as we learned the hard way they are difficult to retrieve if they're wrongly sized.
The other important thing to note is that you don't just turn on the ability to block out sound and leave it at that. These earbuds have Speak-to-Chat mode; as soon as you speak, your music will pause and ambient sound floods in to allow you to converse. This might sound like an out-there feature and it'll likely take a minute to adjust to, but it's also extremely effective and allows the precious noise cancellation to work effectively without creating a blanket barrier over other sounds.
When it comes to working out with these earbuds, it's a fair testament to how sweatproof they are that they can still function in the pouring rain. Once we mastered the fit, we found they weren't at risk of falling out when exercising, and that they allow you to completely focus on whatever you're doing. While that does mean no more annoying gym music blaring at you, you should be vigilant when using them if running outside, especially where cars are involved.
Sony WF-1000XM4 earbuds review: sound quality
If you're a music lover and constantly have a reason to plug your headphones in—from running to concentration sounds for working—sound quality is obviously going to be pretty important. It's one of the big selling points of the Sony WF-1000XM4 earbuds, and they definitely deliver on that.
The sound quality is nothing less than incredible, with a range of sound you wouldn't think possible from earbuds and technology that can deliver the powerful bass sounds of a hi-fi system. This quality also translates into phone calls, which is important if you take meetings on the go or travel frequently.
Sony WF-1000XM4 earbuds review: comfort and fit
These earbuds have a pretty unique design and as a result, we have found they take a little while to get the perfect fit, so experiment with the different included tips. The key is to make sure the body of the earbud is flat against your ear, and you'll be set. As the noise-canceling technology is so powerful, we found that it can become addictive to keep these earbuds in, especially if you're commuting around a busy city. We would probably advise against this though, as your ears can start to hurt if you leave them in all day.
Although you can download the Sony Headphones Connect smartphone app to adjust some of the audio settings and customize the experience, the app feels a little redundant. The on-bud controls are very easy to navigate once they're set up and connected to a device via Bluetooth, so they're ready to use straight out of the box. That's probably welcome news to any technophobes and makes it easy to take these out to the gym or any other place you want to be hands-free.
Sony WF-1000XM4 earbuds review: battery life
Regardless of how you want to use these earbuds, the battery life is a winning feature. If you want to use the noise-canceling technology constantly, you can expect eight hours of use without needing to plug them in. From there, you'll be able to gain an extra 16 hours from the charging case, meaning you can probably expect a strong three days of use before you need to plug them in for a top-up.
Another huge advantage is that these headphones can gain 60 minutes of usable time within just a five-minute charging window. That means that all those occasions when you're about to step out for a run and find your headphones dead can be quickly avoided.
Sony WF-1000XM4 earbuds review: pairing
The main complaint users have about the Sony WF-1000XM4 is that while you can pair more than one device at a time, you can only connect to one at any given moment to play sound. That makes playing music from your laptop or your phone in turn more difficult, as you have to go through the connection process again.
For Android users, there is a designated Fast Pair feature, which is meant to help with effortless connection in one tap. We connected via an iPhone which misses out on that feature, though the earbuds automatically connect as you open the case once paired, which is convenient. The range was good, with the headphones staying connected despite being in a different room to the connected phone.
Sony WF-1000XM4 earbuds review: user reviews
The Sony WF-1000XM4 earbuds have a 4.4 star rating out of five on Amazon, gathered from 4,822 global ratings. Lots of impressed reviewers agreed that these earbuds hold the best noise-canceling technology on the market, with one reviewer stating that it was like "Sony created a real-life mute button."
Other reviews touch on the "incredible audio quality" and the "wonderful ambient mode". There were recurring comments from users on where improvements could be made, including that the case felt a little cheap and that many users wished they could pair two devices at one time to these earbuds.
Sony WF-1000XM4 earbuds review: verdict
If you're looking to invest in a pair of earbuds that you'll use all the time, that can help you cancel out overwhelming sounds and have stellar sound quality, then you'll find the Sony WF-1000XM4 to be worth their weight in gold.
The noise-canceling technology here is undoubtedly some of the best around, and the sound quality will change the way you listen to music as you work out or travel. You don't have to be versed in technology to understand the hype about these earbuds; practical features like the amazing charging times and the sleek design are sure to win anyone over.
Also consider
Jabra Elite Active 75T earbuds
If you prefer over-ear headphones as a rule, then the Bose Quiet Comfort Earbuds may win out when it comes to design, but don't quite match up in terms of noise-canceling technology.
But if it's the choice you're after, and your budget doesn't quite stretch to the price, then the Jabra Elite Active 75T earbuds are a more affordable option to consider. For such a high-quality experience, we think it's worth paying a little more for these Sony earbuds, which allow you to block the world and its noise out for as long as you need.
Get the Fit&Well Newsletter
Start your week with achievable workout ideas, health tips and wellbeing advice in your inbox.
Molly is a freelance writer for Fit&Well. Her first role after graduating from college was as a Staff Writer on Fit&Well's sister site TopTenReviews, where she learned how to write about everything homes-centric. From there, she became Acting Features Editor at another Future site, LiveScience, where she helped to commission and edit health and fitness content. She now works as an eCommerce writer across Homes websites at Future, with a focus on cleaning and home gym equipment, two things which actually mesh quite well. She enjoys walking, open-air swimming, and playing netball, when she can get the chance.