Three overnight oat recipes for breakfast on the go
Make your next breakfast a breeze with these overnight oat recipes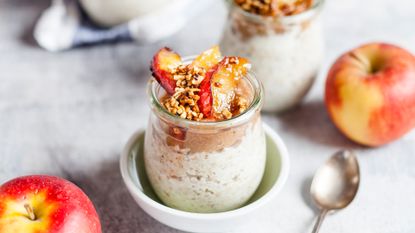 (Image credit: Getty Images)
If you want to lay the foundations for a great day, then nailing your breakfast is the first step. Overnight oat recipes are handy if you're short on time but want to kickstart your day with something nourishing and filling. As well as keeping you full, oats are known for being packed full of fiber, making them great for aiding digestion and boosting your energy levels.
Overnight oats are great if you want a breakfast you can eat on the go, as they can be easily made the night before, kept in the fridge, and taken out the following morning. You can also add extra ingredients, such as Greek yogurt or even protein powder, to boost your intake of essential nutrients. Our guide to the best protein powder for women has some tired and tested options if you're planning on adding it to your diet.
So, if you're feeling inspired to meal prep, then take a look at our three delicious overnight oat recipes, all of which are packed full of ingredients to keep you feeling energized throughout the day, whether you're on school run duty or have just finished up a 30-minute dumbbell workout.
Overnight oat recipes
Nourishing turmeric overnight oats
"Oats are great for breakfast as they keep us fuller for longer and help digestion," says Lola Biggs, a dietitian at natural health supplement brand Together Health. "In this recipe, you can use cashew milk or cow's milk and the added cinnamon helps support blood sugar balance."
Serves 1
Ingredients
50g oats
100ml cashew milk
1/2 tsp Himalayan salt
1 tsp cinnamon
1 tbsp good quality raw honey
1 tsp of turmeric
Method
1. Add the turmeric, cinnamon, honey, and salt to the milk and whisk to combine. Add the oats to a large jar or an air-tight container. Pour the spiced milk over the oats and stir briefly to combine.
2. Seal and place in the fridge before bed. It will keep for up to five days if you prefer to batch make your meals.
3. To serve, stir the soaked oats and eat straight from your container or place them in a bowl. Add fresh berries, seeds, and nuts for extra healthy fats and protein. Top with a drizzle of honey.
Bakewell bircher (vegan)
"This overnight oat recipe is full of gut-friendly foods," says Eve Kalinik, a nutritional therapist and gut health specialist for KÄLLA Probiotics. "The combination of oats and cherries can support the production of melatonin, which is important for regulating the sleep-wake cycle. Both of these ingredients are also excellent sources of fiber for our gut microbes and the almonds supply magnesium, which is key for promoting relaxation."
Serves 1
Ingredients
50g oats
2 tbsp flaked almond
15g frozen unsweetened cherries
1/2 tbsp almond butter
1/2 tsp almond extract
75ml unsweetened almond milk
Method
1. Preheat the oven to 180C/Gas 4. Line a baking tray with baking parchment. Spread the flaked almonds on the baking tray and bake for 20 minutes. Leave to cool.
2. Prepare the bircher the night before you want to eat it. Mix all of the ingredients together (except for the almond flakes) and cover and leave in the fridge overnight.
3. In the morning, remove it from the fridge and if it has set too much, you might want to add a little more milk.
4. Top with the toasted flaked almonds and enjoy.
Discover more ways to improve gut health with Fit&Well.
Banana, miso and peanut butter oats
"The oats in this recipe are combined with peanut butter and flaxseed to provide several different fiber sources, and the spicy kick from the polyphenols in cinnamon all has a positive impact on our microbiome," says Kalink. "The addition of miso paste delivers umami flavor and because it is a fermented food, it also brings a boost of beneficial bacteria. Paired with bananas, which also have a prebiotic effect, this is a match made in gut-loving heaven."
Serves 1
Ingredients
50g oats
1 1/2 tbsp peanut butter
1 tbsp ground flaxseed
1 tsp honey (or maple syrup)
1/4 tsp cinnamon
125ml milk of your choice
For the banana miso cream
1 small-medium ripe banana
1 tsp white miso paste
1 tsp honey (or maple syrup)
Method
1. Mix all of the oats ingredients together, place in the fridge and allow to soak for 1 hour or longer (you can prep this bit the night before if you want to save time).
2. Remove the oats from the fridge when you're ready to eat and prep the banana miso cream. Peel the banana and mash with a fork until you get a puree. Add the miso and honey (or maple) and mix well.
3. Using a jar or glass start to layer with half of the oats mixture. Spoon on half of the banana miso cream. Add the remaining oat mixture and finally the rest of the cream.
4. Finish with your choice of toppings, such as sunflower seeds or roasted peanuts. Or add some berries or cherries or even physalis for an additional boost of fiber and polyphenols.
The benefits of eating oats
"The connection between oats and health comes down to a component of the oats called beta-glucan, which is a fiber found in oats," says Dr Federica Amati, a research scientist, nutritionist, and chief nutrition scientist for Indi Supplements. "Oat beta-glucan is associated with a reduced risk of cardiovascular disease and improved blood glucose and insulin response, but just bear in mind you need to eat a lot of oats to get the higher doses of oat beta-glucan."
Topping such as nuts and seeds can be a great addition to overnight oat recipes. Just go easy on the added sugars, like honey or jam, as these can spike your blood sugar.
"Instead of reaching for sugar-loaded cereals, add fresh berries to your oats, top with a blob of honey, and increase your protein intake with chopped nuts and ground seeds like chia, sunflower, and pumpkin," says Biggs. "The overnight element of this means that breakfast is ready and waiting for you, and by soaking the oats overnight in a water or milk alternative you can further maximize their benefits by preserving their nutrients and preventing indigestion."
Looking for more protein-packed breakfast ideas? Try our five easy protein pancake recipes.
Get the Fit&Well Newsletter
Start your week with achievable workout ideas, health tips and wellbeing advice in your inbox.
Stacey Carter is a Freelance Health Writer who has written print features and digital content for titles such as Woman & Home, Natural Health, Women's Health, Get The Gloss, and Stylist. You'll find her covering a wide variety of health-based topics, talking to leading figures in the fitness industry, and investigating the latest trends in wellness. When she's not at her laptop, weekend hikes, testing out new recipes in the kitchen and LISS-style workouts are her favourite ways to switch off.