Trail running this winter? Ensure you don't freeze with these 10 essential items
Being cold sucks big time. Stay warm while running off-road in the coldest weather by layering up with these essential items.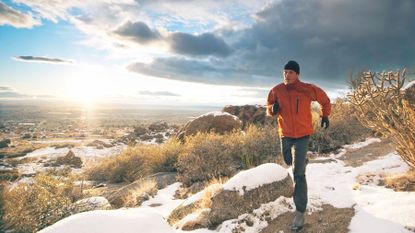 (Image credit: Getty Images)
Get the Fit&Well Newsletter
Start your week with achievable workout ideas, health tips and wellbeing advice in your inbox.
Thank you for signing up to Fit And Well. You will receive a verification email shortly.
There was a problem. Please refresh the page and try again.
Winter running can be a struggle for many runners, as things get cold, wet and oh-so muddy.
As the temperature plummets, your enthusiasm for pulling on your best trail running shoes and heading out of the door for a run plummets with it.
But there are simple ways to ensure you stay warm and visible out on the trails, making your run a fun and enjoyable experience rather than a miserable, near-hypothermic one.
It's well worth investing in certain warmer items of clothing. Layering is crucial as winter sets in, and ensuring you have the right layers - made from not only warm but also technical fabrics - will ensure you remain snug and comfortable even in the midst of a blizzard.
If you venture out during winter, you will be treated to some of the year's best trail vistas. The peacefulness, solitude and beauty the countryside provides at that time of year makes it all worthwhile, not least the proven physiological and psychological benefits of 'forest bathing' – aka spending time outdoors in woodland settings – when stress is taking its toll.
And who doesn't love jumping in muddy puddles?
So, if you're determined to keep up your trail running ways this winter, here's 10 essential items that will help you stay on track...
1. Baselayer
The absolute must-have piece of kit, a baselayer forms an essential starting point for winter trail running clothing. When choosing one, go for long-sleeved and, if possible, merino-based.
Merino wool is like a miracle for runners, providing warmth, comfort and helping to regulate your temperature while wicking sweat away from your skin so you don't get chilled. It's also great at odour control, meaning it won't hum after multiple uses.
Fit&Well loves: Our go-to baselayer is the Oasis Merino Crew from Icebreaker.
2. Mid-layer
For some runs it might be mild enough to just wear a baselayer with a jacket. But for the runs where frost clings to the fields and puddles are iced over you'll require a mid-layer. A mid-layer effectively traps an extra layer of air between your clothing, helping to keep you warmer.
Fit&Well loves: A half-zip layer, such as this one from Hoka One One, is perfect.
3. Packable waterproof/windproof jacket
Even if you check the forecast before you head out, you never know what will greet you 30 minutes into your run, especially if you head into the hills. This is where a packable jacket can make or break your run.
Running jackets are becoming more waterproof and more lightweight – ensure you choose one with taped seams so no water can creep in, and that it has the ability to pack down into its own pocket so you can stash it in your running belt or bag if the weather improves.
Fit&Well loves: The Agravic jacket from adidas Terrex ticks all the boxes mentioned above - and the 'legacy gold' color is a winner, too.
4. Gloves
Once you've experienced a gloveless run where your fingers go numb and you have to get someone else to undo your shoelaces at the end you will never run gloveless again.
Look for a waterproof pair if possible to keep your hands dry, as once gloves soak through your hands' temperature will dip. There's the option of mitts too, which some claim keep your hands warmer via the fact each finger provides warmth to the next finger.
Fit&Well loves: Gore's Windstopper Thermo Gloves are a great high-end option for the coldest conditions.
5. Trail shoes
If you only have road running trainers, winter is the time to upgrade to a pair of trail running shoes. The extra grip and weatherproof properties they provide mean that you can confidently tackle mud and snow and your shoes won't slip and slide and soak your feet. The most extreme trail shoes feature 'stud'-like lugs that provide grip in extreme conditions.
Fit&Well loves: inov-8's MudClaw G 260 will have you covered in the wet and cold, thanks to their 8mm Graphene-enhanced rubber lugs and weatherproof upper.
6. Hat
You lose around 10% of your body's heat through your head, which can make a big difference out on the trails. There's a range of running hats available, from lightweight beanies to knitted bobble hats and even waterproof hats for when you fancy stepping out in a blizzard (such as this one from Sealskniz).
Fit&Well loves: Our recommendation is On's merino beanie – it provides superior levels of warmth while remaining super-soft and adding a touch of style.
7. Tights
More hardy runners might stick to shorts all year round, but we'd suggest investing a pair of running tights. In the coldest conditions they're a gamechanger, keeping your legs warmer and even blocking out the wind.
Fit&Well loves: For the ultimate protection, we point you in the direction of Salomon's Windstopper Tights, which incorporate Gore-Tex's Infinium panels on the front to help beat wind-chill.
8. Warm socks
Once again, merino is key here. Increasing numbers of brands are adding merino to their sock construction, which can stop your feet becoming blocks of ice.
Fit&Well loves: Darn Tough makes reliably warm socks for runners, and the Prism Crew are made with 40% merino wool.
9. Neck warmer
A neck warmer is easy to throw on if conditions deteriorate, and its multi-functionality means you can pull it up over your mouth and nose, or even wear it over your head under your hat.
Fit&Well loves: Buff are experts at neck warmers, and the Buff Thermonet Tubular beefs up your protection against the cold. Handy tip: it can also double up as a face mask if you need to visit a shop on your run.
10. Lights
Always carry a head torch, especially if you are heading out in the afternoon – you never know whether you might be still out on the trails in the dark, especially if you take a wrong turn.
Look for something lightweight with a decent amount of lumens to light up the forest paths (you'll need at least 200 lumens, going up towards 500+ if you can), but you'll need to consider the extra weight of the battery, as the more power you require, the bigger the battery pack.
Fit&Well loves: The Petzl Bindi is a great little head torch that's designed for active use.
Get the Fit&Well Newsletter
Start your week with achievable workout ideas, health tips and wellbeing advice in your inbox.
Howard is a freelance health and fitness journalist and copywriter. He has written for publications including ShortList, Runner's World, Trail Running, Women's Running, Red Bulletin, Wareable and Cycling Weekly. He enjoys nothing more than lacing up his trail shoes and heading out to explore new trails. He's run ultramarathons everywhere from the French Alps and Canadian mountains to the Welsh coast and Peak District. When not running, he's usually found hitting his local MTB singletrack trails or on a quest to find the country's best cinnamon bun.