'I tried vitamin IV therapy to find out if it works - this is what happened'
Our writer rolls up her sleeve to try a vitamin-boosting drip therapy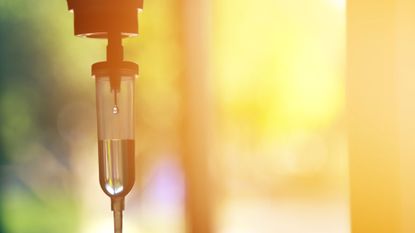 (Image credit: Getty Images)
'Don't worry, the needle isn't huge,' says Shelley, my nurse at REVIV, as I arrive for my hour-long appointment at London's Regents Park Aesthetics Clinic. I'm here for an intravenous vitamin therapy, or an 'IV drip' – essentially a drip packed with re-energising vitamins and minerals. But I have no reason to be nervous - despite the fact that a needle is about to go into my arm - as Shelley used to be a sister in A&E, so I'm in safe hands.
'We offer five drips, most based on a litre of saline, so you're going to get massively hydrated,' explains Shelley, who gives up to 10 drips a day. 'When you take supplements orally you get about 30% absorption, but with an IV drip you get 100% – and it takes effect a lot quicker.'
I pick Megaboost (£199), which contains B12 and vitamin C, as I've recently been suffering from a cold and need an immune system hit, pronto.
Who can try vitamin IV therapy?
Before we start, Shelley runs through some health questions. You have to be aged between 18 and 65, and have your blood pressure, heart rate, temperature, weight and any allergies checked. Shelley even works out my BMI as, if someone was extremely thin, the fluid could potentially cause bloating.
Health tests all passed, I lie back while Shelley finds the best vein to use. 'Some people are a bit scared, but it's just a tiny sharp sensation,' she reassures. And she's right. Thanks to the freeze spray she applies, I hardly feel a thing.
The IV therapy experience
As the yellow solution begins to drip through, Shelley warns me that my arm and hand will start to feel chilly. 'It does lower your body temperature, but not to the extreme,' she says. 'We don't keep it in the fridge, but your body's temperature is 36-37ºC, and this will drop it a couple of degrees.' The litre of saline takes about 30-35 minutes to go in.
As I'm relaxing, Shelley tells me about the concierge service they offer. In London, they charge £150, plus the treatment cost, but it can be split between a group. She has even hooked up stressed-out workers while they're still at their computers!
Once the bag has emptied and the drip removed, I'm free to go. I have to keep a pressure bandage on for 30 minutes, and not shower for an hour or carry heavy bags, but apart from that I can carry on as normal – and even drink alcohol – if I want to.
Vitamin IV therapy as a hangover cure
Speaking of alcohol, with hangovers caused by dehydration, could the Ultraviv (£129) help relieve sickness, pain and acid build-up? 'Yes, it can work,' says Shelley. 'One of the first people I treated was hungover with bloodshot eyes, etc, but when I was finished he felt on top of the world.
The results
I'm a bit disappointed afterwards, as I don't feel any different. However, a few days later I realise my cold hasn't lingered like usual, so the IV may have helped. While this type of hydration would be great for people doing extreme sports (the Hydromax, £99, is ideal post-marathon), personally, I'll save the experience for a special occasion.
Get the Fit&Well Newsletter
Start your week with achievable workout ideas, health tips and wellbeing advice in your inbox.
Currently Wellbeing Editor across several women's titles including Woman&Home, Woman and Woman's Own, Faye has worked in the magazine industry for over 15 years. She has previously interviewed celebrities for the Fit&Well brand. Having previously been the go-to sex columnist for Now magazine, there isn't much she won't discuss when it comes to women's health - which is important, as Faye's a firm believer that feeling good on the outside starts from within.
Faye's fitness routine is more focussed on finding inner balance rather than burning excess calories – think mindfulness, power breathing, yoga and plenty of walking in nearby woodlands rather than a sweaty HIIT class. Having been vegetarian for almost two decades, Faye's also passionate about eating well. She currently swears by her daily mix of probiotics, vitamin D and B12 to help boost energy instead of sugary treats.
Out of the office, Faye loves to binge-watch Netflix documentaries, plan cruise holidays and talk incessantly to anyone who will listen about how much cats rule. And you'd be surprised how long that can last!