What vitamins should I take? 6 essential nutrients everyone needs for optimum health
Vitamins are vital for our health, but are you getting enough? Dietician Helen Bond reveals the key nutrients we need and why...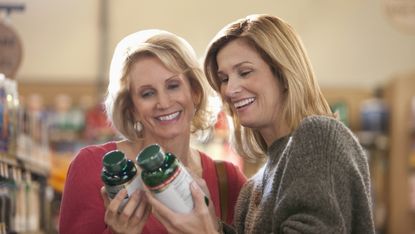 (Image credit: Getty Images)
Confused by conflicting nutritional advice and wondering 'what vitamins should I take?' We're here to help.
Vitamins are essential for our bodies to function properly from keeping our eyes and skin healthy to preventing anaemia, depression and heart disease.
Both the American and British departments of health provide guidelines on the amount of vitamins and minerals we need,' says Helen. These are called recommended dietary allowances (RDA) in the US and reference nutrient intakes (RNI) in the UK.
With the exception of vitamins D and K, the body can't produce the vitamins we need - so we ideally need to eat them in our diet - but this is not always possible.
Dietician Helen Bond explains: 'You should be able to get all of the nutrition your body needs from eating a varied, well- balanced diet – fruits and vegetables, wholegrain starchy carbohydrates, beans, pulses, fish, eggs, meat and dairy. However, with the pressures of day-to-day life, this isn't always easy to do from diet alone.' This is where supplements can play a part.
Below, we've outlined the six essential vitamins that we should all be getting daily - along with how to go about it. As ever, be sure to consult a doctor before you start taking any supplements.
1. Vitamin D
Why? The sunshine vitamin is needed for healthy bones and teeth, as it helps your body absorb calcium. It also supports a healthy immune system and normal muscle function.
Your RNI: 10mcg per day
Good sources: The best is natural sunlight on your skin, but it's hard to get this all year round. Top up with oily fish, (salmon, fresh tuna, trout, mackerel and sardines), as well as eggs, wild mushrooms and dairy products.
Need a little help? Try BetterYou Dlux 1000 Vitamin D Daily Oral Spray
2. Iron
Why? A vital component of red blood cells, which transport oxygen around your body. Iron boosts your brain and energy levels, and helps your immune system function properly - particularly important during the winter months.
Your RNI:
Men 19+ – 8.7mg per day
Women 19-50 years – 14.8mg per day
Women 50+ – 8.7mg per day
Good sources: Lean red meat, oily sh, green leafy vegetables, pulses, nuts and seeds
Need a little help? Try Active Iron
3. Omega-3s
Why? Omega-3 maintains normal brain function and healthy vision, as well as keeping your heart healthy.
Your RNI: 250mg per day
Good sources: Oily fish

Need a little help? Check out our pick of the best fish oil supplements
4. Selenium
Why? A power antioxidant, Selenium protects cells from damage by free-radicals found in pollutants. It also keeps hair and nails looking healthy, and regulates your metabolism.
Your RNI: 60mcg per day
Good sources: Fish, meat, eggs, Brazil nuts and mushrooms
Need a little help? Try Zhou Nutrition Selenium or Viridian Selenium
5. Vitamin B12
Why? Vitamin B12 keeps your immune and nervous systems healthy, helps reduce fatigue and boosts your mood.
Your RNI: 1.5mcg
Good sources: Meat, fish, eggs, dairy products and fortified breakfast cereals.
Need a little help? Try BetterYou Boost B12 Oral Spray
6. Calcium
Why? Calcium is key for keeping bones and teeth strong, your nerves and muscles healthy and helping your blood clot.
Your RNI: 700mg
Good sources: Dairy products, (milk, cheese and yogurt), plus sardines, leafy green veg, pulses, nuts, seeds, beans and dried fruit.
Need a little help? Try Nature's Way Alive! Calcium Gummies
Get the Fit&Well Newsletter
Start your week with achievable workout ideas, health tips and wellbeing advice in your inbox.
Natalia is a health and fitness journalist who has written for the likes of Woman & Home and Marie Claire, and likes to practice what she preaches when it comes to staying fit and well. She loves the outdoors and would happily swap the treadmill for the trail at any opportunity. As such, in her free time you'll likely find her up a mountain somewhere. She has hiked eight of the major mountain ranges across four continents, including the Appalachians, the Smokies, the Sierra Nevadas (where she hiked to the top of Half Dome during her honeymoon) and the Atlas Mountains, as well hitting the summits of Snowdon and Pen-Y-Fan (Brecon Beacons), Table Mountain in South Africa and the Blue Mountains in Australia. She was also a fencer for 13 years, wielding an epée for Team GB during her teenage years. Having recently welcomed a baby, Natalia is currently getting back into her fitness routine, and has her sights set on completing a triathlon, something she and her husband started out on before their bundle of joy arrived.