How to lower resting heart rate: 5 practical steps to take today
Take steps to lower your resting heart rate - a key measure of general health and fitness - with these expert recommendations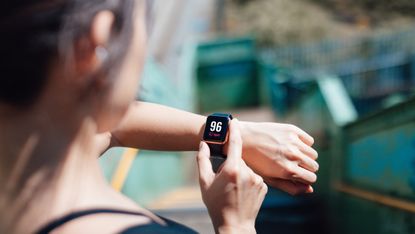 (Image credit: Getty Images)
Wondering how to lower resting heart rate but not sure where to start? We've got the expert answers you're looking for.
Heart rate is a great key indicator of overall health and fitness levels. The heart is one of the hardest working muscles in the body so making sure it's functioning properly is key.
Your heart rate will naturally spike throughout the day depending on how much you move and other factors such as stress levels and stimulants such as coffee, but it's your resting heart rate that's most important.
Resting heart rate simply refers to how many times your heart beats per minute whilst in a rested state. The American Heart Association (AHA) recommends taking your resting heart rate when you wake after a good night's sleep.
You can check your resting heart rate by holding two fingers against one of your pulse points for a minute and counting the number of beats. However, technology can help provide a more accurate reading. The best heart rate monitors can be used in a resting state as well as during physical activity to help you monitor your heart rate zones, whilst today's best fitness trackers (which include the best Fitbits) also provide heart-rate stats.
Generally speaking, the lower resting heart rate you have, the healthier your heart is and the fitter you are - although factors such as age can play a role.
The AHA advises that for most people, a normal resting heart rate should be between 60 – 100. However, for those who are particularly active - professional athletes, for example - it's okay for it to be between 50 and 60.
Studies have shown that elevated resting heart rates are linked with higher body weight and blood pressure, along with lower levels of physical fitness.
If yours is above the recommended range, then there are steps you can take to reduce your resting heart rate. Here are five practical ways to make a start...
Increase your activity levels
There's a reason that professional athletes have a very low resting heart rate – exercise strengthens the heart muscle. So just like when we get stronger if we increase other muscles, when the heart muscle gets stronger it means it works more efficiently – pumping blood quicker around the body.
Dr Zoe Williams, an NHS GP and wellness ambassador for Garminagrees: "There are a variety of ways you can lower your resting HR, but fitness is a great way to start.
"While it might seem counterintuitive to exercise, as this usually brings your heart rate up, the more frequently you exercise the more your heart will learn to be stronger and be more efficient at pumping blood. Then, when you're in rest mode, your heart is more easily able to maintain a lower heart rate."
If you are new to exercise, start slow. You could try walking to lose weight, download one of the best fitness apps, or try the Couch to 5k beginner's running plan. Alternatively, work with a personal trainer to build a workout routine that is tailored to you. The key is to find something you enjoy doing to ensure you stick with it.
Eat a balanced diet
Of course, one of the main benefits that people talk about when cleaning up their diet is weight loss – but when you start to eat healthily, it has a major effect on how your heart performs too.
Brad Emmott, a personal trainer and Head of Recovery at Manor London explains: "If you're someone who carries excess weight, your heart is having to work harder to pump blood through it. If you lose that excess weight, it won't need to work as hard."
Rather than drastically changing your diet overnight and restricting entire food groups (which is never usually a good idea), take it one step at a time. Try to see it as a lifestyle change, rather than a diet.
Start small by increasing the amount of fruit and vegetables you eat every day - five is the recommended daily intake. This will naturally decrease your consumption of processed foods, which are typically high in salt and saturated fat.
From here, start to 'balance' your plate at every meal, roughly aiming for half vegetables, a quarter protein and a quarter carbohydrates - the perfect mix for feeling full and fueled. See our portion size guide for more information.
Decrease alcohol and sugar consumption
Most of us like to enjoy the odd glass of wine or gin and tonic with friends. But the effects of regular drinking - especially above the recommended guidelines (14 units a week for Brits, two drinks a day for US men and one drink a day for US women) - can result in an elevated heart rate, high blood pressure and the weakening of the heart muscle over time.
Williams says that too much sugar can have similar effects: "For some, eating sugar in excess can mean the body interprets this significant rise in sugar and energy as the result of stress, and releases cortisol and adrenaline. These hormones cause the heart rate to increase, which will in turn cause blood pressure to rise."
The guidance in the UK is that adults should have no more than 30g of free sugars a day. In the US, the recommended daily limit is 10 teaspoons.
Get more sleep
Williams says creating better sleeping habits is key to lowering your resting heart rate. "One of the best ways to promote consistent sleep is having a healthy sleep routine. By following a standard schedule, the mind and body become accustomed to a healthy sleep pattern."
Many of the best fitness watches now also have sleep monitoring, which can be a useful tool in understanding your existing sleep patterns.
"By monitoring your sleep you can track improvements and adjust your bedtime accordingly to ensure you are getting between seven- and nine-hours sleep, which should ultimately help lower your resting heart rate overtime," advises Williams. The best sunrise alarm clocks can also help to establish healthy and regular sleep patterns.
Manage your stress levels
Whether it's down to your job, home life or personal issues, stress will take its toll on your health. Emmott believes we need to learn to manage it so it doesn't negatively impact our resting heart rate and overall health.
"Stress of any kind, physical or emotional does increase heart rate and can have long-term adverse effects on your health," he says.
"There is no way to eliminate stress in daily life, but managing it is important to keeping a healthy heart."
In addition to the action points outlined above, he recommends that meditation, social interaction (virtual included) and being in nature can help manage stress levels.
Once again, using a fitness tracker to help assess your stress levels is also a good idea. "Knowing your stress level can help you identify stressful moments throughout your day and could help identify triggers of your stress, so you can begin to eliminate and manage stressful situations," Williams says.
"For example, if your stress scores were high, it would be a great time to take five minutes away from what you were doing to do some deep breathing. This doesn't have to impact your day, you can do it while boiling the kettle, but breaking the chronic stress cycle is so important for your long-term health and short-term mental wellbeing."
Sarah is a freelance journalist who writes about fitness and wellbeing for the BBC, Woman&Home and Tech Radar. During lockdown she found her love of running outside again and now attempts to run around 50 miles a month. When it comes to other fitness, she loves a sweaty cardio session – although since she's been working out from home she's sure her downstairs neighbors aren't too happy about it. She also loves to challenge herself - and has signed up to do hiking holidays, intense bootcamps and last year she went on her dream activity holiday: paddle boarding around deserted islands in Croatia. On her rest days, she loves to recover with a simple yoga flow session – the perfect antidote to her active fitness schedule.