How to use an exercise bike to get the most out of your workouts
Not sure how to use an exercise bike? Here's everything you need to know in one handy guide...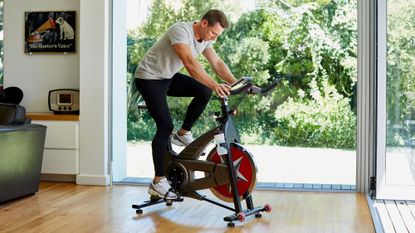 (Image credit: Getty Images)
It may seem like a straightforward piece of kit, but figuring out how to use an exercise bike can be daunting if you've never ridden one before.
There are plenty of adjustments you can make to the bike which can be bewildering. And then there are questions like: do you need special shoes? How do you change the resistance? What does changing it even do? And is it ok to watch a box set while I work out?
This guide will help you through the basics of the machine so you can saddle up and work out with confidence, whether it's in the gym, during a high-energy spin class or in the comfort of your own home. See our pick of the best exercise bikes if the latter is of interest.
Exercise bikes go by a variety of names including stationary bikes, static bikes, spin bikes or indoor cycling bikes, and some are even known by the name of the brand that makes them, such as Wattbike and Peloton.
These bikes are either manually powered or electric-powered, for which you'll require a plug socket. Some have an upright design, so you sit up tall while riding, others are designed to provide a more streamlined, ergonomic position that mimics a road bike. You can get recumbent bikes too, where you sit closer to the floor and the pedals are arranged slightly above hip level, and these generally provide a more leisurely workout.
Most exercise bikes use one of three types of resistance systems to control and change the amount of effort you have to put in during your workout. These are:
Air resistance: This is provided by a flywheel that provides resistance when rotated in air. They tend to be smooth and have a lifelike feel, although they can be noisy.
Magnetic resistance: Uses either electric to generate a magnetic field (and then resistance) or by moving permanent magnets in proximity to a spinning flywheel or disc to create resistance. These can feel true to reality, are generally quiet but can result in a build-up of heat.
Friction resistance: Uses a friction pad that pushes against a spinning flywheel, causing resistance. This is often controlled via turning a knob. The mechanical characteristics of pad-on-flywheel friction is very different from the resistance you feel when riding a bike.
The benefits of regularly using an exercise bike are manifold. It's a low-impact form of exercise, so if you're recovering from injury – particularly leg-based – it's ideal. It can also be used to build endurance and speed, and 2019 research by Medicina found that regular indoor cycling can improve aerobic capacity, blood pressure and body composition.
Add to this the fact that indoor cycling is not weather-dependent – you can jump in the saddle any time of the day or night and not have to worry about traffic, stopping at junctions or other hazards – and you have the ideal indoor exercise for many.
The sections below aim to educate you on various aspects of how to use an exercise bike safely and confidently, covering the various components, getting your set-up right, good form and more. Happy riding!
How to use an exercise bike: understanding the different parts
The first thing to get accustomed to when figuring out how to use an exercise bike is the key parts that make up the machine. Most exercise bikes feature a similar list of components. These will include:
Pedals
These can either be flat pedals or clip-in that attach to special cycling shoes (often called cleats or SPDs). Some pedals have a clip function one side and are flat the other, so you can choose which side to use depending on your shoes. The flat side often features a toe cage, which you slide the front of your foot into and it will stop your foot slipping off the pedal.
"Cleats give you a direct connection with the pedal, which allows you to better utilize the whole of the pedal stroke," says George Caines, Head of Education and a coach for Wattbike. "They enable you to more effectively 'push and pull' the pedal, using more muscles to continue the power to the pedal more consistently, making you more mechanically efficient."
Toe cages or toe clips provide more connection to the pedal than a flat pedal as your foot is lightly strapped and held in place, allowing for some 'push and pull' which will make your pedaling a little more effective.
Display
This is either in the middle of the handlebars or on some bikes such as Peloton extended from the handlebars to make it easier to read. The display provides real-time information based on how you're currently riding. This can include time, speed, power, cadence, heart rate, calories burned, etc.
If you are taking part in a pre-set program, it will also tell you what cadence/power or speed you should be hitting at certain points of the workout.
Saddle
Most saddles are long and thin in shape to help support you in certain riding positions.
It may seem uncomfortable at first – and padded cycling shorts will help provide some comfort and support – but you will find that it will help your riding and you quickly get used to it.
Adjusting the seat to get it in the right position for your body position will help too.
Handlebars
Many exercise bikes feature drop-down handlebars that curve round in a similar manner to the type you see on road bikes. This not only helps you feel like you are riding on the road, but offers multiple riding positions as well as helping you adopt an efficient cycling body position, which aids in you being able to produce maximum power through your legs.
Water bottle holder
Almost all bikes will feature space to hold your water bottle (check out our pick of the best water bottles for the gym to slip into your bike's holder).
This is essential due to the amount you will sweat during your workout – indoor cycling is notorious for resulting in a sweat-fest. You should always hydrate during your workout, and having easy access to your bottle is essential.
How to use an exercise bike safely
Once you're feeling confident with ho to use an exercise bike, it's time to jump on. However, before you start exercising make sure you get a health check by a doctor. Always read the safety guidance that comes with a bike and follow the guidance.
Setting up the machine to your specifications is crucial in getting the most out of your workout. Caines recommends making the following adjustments to set up your bike for a safe, comfortable ride that will put you in an ideal position to maximize your performance:
SADDLE HEIGHT: "Saddle height is the first part of the bike you adjust. Stand next to the pedals on the bike, and raise the saddle up to the top of your hip bone. To check the saddle height, get on the bike and cycle. You're looking for a steady stable feeling, with no rocking side to side on the saddle."
SADDLE HORIZONTAL POSITION: "Your knee should be directly above the center of the pedal when the pedals are horizontal. Taller people will naturally be further back on the horizontal position and shorter people will be further forward."
HANDLEBAR HEIGHT: "Start with the handlebars at the same height as the top of the saddle. Depending on your flexibility or personal preference you can adjust the height to suit you."
HANDLEBAR HORIZONTAL POSITION: "With your hands resting on the handlebars, you're looking for 90˚ between your arm and torso. Again, this is more a personal preference than a direct instruction, so adjust to what feels comfortable for now."
As with any form of exercise, ensure you warm up first. Many exercise bikes include a warm-up as part of the pre-program workouts, but you should aim to spin your legs at a low resistance while keeping your heart rate low for around 10 minutes before beginning your workout. At the end of your workout, a 10-minute warm-down is also recommended.
How to use an exercise bike with good form
"'Form' is difficult to objectively measure," says Caines. "Some bikes provide a PES [Pedal Effectiveness Score] to provide feedback to help you adjust your form to be more efficient."
In terms of 'physical form' on the bike, Caines suggests aiming the following while riding:
A very slight rocking of the hip girdle on the saddle. This shows that you're able to move with the bike and shift your weight slightly from side to side as you pedal.
A straight-leg drive from your hip to the pedals, without your knees jutting out to the side or any extraneous movements from the center line of the bike and rider silhouette.
No bobbing on the saddle – you should aim to stay steady in your seat.
Exercise bike key functions explained
The final hurdle in learning how to use an exercise bike is understanding some of the metrics you might find displayed on the screen as you cycle. Below we break down the most common data.
Speed
Speed is simply how fast you would be travelling on a bike on the road. On the flat, the faster you pedal, the faster your speed.
Cadence
Some bikes will display your cadence. This is the rate at which you are turning the pedals per minute. It can vary from around 50rpm to 110rpm+, and it should be noted that a higher cadence does not necessarily mean you will travel further, as it can depend on resistance, too.
Power
You may see a power reading on higher-end electronic bikes. This is a measurement of your power output in watts.
Some exercise bikes will offer a program to test your FTP (Functional Threshold Power). This is usually a 20-minute test that is used to calculate the power that you can hold for an hour. Be warned – the test is hard work, as it requires you maintain your threshold power for as long as you can during those 20 minutes.
Once you have your FTP figure, you can use that to train with, with the aim of eventually increasing your FTP and your power output.
Heart rate
Most electronic bikes will either display your heart rate via sensors in the handlebars or connect to your own heart-rate monitor via Bluetooth (see our pick of the best heart rate monitors for some options).
"HR monitors are a great addition to your cycling, especially if you're looking for an objective indication of how hard you are working," says Caines. "Adding a HR monitor will allow you to set training zones enabling you to train more effectively.
"Also, after a period of training you can measure and monitor fitness change, whether that's through a formal test or using a particular session as your benchmark measure."
Resistance
Depending on the type of resistance the bike provides, it can have varying results on your workout.
Air resistance bikes typically have smooth, instant and progressive resistance characteristics. They also often feature moving handles, which are often called Assault Bikes.
"This will shine for those who are into HIIT training and big power bursts, but they're equally at home for endurance work," says Caines. "The fact that you need to move the resistance may only appeal to certain people, so if you want to simulate hills this might not be the bike for you."
Meanwhile, magnetic resistance offers something different.
"Depending on the logic and algorithms behind the resistance, the characteristics can be quick, realistic and provide a life-like training experience, especially for those who are partial to a cycling simulation experience," says Caines. "It's most suited for those training for climbs and like endurance training."
Built-in programs
Some bikes have the ability to provide different workout programs depending on the level of tech onboard. These can vary from basic interval training programs to advanced 'virtual' rides that replicate famous climbs such as Mont Ventoux.
Final thoughts on using an exercise bike
Exercise bikes are an ideal piece of kit if you are looking to burn calories in a short amount of time while keeping impact on your bones and joints to a minimum.
They are straightforward to use once you have set them up properly, and can provide a wide range of metrics to help you train via pre-set programs that will help build specifics such as endurance, speed, power or fat loss.
Get the Fit&Well Newsletter
Start your week with achievable workout ideas, health tips and wellbeing advice in your inbox.
Howard is a freelance health and fitness journalist and copywriter. He has written for publications including ShortList, Runner's World, Trail Running, Women's Running, Red Bulletin, Wareable and Cycling Weekly. He enjoys nothing more than lacing up his trail shoes and heading out to explore new trails. He's run ultramarathons everywhere from the French Alps and Canadian mountains to the Welsh coast and Peak District. When not running, he's usually found hitting his local MTB singletrack trails or on a quest to find the country's best cinnamon bun.