How Helen Mirren's classic 12-minute military workout keeps her fit in her 70s
This simple, 12-minute Canadian Air Force workout keeps Helen Mirren, 75, looking good for the silver screen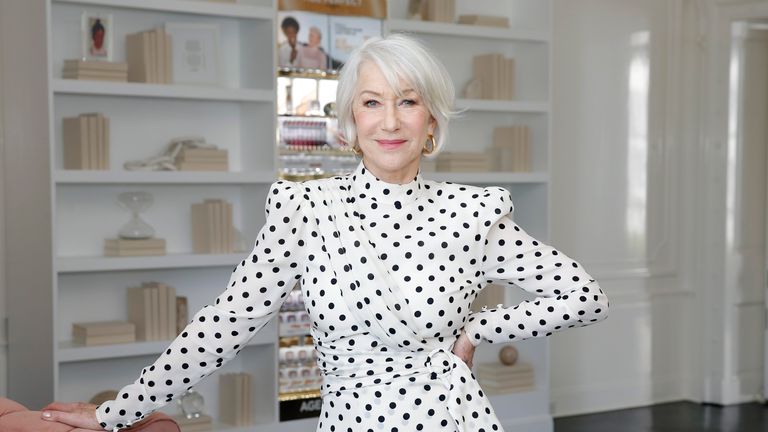 (Image credit: Getty Images)
By Matt Evans published
At age 75, it's safe to say Helen Mirren is a legend on the silver screen. From her Shakespearean roles on the West End to her Academy Award-winning turn as Queen Elizabeth II, she's even bagged a supporting role in the Fast & Furious movies. Mirren doesn't have to do many stunts to keep up with Vin Diesel's gang, but she still stays healthy – and it's all down to a simple 12-minute workout she says she's performed all her life.
Although there's plenty of dietary concerns to being a movie star (for example, ensuring you take the best vitamins for women over 50 and the best supplements for joints) Mirren is a lifelong follower of a tried-and-tested exercise plan, the Royal Canadian Air Force exercise plan, or the "XBX plan for physical fitness".
In one interview, she told the UK's Hello magazine: "I do a thing that leads me into exercise. It is the Royal Canadian Air Force exercise plan. "[The plan] has charts you follow. Each day, you have to do the exercises within the 12 minutes and until you can, you can't move up.
"It is the exercise I have done off and on my whole life. It just very gently gets you fit. Two weeks of doing that and you think: 'Yeah, I could go to the gym now'."
What is the Helen Mirren workout?
XBX stands for "ten basic exercises". Created by the Canadian military in the 1950s for personnel stationed on bases with no gym, the concept was laid out in several now-discontinued pamphlets, which are difficult to get hold of. However, there's no need to go hunting for the information: we've got the classic beginner's workout for you right here.
The exercises feature classic bodyweight exercises such as push-ups, arm circles, running on the spot, high jumps, sit-ups and more, as outlined below. Designed to develop basic strength and flexibility, the pamphlet reads like an early version of a HIIT workout.
As said in the interview above, Mirren uses these to keep fit and prepare her body for more intense periods of training in the gym. You can do the same, making this the ideal fitness plan to ease yourself back into activity in preparation for more strenuous exercise.
The full list of exercises are below. The original plan has different timings for different difficulty levels, but the beginner level of the workout (illustrated in the video below) can be completed in just 12 minutes.
Toe touching – 5 reps. Bending at the hips and touching your toes with straight arms.
Knee raises – 8 reps each side. Standing up, bring your knee into your chest while balancing on one foot.
Lateral bending – 5 reps each side. Feet shoulder-width apart, raise one hand above your head and slide the other down to your knee.
Arm circles – 12 each side. Keep that shoulder-width stance and rotate your arm in a wide circle, elbow straight.
Sit ups – 5 reps. We've got a fully comprehensive guide on how to do sit-ups here.
Chest and leg raise – 5 reps. Lie face down and bring your chest and knees off the floor into a slender arc, so your stomach is the only thing touching the floor.
Side leg raise – 5 reps each side. Roll onto one side and, keeping your leg straight, lift it to a 45-degree angle.
Push ups – 5 reps. Check out our guide on how to do a push up properly.
Leg raises – 5 reps. Lying on your back, keep your leg straight and lift it straight up 90 degrees.
Run and Hop – 50 reps, plus one jump. Jog on the spot, counting your steps. At 50, bend your knees, reach your arms back and do a big double-footed jump, stretching your hands in the air.
The Helen Mirren workout: What's next?
This is designed for anyone, of any age, to get themselves back into fitness. Once you find this workout easy, and you're looking for your next challenge, you might want to simply up the rep count, or try getting into running with a Couch to 5K plan.
It's always a good idea to get more detail on calories burned, steps taken, how long you've been working out for and your quality of sleep, so you can make more informed choices and develop good habits. We'd definitely recommend checking out the best fitness tracker deals and Fitbit deals.
Matt Evans is an experienced health and fitness journalist and Channel Editor at Fit&Well. He's previously written for titles like Men's Health and Red Bull, and covers all things exercise and nutrition on the Fit&Well website. Matt originally discovered exercise through martial arts: he holds a black belt in Karate and remains a keen kickboxer and runner. His top fitness tip? Stretch.