Build leg and glute muscle without triggering knee pain with this 20-minute workout
This knee-friendly workout builds lower body strength without using any lunging or squatting exercises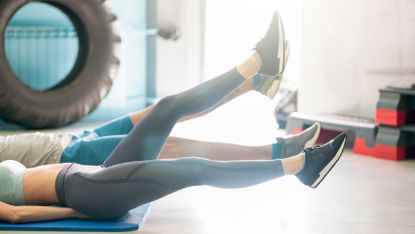 (Image credit: Getty)
If you suffer from knee pain then you may choose to avoid exercise routines that require you to bear all your weight onto your knees. For some, squats and lunges will be the biggest culprits but this doesn't mean you aren't able to develop strength in your lower body.

In fact, some of the best leg workouts and the best glute exercises avoid movements that place additional stress on the knee joints and still effectively train the lower body muscles. The best resistance bands and your bodyweight are suitable forms of resistance when building strength.
This bodyweight workout shared by workout instructor MadFit shows just how easy it can be to complete a knee-friendly workout using a selection of different exercises. In just twenty minutes you will target your glutes, quads, and hamstrings using low-impact no equipment moves.
The workout is split up into sections, not all rounds have the same number of exercises and some are made up of unilateral moves so there will be repeats in this routine. Madfit leads you through the various moves such as glute bridges, heel taps, and single leg abductions, which are all floor based so it's a good idea to have one of the best yoga mats beneath you for added support.
WatchMadFit's Knee-Friendly Leg and Glute Workout
Can you build muscle without weights? It's a good question, and the answer is yes, you can. While weights may make your muscle-building process a little easier, the main thing to note when looking to grow muscle is that this happens when your muscles work against some form of resistance. Whether it's one of the best kettlebells, a resistance band, or your bodyweight it doesn't matter as long as it is challenging your muscles.
So if you don't feel confident enough that your knee can take on any additional weight while working out remember that your body weight makes for a great low-impact substitute. This style of resistance training may even help to lower knee pain symptoms. In a study published in the BMC Musculoskeletal Disorders journal, older adults suffering from knee pain reported feeling improvements in pain after completing a 12-week home exercise program formed of bodyweight and resistance band movements.

Another knee-friendly activity that is low-impact and doesn't cost a penny to do is walking. This too avoids overwhelming the joints especially when you wear suitable footwear like some of the best shoes for walking and it improves the range of motion in your knee helping to prevent stiffness. Research published in the Arthritis and Rheumatology journal revealed that keeping active through walking could be great medicine for patients with osteoarthritis.
Jessica is an experienced fitness writer with a passion for running. Her career in journalism began in local news and she holds a Masters in journalism. Jessica has previously written for Runners World, penning news and features on fitness, sportswear and nutrition.
When she isn't writing up news and features for Fit&Well covering topics ranging from muscle building, to yoga, to female health and so on, she will be outdoors somewhere, testing out the latest fitness equipment and accessories to help others find top products for their own fitness journeys. Her testing pairs up nicely with her love for running. She recently branched out to running 10Ks and is trying to improve her time before moving on to larger races. Jessica also enjoys building on her strength in the gym and is a believer in health and wellness beginning in the kitchen. She shares all of this on her running Instagram account @jessrunshere which she uses for accountability and for connecting with like-minded fitness lovers.