Can Vitamin D help with inflammation? Here's what science has to say
Recent research reveals how vitamin D can be used to help treat inflammation related to the Covid-19 virus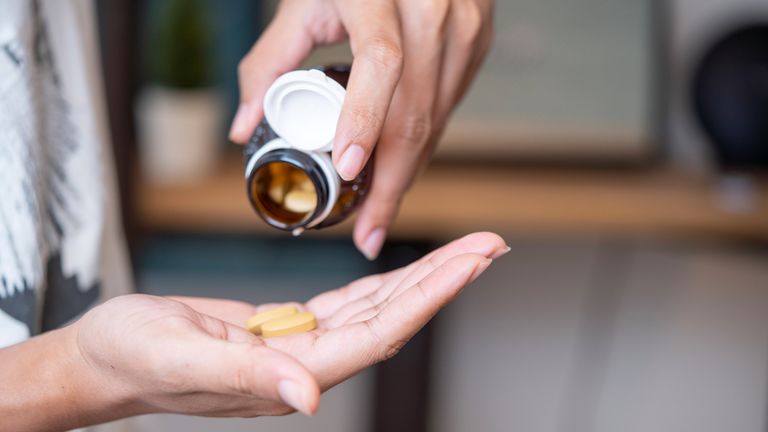 (Image credit: Getty)
By Jessica Downey published
Inflammation is your immune system's response to injury or infection. While inflammation can be a force for good it can also be detrimental if more serious diseases, such as Covid trigger a more aggressive immune response. A recent study has discovered a link between vitamin D and its potential to reduce inflammation associated with Covid-19 responses.
Vitamin D has a good reputation in the health sphere already. It can be found in various foods such as oily fish, mushrooms, and egg yolks and it can also be consumed in a tablet form. Things like the best vitamins for women over 50 or the best fish oil supplements are a great option for people to top up on plenty of beneficial vitamins in addition to a nutritious diet.
SPOTLIGHT BLACK FRIDAY PROTEIN DEALS (US)
Orgain Organic Protein Creamy| was $25.99, now $19.98 at Walmart
Orgain Organic Protein Creamy| was $25.99, now $19.98 at Walmart
This is another great buy for anyone looking to build muscle with a vegan-friendly protein powder - even better for those who have a sweet tooth since it's chocolate fudge flavor. Not only does this powder provide you with 21g of protein per serving but it includes the added benefits from various superfoods such as chia, beet, turmeric, and kale. Get this vegan protein powder now for $19.98 and save yourself $6.
Pure Protein 100% Whey Protein Powder | was $19.99, now $14.64 at Walmart
Pure Protein 100% Whey Protein Powder | was $19.99, now $14.64 at Walmart
Each scoop of this protein powder contains 25g of protein and includes essential amino acids to help you achieve the ultimate muscle gains. The vanilla flavor means you can make things like morning oats or post-gym smoothie that little bit tastier. Save over $5 on this if you buy it now.
PhD Nutrition Diet Whey Protein Powder | was $50.98, now 26.84 at Amazon
PhD Nutrition Diet Whey Protein Powder | was $50.98, now 26.84 at Amazon
This protein powder is great if you are looking to build muscle while avoiding weight gain. This is high in protein yet low in sugar and is 100 calories per serving. You will get 36g of protein from using this in a shake. Get this deal now and save $24.
What have science discovered about vitamin D?
A joint study jointly published by the National Institutes of Health and Purdue University found from analyzing the lung cells of eight different people with COVID that that immune response can go into overdrive. This significantly increased lung inflammation among the patients with COVID.
Co-leader of the study, Majid Kazemian, and assistant professor in the departments of Computer Science and Biochemistry at Purdue University explained that inflammation can be caused by T cells. T cells are important to the immune system and are involved with how the immune system responds to COVID.
Kazemian said, "In normal infections, Th1 cells, a subset of T cells, go through a pro-inflammatory phase. The pro-inflammatory phase clears the infection, and then the system shuts down and goes to anti-inflammatory phase.
"Vitamin D helps to speed up this transition from pro-inflammatory to the anti-inflammatory phase of the T cells," he concluded.
Kazemian highlights that they used a special concentrated version of Vitamin D for the study and that drugstore vitamin D is not the answer to avoiding or treating Covid.
Nutritionist, Dr Pamela Mason from the Health & Food Supplements Service told Fit&Well that Vitamin D also inhibits the production and development of pro-inflammatory body cells.
She explained that receptors for vitamin D are found on many body cells including immune function cells and cells involved in inflammation. Cells involved in immune function and inflammation drive several chronic inflammatory diseases such as infection, cardiovascular disease, type 2 diabetes, cancer, and musculo-skeletal conditions.
Therefore, Vitamin D can help to maintain overall health by regulating inflammatory processes. Getting outside into natural sunlight (in a pair of best shoes for walking) is a natural way of receiving your daily vitamin D.
Jessica is Staff Writer at Fit&Well. Her career in journalism began in local news and she holds a Masters in journalism. Jessica has previously written for Runners World, penning news and features on fitness, sportswear and nutrition. She is a keen runner and is currently sweating her way through a 10k training plan. Jessica also enjoys building on her strength in the gym and is a believer in health and wellness beginning in the kitchen - which she loves sharing with others on her healthy living-inspired Instagram account, @jessrunshere. Despite her love for nutritious cooking, she stands by the saying 'everything in moderation' and is eagerly conquering the London food and drink scene!