How to build a cycling training plan you'll actually stick to
Clever tips for building long-term bike-based training habits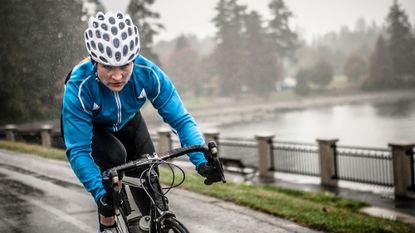 (Image credit: Getty Images)
Get the Fit&Well Newsletter
Start your week with achievable workout ideas, health tips and wellbeing advice in your inbox.
Thank you for signing up to Fit And Well. You will receive a verification email shortly.
There was a problem. Please refresh the page and try again.
Cycling is fun, but training can be hard. Winter is the time when many training plans fall by the wayside, replaced instead by the lure of log fires and warming (and often calorie-laden) drinks.
But the benefits of planning and sticking to a cycling schedule can be significant, no matter whether you're a novice cyclist or a hardcore biker. Either way, building long-term habits results in big fitness gains over time.
And it's all the more important to hit those recommended 150 minutes of moderate intensity exercise a week, especially when recent studies have found that 80% of Americans are insufficiency active and a whopping 46% of Europeans don't do any exercise at all.
We know how hard it can be to motivate yourself to climb onto the saddle when so many other things are fighting for your attention. So here are our tips to help you create and stick to a training schedule that will hugely benefit your health, fitness and mental wellbeing.
1. Use an exercise bike or turbo trainer
Fair-weather cyclists make up a large percentage of the cycling population, and it's easy to see why. The appeal of cycling outdoors in rain/sleet/hail/snow/fog/wind (delete as appropriate) for most is minimal.
This can be remedied by having access to an indoor exercise bike or turbo trainer – whether it's in your own house or in your gym – which can quickly pay dividends when the cold weather sets in.
It means you can jump on your bike whenever you have a spare 30 minutes, and handily many of the best exercise bikes have a variety of built-in workout programs to choose from. Before work, during your lunch break or post-dinner, an indoor exercise bike helps you stick to your plans - and no weather-based excuses.
2. Train towards a target
For many cyclists, having a training target is essential. It could be an event, for example a local sportive for charity, a more off-the-beaten-track challenge such as 'Everesting' a local climb or completing the 100 Climbs challenge, or it could be based around a specific health concern, such as losing weight or improving your mental health.
Whatever it may be, having something to aim towards means you are significantly more likely to stick to your training plan.
3. Track your data
Seeing your fitness gains in black and white is the best way to help build long-term gains. The top smart bikes display a wealth of data as you train, from calories burned and distance travelled to your heart rate zones and power output, which can provide a detailed record of your progression.
You can also train while wearing tech such as a fitness watch or activity tracker and upload your data to Strava, where friends can give you encouraging kudos on your activities.
Another figure you might see talked about in cycling is your FTP, which stands for functional threshold power. It's effectively the maximum power output you can maintain (in watts per kilogram) for an hour of cycling, and a figure that many cyclists use as a measure of fitness.
Many exercise bikes and turbo trainers feature the ability to test your FTP (usually during an extremely tough 20-minute fitness test) and then calculate your result. If you stick to a training plan over a number of months you should see your FTP increase as you build power and endurance.
4. Vary your indoor cycling training sessions
The days of just jumping on an exercise bike and pedalling for an hour while staring at a blank wall are long gone.
Adding motivation and, most importantly, variation into your schedule will result in a higher chance of you sticking to the training programme and eventually even relishing it.
There are an increasing number of training-based apps and software you can use indoors to make training more exciting. Firstly there's Zwift, which puts you inside the virtual 'Watopia' world, boosting your enjoyment of training by providing options to race against other cyclists across the world or follow an in-game training plan that builds the training schedule for you.
Then there are apps such as Training Peaks or The Sufferfest that let you create your own training schedules, or follow ones with set goals, by recreating interval sessions or hill climbs on your indoor bike.
All these mean that you will vary the type of training session every time you train, keeping boredom at bay for longer.
5. Don't overstretch yourself
It's important not to aim for goals that may be beyond your reach. Nothing is more demoralising than missing a target or, worse, pushing yourself to the limit and having no energy for your next session.
Start with manageable targets and increase them incrementally. Get the balance right and you will be less tempted to cite fatigue as a reason for quitting.
6. Enlist a friend or coach
Let's be honest – we all bail on solo training sessions. It's easy to make a whole raft of excuses. But one quickly turns into three, and before you know it you haven't clocked a ride for a month.
Enlisting a cycling buddy to hold you to your training schedule by agreeing to meet for weekly rides - either in person or online via a virtual app - will mean you no longer have an excuse to miss the ride, as you know your friend is waiting. Chances are you'll go further too – a study in the Annals of Behavioural Medicine found that those riding with a friend cycled for nearly twice as long as those cycling solo.
Another option if you are serious about improving your fitness is hiring a professional coach. A study by the Journal of Sports Science and Medicine on how personal trainers changed attitudes towards physical activity found that 73% of participants moved up a stage in 10 weeks when working with a trainer.
A coach can involve a financial outlay, but having someone who knows what they are doing discuss your targets with you and draw up a training plan means that all you have to do is stick to the schedule.
7. Build in rewards
Dangling rewards like carrots on sticks at the end of certain training sessions never goes amiss when you are feeling particularly fatigued or lacking motivation.
Aiming for a certain coffee shop that you know does an amazing flapjack during a long ride can turn pain into pleasure, and knowing that you can watch the next episode of your current box set obsession on a restorative easy ride helps boost morale, in turn keeping you aimed towards your training target.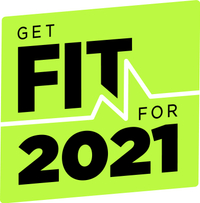 Get Fit for 2021 with Fit&Well
As the sun rises on a brand new year, Fit&Well is here to help put last year behind you and make 2021 your happiest, healthiest yet. Here at fitandwell.com, we'll be bringing you a wealth of workouts, diet plans and expert advice throughout January to help kick-start your health and fitness goals.
Get the Fit&Well Newsletter
Start your week with achievable workout ideas, health tips and wellbeing advice in your inbox.
Howard is a freelance health and fitness journalist and copywriter. He has written for publications including ShortList, Runner's World, Trail Running, Women's Running, Red Bulletin, Wareable and Cycling Weekly. He enjoys nothing more than lacing up his trail shoes and heading out to explore new trails. He's run ultramarathons everywhere from the French Alps and Canadian mountains to the Welsh coast and Peak District. When not running, he's usually found hitting his local MTB singletrack trails or on a quest to find the country's best cinnamon bun.