No weights? No problem. Build core muscle with these five simple moves instead
This equipment-free, five move sequence works your abs, obliques, and more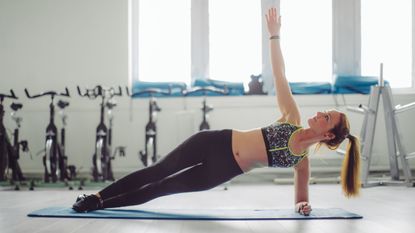 (Image credit: Getty)
One of the best things about core workouts is that they require minimal equipment. All you need is a decent exercise mat (or even an old towel) to cushion your joints and you'll be able to pump out a series of crunches and planks.
While you could use one of the best ab rollers, it's difficult to know which are the best equipment-free moves to try. This simple, five-move sequence allows you to target a range of core muscles — including your abs and obliques — while also providing a decent workout to your arms and shoulders.
Alexia Clark (opens in new tab), the self-proclaimed Queen of Workouts, demonstrates the workout below. She's a fully certified personal trainer and nutrition specialist, who regularly creates home and gym-based workouts for her followers. It's a challenging routine, but you can adapt it by dropping the number of repetitions or rounds you complete in the session.
She recommends doing 10 - 15 reps of each exercise and three to four rounds, overall. Her other tip is to allow for minimum rest in between the rounds, which means that your core will feel really fired up by the end of this short session.
Watch Alexia Clark's Five Move, No Equipment Core Workout
Your core is made up of several different muscles, including your rectus abdominis (which sit at the front of your stomach) and your obliques (which sit along the side). If you want something that's purely for these trunk muscles, have a look at our round-up of the best abs workouts instead.
Why are core muscles important (opens in new tab)? Well, they're basically responsible for supporting all the other muscles in your body. You can build your quads, calves and biceps all you want, but without a strong core you won't see a lot of functional improvements.
There's some evidence to show that a strong core can improve your sporting performance, too. A systematic review published in Frontiers in Physiology (opens in new tab) suggested that footballers, basketball players, swimmers, and dancers could all see performance improvements after participating in core training exercise. Other studies (opens in new tab) have shown that strengthening your core could help with back pain, too.
Most core-targeting movements don't require equipment, but you might want to pick up one of the best yoga mats (opens in new tab) if you plan to do a lot of floor-based workouts.
Ruth Gaukrodger is the fitness editor at Future Plc. She covers everything from fitness trackers to dumbbells for sites like Live Science, Fit&Well and Tom's Guide. When she's not reviewing equipment in our dedicated testing centre, you'll find her racing round the streets of London in her favorite running shoes or working on her yoga skills from the comfort of her living room.
Originally a print journalist, Ruth worked across national newspapers and popular tech sites before coming to Future. She has worked as a commissioning editor across other Future titles too, including Space.com and Top Ten Reviews. Now focused solely on fitness topics, she hopes to demystify the world of exercise with honest, straightforward content.