Have you tried this top YouTuber's 10 best calisthenics exercises?
Get your body moving with Jeff Cavaliere's easy-to-follow calisthenics routine for all fitness levels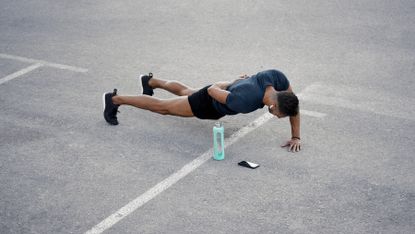 (Image credit: Getty)
Get the Fit&Well Newsletter
Start your week with achievable workout ideas, health tips and wellbeing advice in your inbox.
Thank you for signing up to Fit And Well. You will receive a verification email shortly.
There was a problem. Please refresh the page and try again.
Do you ever feel like working out at home can be a tad repetitive and not challenge us? Without the gym, you can devolve into the same old story: push-ups, crunches, jumping jacks, burpees. However, it doesn't have to be this way.
Whether you're an expert and already know how to do a push up, or you're just browsing our best workout equipment for home guide, it's time to switch things up with a calisthenics focussed workout. If you're not familiar with calisthenics training, it's essentially a style of equipment-free resistance training good for building and defining muscle with your own bodyweight - although, some sort of makeshift bar is essential for hanging exercises to perform chin-ups and pull-ups and a bench for bodyweight dips.
Switching up your workout from time to time can really improve your overall fitness. This is where some workout inspiration via YouTube fitness sensation and founder of Athlean-X, Jeff Cavaliere comes in handy, whose motto is "If you want to look like an athlete you've got to train like an athlete."
With over 380,000 and counting views on YouTube its clear to see why Jeff Cavaliere's, '10 Calisthenic Exercises Everyone Should Do!' workout is popular for a reason: it delivers a whole-body blast.
This recent full-body routine is a form of 10 calisthenics exercises consisting of the below…
Classic Pull ups
Chin ups
Push ups
Slick Floor Bridge Curls
Reverse Hypers
Dead Arm Hangs
Hanging Ab Raises
Handstand Push ups
Inverted Rows
Bodyweight Dips
What we like most of this routine is that it's a nice blend of movements for experienced gym-goers and beginners. You should expect to raise your heart rate and start working toward some serious muscle-building results.
There are Bodyweight Dips, which Jeff says, "is the best upper body pushing exercise", reverse hypers, where Jeff mentions that is "essential for every fitness regime and helps with bench presses and deadlifts making you stronger". Another Jeff favorite is the hanging ab raises, where there is even a dedicated how-to guide video on this powerful move for well-developed abs.
One You Tuber left a comment on the video saying, " Thank you Jeff for contributing to fitness information on YouTube. Indirectly you have helped me make massive lifestyle changes", meanwhile another said, " It's unreal how many exercises I've learned from watching this channel over the years. Thank you Jeff and AthleanX team!".
Although some of these moves are highly advanced, others can be done quite easily, and all of them can be tailored to match your fitness level and support. If ever you're unsure, slow things down and remember technique is everything vs rushing through an exercise to prevent injury. For example, push-ups can be done against a wall or bench, hanging leg raises can be done with knees instead of straight legs, and you can take the weight off pull-ups with the best resistance bands. This will help to tone and take the pressure off your joints as you move through each exercise.
Grab your best fitness watch and select the functional strength training option and get training, you'll be surprised at how challenging this routine is and just what you need to give your home workout routine a boost.
Get the Fit&Well Newsletter
Start your week with achievable workout ideas, health tips and wellbeing advice in your inbox.
Kirsty is an accomplished journalist specialising in the wellness industry. She has previously written for titles including Grazia, Popsugar, Metro.co.uk, Elle UK and the Sunday Telegraph. You'll find her running around Windsor Great Park at 6am most mornings (before her toddler, Clementine Lilac, wakes up), followed by a virtual barre class with the team at Psycle London – where that barre burn is just so addictive. Kirsty loves to stock up on new activewear; because, let's face it, you can never have too many pairs of sculpting leggings. She's always keen to try/endure the latest workouts to come to London. Kirsty also enjoys rustling up nutritious family meals and indulging in her newfound hobby: flower pressing.