Late night snacks could be bad for your health and your work, says science
Your snacking habits could be affecting your body's health and affecting your performance at work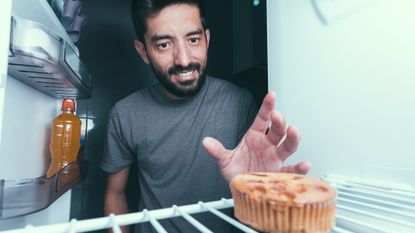 (Image credit: Getty Images)
Can't resist a late-night snack? You're not alone. With a kitchen full of tempting treats, late night snacking is a habit many of us are in – and it's usually not good news for our bodies. How many times have you felt hungry after hours and gone after an apple? It's usually the "naughty" treats like chocolate and chips that are the most satisfying to snack on.
Studies have confirmed this. In a large study of over eight thousand Japanese adults, it was found those who ate late at night, or snacked after dinner, were most at risk of metabolic syndrome. Metabolic syndrome is a collection of related conditions such as high blood pressure, being obese or overweight and having diabetes – something more common in late-night snackers, according to the research.
The study found 'Having both night eating habits, "dinner immediately before bed" and "snacks after dinner", was associated with higher BMI in both Japanese men and women.'
BMI, or body mass index, isn't the most accurate individual measurement of health in the world, but it does give a good indication of general population health. Notably, late night snackers are more likely to be overweight, have higher blood pressure and be subject to diabetes. If you can, make the fridge off-limits a few hours before you go to bed.
It's not just bad for your body: late-night snacking is also bad for your performance at work. A new study from scientists at North Carolina State University found unhealthy eating behaviours can make people less helpful and more withdrawn at work the following day. The study, conducted on 97 full-time employees, found their respondents were more likely to have physical problems after unhealthy eating, and were less able to deal with stress.
Corresponding author Seonghee "Sophia" Cho said: "The big takeaway here is that we now know unhealthy eating can have almost immediate effects on workplace performance. However, we can also say that there is no single 'healthy' diet, and healthy eating isn't just about nutritional content. It may be influenced by an individual's dietary needs, or even by when and how they're eating, instead of what they're eating."
You can minimise the risks by avoiding stocking the fridge with tempting healthy foods, and eating more nutritious, filling foods at mealtimes which are prepared in a healthy way. For example, the best health grills and best air fryers are great alternatives to roasting and traditionally frying foods by drowning it in oil and added fats, which make you more thirsty, triggering a hunger response even when you're already full.
Likewise, you can prepare yourself healthy smoothies or shakes with our best blenders, storing them in the fridge to curb cravings.
Matt Evans is an experienced health and fitness journalist and is currently Fitness and Wellbeing Editor at TechRadar, covering all things exercise and nutrition on Fit&Well's tech-focused sister site. Matt originally discovered exercise through martial arts: he holds a black belt in Karate and remains a keen runner, gym-goer, and infrequent yogi. His top fitness tip? Stretch.