Weight loss: Can this weird fitness tech help you you lose belly fat?
Ab stimulators, such as those plugged by soccer superstar Ronaldo, are big business. But can they help you lose belly fat?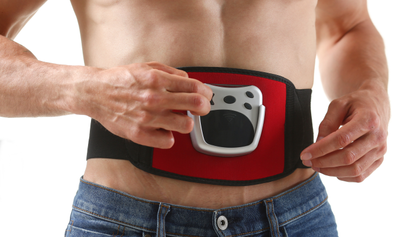 (Image credit: iStock)
You've probably seen billboards or posters of attractive-looking men and women, usually decked out in tight black lycra activewear, with advanced-looking stick-on pads and wired belts wrapped round their waists. These abdominal stimulators are said to "tone up" our muscles and lose belly fat, promising to reveal our "rock hard" six-pack abs underneath.
It's a tempting promise, being just able to strap on a belt or electrical pad and use it to get a great-looking six pack. They're also frequently advertised by superstars, most famously global soccer megastar Ronaldo with the SIXPAD brand. However, some call the product a sham. But what are the science behind these vibrating belts: can you lose belly fat and should you get one?
One study published in the Journal of Sports Science and Medicine looked at people's strength, endurance and the subject's perceived shape and satisfaction with their abs after eight weeks of using an electrical stimulator belt, the Slendertone. The group had used the electrical belt five times a week.
After eight weeks, the results are actually very positive. The participant's abdominal strength was said to have increased by 58%. There was also a 100% increase in performance when executing curl-ups or crunches. Participants were also recorded as being happier with the aesthetics of their abs.
The study also reports "the stimulation group also had a 2.6 cm decrease in abdominal circumference, a 3.6 cm decrease in waist circumference, and a 1.4 cm decrease in front-to-back diameter". No other short-term study of electrical muscle stimulation has proven their purported weight loss benefits.
So does this mean you can grab a SIXPAD, a Slendertone or any of the other electrical stimulator brands and scoff pizza and ice cream with impunity? Of course not. Does it mean you can stop exercising because science has found a solution? Again, unfortunately, the answer is no.
However, what it does mean is that long-term use of an electrical stimulation device can be an effective weight loss tool. However, like other weight loss tools, it's only really going to be effective if it's combined with already-healthy habits like a good diet and regular exercise.
You can't lose weight through exercise if your diet is very bad, and you definitely can't lose belly fat if you abandon your exercise routine in favour of a stimulation belt.
However, through all the marketing guff, it's encouraging to know some scientists believe these toning devices have a place. The researchers believed the Slendertone worked because it was a long-term study, lasting eight weeks rather than four, and because the electrical stimulations were strong, overloading the muscle with high settings. Keep this in mind if you're shopping for a new belt.
Use them as part of your active recovery, putting it on and engaging your core on days in which you're not exercising, and according to the study above it should help your fat melt away.
Liked this?
Matt Evans is an experienced health and fitness journalist and is currently Fitness and Wellbeing Editor at TechRadar, covering all things exercise and nutrition on Fit&Well's tech-focused sister site. Matt originally discovered exercise through martial arts: he holds a black belt in Karate and remains a keen runner, gym-goer, and infrequent yogi. His top fitness tip? Stretch.