One weight loss workout which doesn't use high-impact movements
This workout from top PT Andrea Marcellus smashes your weight loss goals with no joint-harming high-impact moves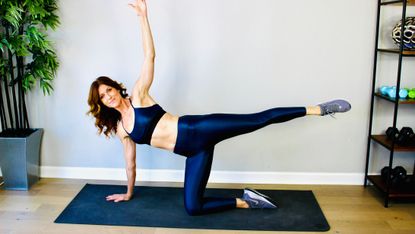 (Image credit: Andrea Marcellus)
Weight loss workouts are tough for a lot of people because of an ever-increasing amount of high-impact movements involved. For those coming into exercise for the first time, or after a long absence, jumping straight into exercises such as running or jumping jacks can place a lot of stress on our joints.
This is because the joints take a pounding as our feet hit the ground over and over again. Over time, your knees and hips can suffer damage if they're not protected and strengthened: while somebody who regularly does resistance training and long runs will be able to run 10k at the drop of a hat, somebody new to exercise would be at risk of harming their ankles, knees and hips with repetitive hard impacts.
On another, more practical note, you might live in a third-floor flat. If you want to exercise in the comfort of your front room, you may wish to do it in such a way that the neighbours don't complain.
Either way, we've got a solution for you. You need a workout which contains no impact-related exercises at all, while still elevating your heart rate and strengthening your muscles.
Enter top Los Angeles PT Andrea Marcellus, who has provided us with a dynamic workout designed to elevate your heart rate while containing no high-impact movements whatsoever. Follow along to Marcellus' workout below: all you need is a little bit of floorspace and 30 minutes to complete this low-impact sweat session.
Andrea Marcellus' dynamic low impact workout
Prisoner Squat to Mermaid – 10 reps
With your hands behind your head, elbows wide, squat down by bending your knees. Make sure you draw your hips back and keep your chest as high as possible.
As you stand back up, extend your arms overhead. Finish by keeping your feet facing forward but bending to the left slightly, so your body looks like a banana. It should feel like you're "diving" to one side, just like a mermaid. Do 10 reps, alternating sides each time.
Back Lunge with Rotation – 10 reps on each leg
With your hands behind your head and elbows wide, step backwards into lunge. Turn your body toward the front leg while extending your arms. Return to standing and repeat 10 times on each leg.
Image 1 of 2
Twisting knee plank
Downward Dog
Twisting Knee Plank to Down Dog – 10 reps
In a plank position, draw and twist one knee in and across your chest while keeping your abs deep and your shoulders open.
Return to the plank and then push backwards into a downward dog position, drawing the hips to the ceiling, the heels down and pressing your chest toward your thighs. Drop back into plank while drawing in the other leg. Do 10 sets.
Kneeling Star Leg Swings – 20 reps on each leg
With your right knee on the floor and right hand on the floor, extend the opposite arm to the ceiling and lift your leg to hip height. Slowly move your lifted leg forward and back 20 times without letting the foot drop below the level of your hip.
Leg Lift Down Dog to Plank – 10 reps on each leg
From a plank position, with shoulders and back wide and abs deep, press back into the down dog while extending one leg behind you keeping your hips square to the floor. Return to plank and repeat with the other leg. Do 10 sets.
Push-Ups – As many as you can
Using a timer, try for 15 reps in 45 seconds. Keep your neck relaxed and abs deep as you bend your elbows to drop the chest to the floor and then "press the floor away" to straighten your arms again.
Tip: aim to make a W-shape with your arms instead of a "T-shape" straight out from the shoulders to work your chest and triceps properly and avoid straining your neck and upper traps.
Get the Fit&Well Newsletter
Start your week with achievable workout ideas, health tips and wellbeing advice in your inbox.
Matt Evans is an experienced health and fitness journalist and is currently Fitness and Wellbeing Editor at TechRadar, covering all things exercise and nutrition on Fit&Well's tech-focused sister site. Matt originally discovered exercise through martial arts: he holds a black belt in Karate and remains a keen runner, gym-goer, and infrequent yogi. His top fitness tip? Stretch.