Real life weight loss: How this woman lost 84lbs safely & sustainably in one year
Beth transformed her life, beat her binge-eating disorder and maintained steady progress after being unable to fit a wedding dress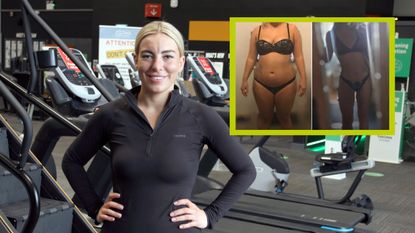 (Image credit: Future)
Despite growing up in a household where healthy meals were the norm, Beth, 25, had a problematic relationship with food from childhood. As a young girl she would stash extra snacks away. Once she started earning her own money she was able to afford more junk food – spiralling into binge eating disorder and body dysmorphia and gorging on 2,000-calorie binges of chocolate, crisps and sausage rolls.
She told our sibling YouTube channel Truly: "When I have a binge eating episode it's anything I have in the cupboard, or whatever I can get from the shop." Beth eventually hit her top weight of 220lbs, but her turning point came in the lead up to her wedding.
She said: "The lightbulb moment for me was trying on wedding dresses and nothing would fit me. It was humiliating. I just had a realisation that I couldn't keep going on like this."
Watch beth's inspiring weight loss journey here:
Beth was determined to get into her dream dress without wasting time with the quick fix solutions like diet pills or crash diets that she'd relied on in the past. With the encouragement of her husband Chris, Beth shed 84lbs by radically changing her eating habits and improving her mental health – and began posting about her weight loss journey online.
Her pages blew up and she now shares her healthy eating and safe weight loss tips with her hundreds of thousands of followers on Instagram and Tiktok. Beth said: "My life changed in an amazing way, my mental health is better, my body is better, my outlook on life is so much better. Now I'm helping other people to do the same thing and it feels amazing."
"I think it's only natural that I doubted myself during my weight loss journey, because if you're anything like me, you've done it ten times before and you've never really succeeded.
"I had to tell myself we're only doing this journey once, and we're doing it the right way."
Beth only worked up the courage to enter the gym fter she lost most of the weight, finding it intimidating. So the majority of her weight loss was achieved away from that environment, tracking her progress and sharing it online. As well as cooking recipes and performing workouts for her followers, Beth used TikTok in order to keep herself accountable. However, you don't have to broadcast your life to thousands of followers in order to track your progress: it can all be done from your phone and your wrist.
The best online fitness apps can help you track the calories you eat and structure your workouts, while data from the best fitness trackers or best fitness watches can monitor calories burned, the quality of sleep you get, and how far you travel if you're into running or cycling.
The one-two punch can build up a complete picture of your health and diary of your progress, while smart scales such as the Fitbit Aria Air will automatically upload your weight to the synced apps.
Launched in 2020, Fit&Well.com is all about helping you meet your health and fitness goals in ways that are fun and achievable. With news and features on fitness, weight loss, running, nutrition, yoga, wellness and more, we're committed to helping you wherever you are on your fitness journey. We break down the best fitness tech, with reviews, buying guides and the latest deals on fitness and wellness kit, from dumbbells to diffusers.
We cater for all difficulty levels here. It doesn't matter if you're a beginner in the world of fitness or you're gearing up for your tenth marathon: we're all moving towards the same goal – creating a healthier, happier you. From guides on getting started doing walks around the block, to creating the perfect work-from-home space, to eating to fuel your first triathlon. It's all here.