Fitbit Aria Air review: Digital scales which fit into Fitbit's economy
The Fitbit Aria Air is a great body weight calculator, but lacking all the features of other top-price digital scales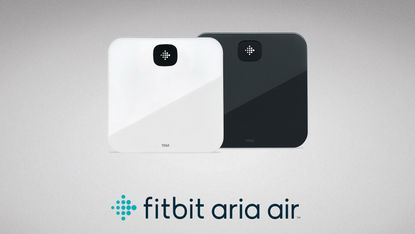 (Image credit: Fitbit)
The Fitbit Aria Air is a great addition to the Fitbit ecosystem if you're already a user of the company's smart devices. On its own, it's a stylish, if expensive, digital weight calculator.
Reasons to buy
+

Sleek look

+

Pairs well with existing Fitbit health metrics
Reasons to avoid
-

Very expensive

-

Difficult to justify for non-Fitbit users
Welcome to Fit&Well's Fitbit Aria Air review. The Fitbit Aria Air is the slim, light model in Fitbit's popular range of digital scales, which also includes the original Fitbit Aria and the Aria 2.
Although the Aria Air works perfectly fine as an independent piece of equipment, it is really aimed at Fitbit users, working alongside its fitness trackers and the Fitbit Premium coaching system to create a new wellness ecosystem, sharing your data across multiple devices and helping you achieve results.
Fitbit Aria Air is a great digital scale for body weight, but because of its reliance on being part of the Fitbit whole, it feels incomplete on its own. If you want to know metrics such as body fat percentage or heart health, you're better off getting a more advanced digital scale. But, with its sleek Apple-Mac-in-the-bathroom aesthetics, it's still among the best pure body weight scales you can buy.
FITBIT ARIA AIR REVIEW: DESIGN AND PERFORMANCE
The Fitbit Aria Air's slender profile looks great anywhere and is very convenient to store. Both the digital screen and the scale itself lack the austere aesthetics that characterise some of its watches, preferring rounded corners on its digital display and profile alike. It's pleasant to look at and simple to use.
The Aria Air, despite being slim, has a hefty surface area: even the rounded corners don't eat into the space. At size 10.5, our reviewer's feet weren't hanging off the scale in any direction. The screen is bright and clear with good contrast, making it easy to read.
We compared readings from the Fitbit Aria Air against another, comparable digital scale (the Salter 9207 BK3R digital scale to be precise), taking readings in quick succession by placing the scales in the same spot. The results were consistently within 200g of each other.
Short of using a full industrial scale for comparison, we're happy to say the Fitbit Aria Air is as accurate as can be reasonably expected.
If you want to track your weight on the Fitbit app, open it up before you step on the device. You have to connect the scale with the phone, but it's only the matter of having the app open and the scale on. The process is very easy and automatic, and you only have to do it once.
FITBIT ARIA AIR REVIEW: THE FITBIT APP
The main appeal of the Fitbit Aria Air – apart from its– is in how it works with the larger Fitbit ecosytem. Your scales will automatically update your weight on the Fitbit app, adding the scale's results to all the other body metrics you're already tracking with your Fitbit device. This will provide you with a more well-rounded overview of what your body is going through on a day-to-day basis
With the Fitbit app, you can set a goal weight which displays your weight loss (or gain) progress in easy-to-read graphs, just like Apple's Summary function. It's simple to use and great for new fitness fans, who need lots of information on how their bodies work.
Unfortunately, it doesn't have enough metrics for serious sportspeople, like the Polar Flow or Garmin Connect apps, which makes the Fitbit scale best suited for the amateur fitness fan.
However, you do have access to the Fitbit Community, which is good for people who might need some additional support, partnering up with other Fitbit users to compare notes and encourage each other. Add Fitbit Premium for a whole raft of other features and its Discover programme.
FITBIT ARIA AIR: VERDICT
The Fitbit Aria Air is a good, if very simple, digital scale that works best for people who already have a Fitbit watch or band. Without the Fitbit app, the Fitbit Aria Air is a slick-looking digital scale with no bells and whistles, and there are plenty of those on the market that cost half the price of the Aria Air.
For Fitbit users, the scale automatically updates your BMI and body weight every time you step on the scale, syncing the measurements to the rest of your data. Useful, true, but you can also enter those stats manually.
The Fitbit Aria Air is for people who want good quality Fitbit product to feed directly into the app. For them, the Fitbit Aria Air is a good choice. Other than that, it's a solid and attractive bathroom scale, but not much more.
Get the Fit&Well Newsletter
Start your week with achievable workout ideas, health tips and wellbeing advice in your inbox.
Matt has been writing about fitness for a number of years across various Future titles including Fit&Well and T3. PR reps describe him as 'nice guy' but his family members beg to differ. He's always looking for new ways to improve his overall fitness and wellbeing, and is particularly fond of home workout - mainly lifting weights. At any given point, his home is overrun with fitness equipment, running shoes and wearables. And he loves it.