Real life weight loss: "I lost 12 stone and love my body (including my loose skin)"
Hannah from Leicester has undergone a dramatic weight loss and loves her new body (including her loose skin)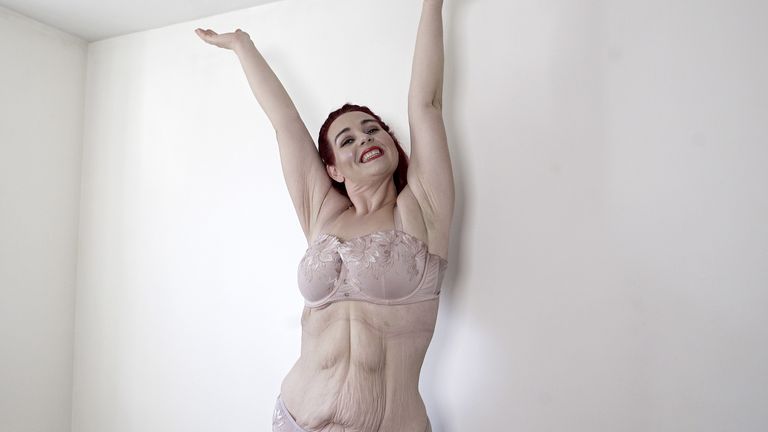 (Image credit: Future)
By Fit&Well
Hannah, from Leicester, UK had always struggled with her weight and her love of food led her to get bigger and bigger. This only got worse when she fell pregnant and her weight spiralled out of control. Hannah's self esteem reached an all time low which resulted in her developing some terrible eating habits. 
YouTube channel Truly spoke to Hannah as part of its Brand New Me documentary series, which chronicles dramatic weight loss transformations. She said: "The only thing that was keeping me happy was food. I'd sit and eat an entire birthday cake for breakfast."
Things went from bad to worse for Hannah, when her doctor sat her down and gave her a stark warning – if she didn't change her life now, she was going to have a heart attack. Hannah's final realisation moment came in the form of two pictures that were captured at her 30th birthday party. 
Watch Hannah's inspiring weight loss story here
She said: "My friends took two pictures and they were the ones that made me go... 'dammit, you've got quite big', that was the moment where I needed to sort my life out." 
From that second Hannah's life changed. She started walking, running and completely changed her diet. Over the course of the next few years Hannah lost an incredible 172lbs, however something Hannah was not expecting after losing that much weight was her excess skin. 
Hannah said: "There was a time when I absolutely hated it, but then I started to learn to love myself. This bit of skin is a part of my journey and I love it as it's a part of me." Hannah is continuing her journey and now isn't afraid to show off her new body that she has worked so incredibly hard for.
"I started walking everywhere," said Hannah. "First 10 minutes, then 20 minutes, and now I'm walking for hours." Walking is extremely beneficial when it comes to losing weight, and it's a great way to kick-start your weight loss journey. One study, published by researchers from the University of Miami, have shown a 12-week walking programme in conjunction with a healthy diet results in significant declines in body weight, percentage body fat, fat mass and blood pressure levels. It's accessible too: all you need is some of our best shoes for walking to get started. 
However, once you're feeling comfortable and in your routine, you can start upping the intensity by going for regular jogs. Running is another fantastic way to get active, as it confers all the benefits of walking above and compounds upon them by upping your pace and work load. It's a wonderful way to keep fit, especially if you run in nature: the relaxing benefits of green space suppress your "stress hormone" cortisol levels. High levels of cortisol have long been linked with fat retention, so a therapeutic run in the park or by the water can slim you down in more ways than one. 
Your joints will need adequate protection when running on roads, especially if they're not used to the rigours of training. Our best running shoes for men and best running shoes for women will support your heel, arch and ankle with adequate protection, while providing the lift you need to propel you to a personal best.  
The Fit&Well team is all about helping you meet your health and fitness goals in ways that are fun and achievable.