Research says you need to get fit to beat Alzheimer's—Here's how to get started
Even making small improvements to your fitness can decrease your risk of developing Alzheimer's disease later in life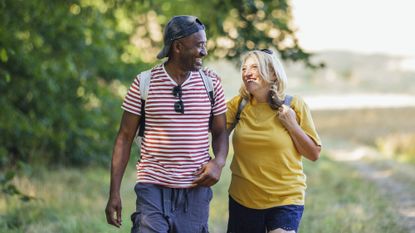 (Image credit: Getty Images)
Get the Fit&Well Newsletter
Start your week with achievable workout ideas, health tips and wellbeing advice in your inbox.
Thank you for signing up to Fit And Well. You will receive a verification email shortly.
There was a problem. Please refresh the page and try again.
Despite our best fitness intentions, life can sometimes get in the way. Whether it's the demands of work or family, an old injury, or aching joints, it's not always easy to prioritize our fitness, especially as we age.
The benefits of staying in shape, though, are great for both body and mind. By keeping moving, we can decrease the risk of major illnesses such as heart disease, stroke, cancer, and type 2 diabetes. How fit we are can also influence the health of our brains.
Workouts using the best elliptical machines and best exercise bikes are a great low-impact option for exercisers of any age and ability, especially those with joint pain. This is good news since, according to new research released by the American Academy of Neurology, the fitter we are, the more we may be able to decrease our risk of developing Alzheimer's disease.
The study, which measured participants' cardiorespiratory fitness, found that those with the highest fitness level were 33% less likely to develop Alzheimer's disease than those in the least fit group. However, it doesn't seem to be an all-or-nothing proposition.
The research suggests it's more of a sliding scale, with the risk of developing Alzheimer's decreasing in line with the participant's fitness level. For instance, the second-fittest group was at 26% lower risk, while the middle fitness group was 20% less likely than the least fit participants.
The researchers did note, though, that you could get into the highest fitness level by taking a brisk daily walk, clocking up two and a half hours or more per week. You don't have to be pacing through to get the benefits either, as you can walk slower to burn more fat and lose weight sustainably.
"The idea that you can reduce your risk for Alzheimer's disease by simply increasing your activity is very promising, especially since there are no adequate treatments to prevent or stop the progression of the disease," said the study's author Edward Zamrini, MD, of the Washington VA Medical Center.
"So people can work toward making incremental changes and improvements in their physical fitness, and hopefully that will be associated with a related decrease in their risk of Alzheimer's years later," he concluded.
While this study focused on cardio fitness, we know that to maintain strong bones and muscle tone as we age, it's also essential to include some form of resistance training into your routine. That doesn't have to mean lifting heavy weights, though.
You can invest in a set of the best resistance bands, an affordable and portable alternative to weights, and then include the best chest workouts with resistance bands into your exercise routine.
The important thing is to make sure we are doing something rather than nothing because the more we can build our fitness, the greater protection we are likely to afford our bodies and minds.
Get the Fit&Well Newsletter
Start your week with achievable workout ideas, health tips and wellbeing advice in your inbox.
Claire is a freelance health, fitness and food journalist who has written for titles including Women's Health, Top Santé, Woman & Home, Feel Good You, the Telegraph and Independent. She has a passion for being outside in nature and you're more likely to find her walking in the woods or joining an exercise class in the park than pounding a treadmill in the gym. She also has a special interest in nutrition and healthy eating, having previously been Food Editor at Top Santé magazine. Her top fitness tip? Take your exercise outdoors wherever possible. It has been shown to boost the physical as well as mental health benefits of a workout and also to make you more likely to want to do it again!