See Nike's modest swimwear range - featuring a hijab and swimming tunic
We love their Swim Victory 2.0 collection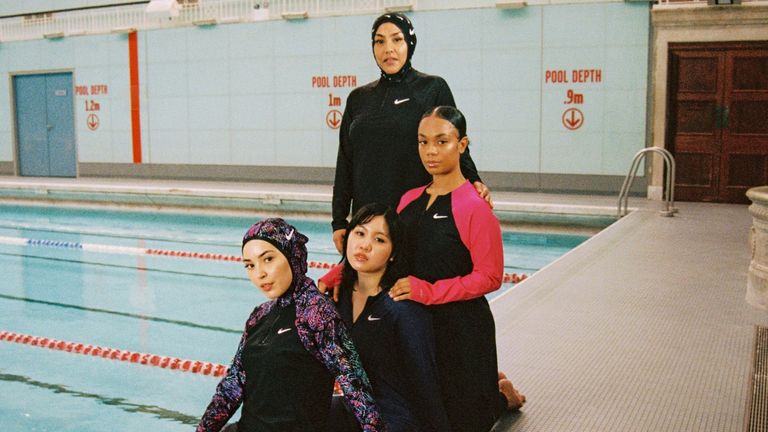 (Image credit: Nike)
By Sarah Finley
Last year, Nike Swim revolutionised modest swimwear with the Victory suit - an innovative head-to-toe suit for seamless water flow - to make swimming more inclusive. 
So we're excited to see that Nike Swim has followed it up with a full range of swimwear, just in time for the summer Lido season. 
The Victory 2.0 collection, a line of full coverage, performance swimwear, inspired by the spirit of endless possibilities and with feedback from global athletes, has been designed by the brand to empower women in the water.
With swimming being one of the best workouts for the arms and a great way to get fit we think Nike's inclusivity message with this new collection is spot on.
From colorfully patterned hijabs to a black and white block colored tunic top they've extended the range so there's more choice. We love how instead of sacrificing movement for modesty, the collection, for female swimmers, means we can now dive into a pool, body-surf a wave or power down a lane, in performance swimwear that won't leave us battling drag or struggling to keep a hijab in place.
When the first Victory suit was released Martha Moore, Nike Creative Director, VP said: "As we continue broadening our vision for innovation, we're excited to inspire more women to see themselves in sport by thinking creatively and designing inclusively.
"To us, Nike Victory Swim Collection shows the power of innovation to invite all women to discover the joy of sport."
Nike believes that women of all backgrounds, body types, abilities and aspirations deserve the opportunity to participate comfortably in water sports - and we are totally on board for this.
This was reflected in an advert they released last year, which showed a woman, wearing a hijab, in the water with her daughter - teaching her how to swim. The advert starts with the mom telling her, "On the count of three, hold your breath. Ready?" 
As the daughter goes under the water, ready to take her first strides it shows women all over the world in the water - diving into pools, scuba diving, surfing and rowing. The advert then cuts back to the mom and little girl in the pool, showing her swimming away on her own, while her mom encourages her with three words: "Don't stop now!" 
Nike Swim has worked with Muslim Sisterhood, a creative community of women,  to showcase the new swimming range. 
Watch Nike's Victory Swimming advert: