Should I buy the Fitbit Versa 3? Pros and cons considered
Considering investing in Fitbit's latest smartwatch? Read this first...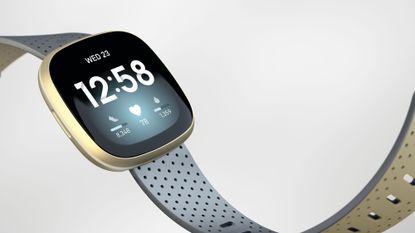 (Image credit: Fitbit)
Famously starting out focusing on step-counting, Fitbit has branched out its activity trackers in recent years to cover other sports such as running.
It has also ventured into the smartwatch market, which already features some big-hitters such as Apple and Samsung.
The Versa 3 is its latest smartwatch, considered by many to be the best Fitbit and the fully upgraded version of its popular Versa 2. It comes with a raft of new features, a highlight of which is the addition of GPS to track sports such as running and cycling.
Traditionally, most Fitbit devices did not come with on-board GPS, so were not a huge amount of use to runners and cyclists. However, that's changing, and the Versa 3 is one of the company's devices that now has GPS.
Competitors are the significantly higher priced Fitbit Sense (£330/£299) which features a wide range of health-tracking features, and the Apple Watch SE, which is a newer version of the Apple Watch priced from $279/£269. The reduction in price means you don't get the ECG feature or blood oxygen levels offered on the Apple Watch Series 6, though. There's also the Samsung Galaxy Watch, which at $330/£249 is also more expensive. If cost is a consideration, check out or round-up of the best Fitbit deals.
Fitbit Versa 3: functionality
The Versa 3, like most Fitbit watches, is big on sleep tracking. It will record your sleep patterns throughout the night, and is now fitted with a SpO2 sensor that measures your blood oxygen levels so you can monitor the data in the morning, although some of this data can only be accessed via upgrading to Fitbit Premium membership, which costs $9.99/£7.99 a month.
Battery life has been upgraded, with a claimed 6+ days of use off one charge, and 12 hours if using the GPS continuously. It also offers the handy ability to give a quick 12-minute charge via the nifty metallic charging point which will provide a day's worth of battery.
The watch connects seamlessly with your smartphone, and includes a built-in speaker and mic so you can take calls on the move directly from your wrist. You can also call up voice assistants including Amazon Alexa and Google Assistant directly from the Versa 3, so if you have any queries you can simply ask the watch.
Music can be provided by Deezer and Pandora accounts, from which you can download offline playlists. You can also control Spotify from the watch, but you'll need your phone with you for that.
The Versa 3 is waterproof to 50m meaning it's swim-proof and it will track pool lengths. It is also fully touchscreen-operated, and you can fully customise what you see on the watch face, and swap it around to take out info and apps that you don't require.
Fitbit Versa 3: new features
The headline news for the Versa 3 is the aforementioned introduction of GPS. This means you can track many more activities than you could on the Versa 2, which lacked GPS functions.
Leading on from this is a new 'intensity map' feature that shows the route you ran using different colors depending on the intensity you ran at different points based on your activity's heart-rate data.
The Versa 3 will show your heart rate, pace and distance onscreen during your activity, and you can customise it to coach you while you are running by setting target heart-rate zones, meaning the watch will vibrate to let you know when you are not hitting those targets.
It utilises Fitbit's new PurePulse 2.0 heart rate sensor, which the company claims is more accurate than sensors used on previous models. This is built into the watch and measures your heart rate from your wrist rather than requiring a separate HR chest belt.
You'll be notified of your Cardio Fitness Score afterwards, and it will keep track of it to let you know when you need to step things up a level, or ease off if you've been overdoing it.
For those who are feeling stressed, the watch also includes guided breathing sessions to boost your mindfulness and hopefully make you feel calmer.
Fitbit Versa 3: look and feel
There's no denying the Versa 3 racks up plenty of style points. Although it appears on first glance to look the same as the Versa 2, its screen is marginally bigger, and its customisable options make it stand apart.
It comes in three colors: black, pink clay and soft gold, and midnight and soft gold. However, a huge plus point with the Versa 3 is that you can customise it in innovative ways. There's a whole range of different-coloured sports and leather bands you can swap in easily by simply 'clicking' each strap on when you fancy a change.
Let's finish by summing up the pros and cons of the Fitbit Versa 3...
Fitbit Versa 3: Pros
Fully touchscreen
Activity tracking, in particular sleep tracking
Addition of GPS makes it ideal for outdoor activity tracking
Fast-charging option
Customisable straps
Fitbit Versa 3: Cons
You have to pay for a Premium monthly membership to access some extra features
For those looking for a wealth of running statistics you'd be better served with a sports GPS watch
Health stats are limited when compared to the Fitbit Sense
Howard is a freelance health and fitness journalist and copywriter. He has written for publications including ShortList, Runner's World, Trail Running, Women's Running, Red Bulletin, Wareable and Cycling Weekly. He enjoys nothing more than lacing up his trail shoes and heading out to explore new trails. He's run ultramarathons everywhere from the French Alps and Canadian mountains to the Welsh coast and Peak District. When not running, he's usually found hitting his local MTB singletrack trails or on a quest to find the country's best cinnamon bun.