Skin health: How to fix "lockdown skin" caused by stress & lack of vitamin D
Skin health is bad in winter, but lockdown can also cause added stress and harm to your skin & hair. Here's how to fix it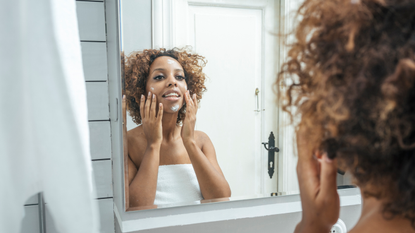 (Image credit: Getty Images)
Skin health is difficult to maintain during the winter months. With less vitamin D from sunlight and more cold, dry air affecting our skin, winter for many means cold sores, eczema, a dehydrated-looking face and other skin issues.
All this is compounded as a result of the coronavirus pandemic. We're spending more time indoors and less time outside, reducing our vitamin D intake even more as many of us are no longer commuting in the mornings. What's more, the stress of the global health crisis can also show up in our skin.
Best SAD lamps: medically-certified ways to combat seasonal affective disorder
A study by the pharmaceutical company Avon found psychological stress was linked to the onset or aggravation of multiple skin diseases, and stress is obviously heightened during long periods of lockdown, when we're all checking the rising and falling death rates and we're glued to the news in order to find out the local restrictions.
According to the skin experts at Wilkinson Sword, this combination of stress and low vitamin D intake can ultimately lead to your body showing signs such as acne breakouts, eczema, alopecia barbae or psoriasis.
Vitamin D is known to be essential to keeping your immune system healthy, but it's less well known a lack of this nutrient can directly affect your skin, as a healthy immune system is responsible for repairing skin damage effectively. Vitamin D also plays a critical role in creating new hair follicles.
Below, you can see a few top, science-backed tips to keep your skin healthy and your stress levels down:
Physical activity lowers cortisol production and improves blood flow in your body, helping blood flow to your skin as well as your muscles. Make sure you're moving every hour you're sat down, even if it's just a short five-minute screen break.
Food rich in micronutrients like fruits, vegetables and berries that are in season, help keep your supplies of these nutrients topped up. Meanwhile, taking vitamins for general health (and our best supplements for joints) can also contribute to mental and physical hardiness.
Exposing yourself to direct sunlight is a basic, yet significant step towards increasing your vitamin D levels. Try and take a short walk outside every day, even if you're working from home and no longer commuting.
Change up your skincare routine. Exfoliating helps to remove dead surface skin cells and prevents ingrown hairs, and it was found in a San Francisco study to "be helpful in maintaining visible radiance". Wilkinson Sword recommends you follow this up with a moisturiser, which is said to "lock in" moisture to limit the damage of cold, dry air.
Hydrotherapy, subjecting your skin to cold water for short periods of time, has been proven to increase the flow of blood to your skin, keeping it healthy. Our writer braved a week of the cold shower challenge to test this theory.
Skin health: More healthy habits to try
If you're struggling to get outdoors, or you're in a grey, rainy part of the world requiring you to bundle up every time you go outdoors, you could try Vitamin D supplements. Decreased fitness levels and coronavirus susceptibility have been linked to vitamin D deficiency, so if you can't get it from sunlight, opt for a supplement.
If your stress levels continue to rise, try mindfulness meditation, which has long been shown as an effective tool for stress levels. We've got our comprehensive guide to your first two-minute meditation here: however, you need to practice consistently for a few weeks to see the benefits.
Liked this?
Gut health: The foods you need to eat to help digestion, revealed
Matt Evans is an experienced health and fitness journalist and is currently Fitness and Wellbeing Editor at TechRadar, covering all things exercise and nutrition on Fit&Well's tech-focused sister site. Matt originally discovered exercise through martial arts: he holds a black belt in Karate and remains a keen runner, gym-goer, and infrequent yogi. His top fitness tip? Stretch.