Supercharge your cycle: how to ride harder, faster and smarter
Take your cycling to the next level with these expert tips and tricks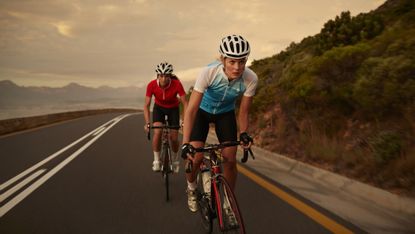 (Image credit: Getty Images)
Keen to take your cycling routine to the next level? Just a few tweaks to your training can make all the difference when it comes to feeling the bike burn.
From training tips you can apply on an exercise bike in the gym or at home (check out our edit of the best exercise bikes if you prefer the latter), to what to eat pre- and post-ride, check out our expert tips for supercharging your cycle below...
Fine-tune your training
Burn it up on a static bike to improve your on-the-road cycling performance – and torch cals – with these drills from Fitness First PT Ambassador Alex Chaple.
Drill #1 - HIIT it up
Alternate 20 seconds at 100% effort, with 120 seconds active recovery (pedalling at 40% effort) six times.
'Cyclists don't often do HIIT (high intensity interval training) but it's a fantastic tool for helping you to be able to sprint faster and for longer. Essentially, it increases the size of your engine!' says Alex.
Drill #2 - Play with body position
'To see changes in your body and improvements in your riding ability, you need variety in your workout,' explains Alex.
'A simple way to do this is to switch between standing, seated, tucked and upright positions.'
Drill #3 - Nail your posture
'Keeping a healthy back and shoulder posture is crucial. Keep your spine as flat as possible, shoulders drawn back, and torso still,' explains Alex. This makes you more efficient and helps avoid injury.
'Practise various speeds and intensities while holding this posture as strictly as you can – keep an eye on it in the mirror. Don't break form, no matter how hard you have to pedal!'
Keep your bike in tip-top condition
Handlebar height: 'For general leisure cycling, handlebar height should be about the same as saddle height. Your back shouldn't be hunched or bent and your arms should be just slightly bent.'
Brakes: 'Before you head out, apply your brakes, then let go. Now spin your wheels. If either wheel rubs against your brake pads, they may need adjusting.'
Saddle height: 'The wrong height can not only compromise how efficiently you ride, it makes knee injuries more likely. The height should be 109% of your in-seam length.'
Saddle position: Your saddle needs to be completely flat, so you don't slide forwards or backwards – causing inefficient pedalling or injury. A spirit level could come in handy here.'
Tyres: 'Always check your tyre pressure. Under-inflated tyres will result in a sluggish ride, overinflated a bumpy one. Inflate to somewhere in the middle of the suggested range.'
Chain: Your chain is the bike's engine. Make sure it's kept lubricated with a good Teflon-based bike lube. A dry, rusty chain will leak power and will wear out more quickly.'
Eat the right fuel
If you've ever hit 'empty' on a ride, you'll know it's not pretty. Try nutritional physiologist Rick Hay's (opens in new tab) smart fuelling tactics.
Before you go: Blend 1⁄2 mango, one banana, a small handful almonds and 250ml rice milk for the perfect pre-ride smoothie. 'This combination, blitzed up in a blender, provides fast-acting carbohydrates to fuel your body and the nuts provide protein to help with endurance,' explains Rick.
On the go: Make your own energy balls to keep you moving. You'll need 1-2 bananas, a handful of peanuts, a handful pumpkin seeds, 3-4 dates and a scoop protein powder. 'Rustle these up by whizzing the ingredients in a blender, then shaping them into approx five balls. Snack on 1-2 at a time.'
Commit to your rides
'The hardest part of any bike ride is getting out of the door. But consistency is key to keeping up an exercise habit,' explains cycling coach John Morgan (opens in new tab). 'On days when you feel tired, set a target of just five minutes. Often before you know it, you'll have done a decent ride!
Launched in 2020, Fit&Well.com is all about helping you meet your health and fitness goals in ways that are fun and achievable. With news and features on fitness, weight loss, running, nutrition, yoga, wellness and more, we're committed to helping you wherever you are on your fitness journey. We break down the best fitness tech, with reviews, buying guides and the latest deals on fitness and wellness kit, from dumbbells to diffusers.
We cater for all difficulty levels here. It doesn't matter if you're a beginner in the world of fitness or you're gearing up for your tenth marathon: we're all moving towards the same goal – creating a healthier, happier you. From guides on getting started doing walks around the block, to creating the perfect work-from-home space, to eating to fuel your first triathlon. It's all here.