This 20-minute workout will tone your abs—but why is a strong core so important?
You don't need spend hours doing crunches to get visible results, but there's more to your core than six-pack muscle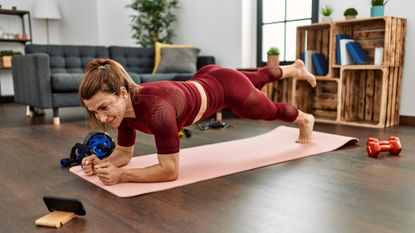 (Image credit: Getty Images)
To build a six-pack, you need to exercise your abdominal muscles and burn fat to make them visible. But there's more to your abs than meets the eye. They are a vital part of your core, a mid-body area that plays a crucial role in your health and workout performance.
Many of us start developing our core by searching for the best workouts for abs, including workout staples like planks, crunches, and Russian twists. But these exercises can very quickly get repetitive, leaving you longing for a little variety in your core workouts.
That's where this short workout from fitness YouTuber MadFit comes in. In just 20 minutes, you get an intense core session, and there's no equipment necessary. This makes it ideal for a quick abs blast whether you're at home, the office, or traveling.
Watch MadFit's total core workout
You'll do each move for 45 seconds, followed by a 15-second break before moving on to the next exercise. If you're new to core workouts or want to perfect your form, it's a guided workout so that you can follow along.
Maddie Lymburner, the trainer behind the MadFit YouTube channel, keeps her tutorials accessible and suitable for all experience and fitness levels. Thanks to this approach, she's gained over 6.6 million subscribers.
Although you don't need to buy any equipment for this session, it is worth having one of the best yoga mats to hand. You'll spend most of the routine down near the ground, and these mats offer a comfortable, non-slip base for your training.
Why is a strong core important?
Six packs are desirable from an aesthetics perspective, but developing your abs has other benefits too. According to the Mayo Clinic, core strength improves your balance and reduces your risk of injury by training your pelvis, lower back, hips, and ab muscles to work together.
Moreover, it promotes circulation to improve your endurance and overall performance during exercise. This also helps with post-workout recovery, as it helps repair muscles by delivering blood to affected areas.
While you can work your core with exercises like lunges, one study found that mixing isolated abs exercises with full-body moves that activate your core is the optimal way to build strength in this area. That's what makes MadFit's 20-minute workout so effective.
Fortunately, it doesn't take long to see the results of your efforts either. According to research published in the Journal of Physical Therapy Science, you'll experience some improvements in core stability after just four weeks.
Follow our six-pack tips guide to get these benefits and visible results. Exercise plays a pivotal role, but you'll also need to focus on your diet, sleep well, reduce body fat, and stay hydrated.
For times when you want to squeeze in a quick core blast, keep one of the best abs rollers handy. These budget-friendly, portable wheels are a low-tech way to train your stomach muscles whenever you have a spare moment.
James is a London-based journalist and Fitness Editor at Fit&Well. He has over five years experience in fitness tech, including time spent as the Buyer's Guide Editor and Staff Writer at technology publication MakeUseOf. In 2014 he was diagnosed with a chronic health condition, which spurred his interest in health, fitness, and lifestyle management.
In the years since, he has become a devoted meditator, experimented with workout styles and exercises, and used various gadgets to monitor his health. In recent times, James has been absorbed by the intersection between mental health, fitness, sustainability, and environmentalism. When not concerning himself with health and technology, James can be found excitedly checking out each week's New Music Friday releases.