This four-move, no-equipment ab workout builds core strength in less than seven minutes
Training your core doesn't have to take hours, and this finisher will fit perfectly on the end of longer workouts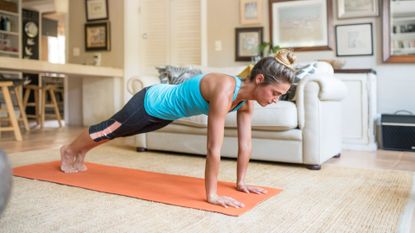 (Image credit: Getty)
Training your core is all about finding a perfect balance; you don't need to spend hours hitting your mid-section, but strengthening this area holds the key to benefits like improved balance, stability, and performance.
That's where this short ab circuit from trainer Alexia Clark (opens in new tab) comes in. It takes less than seven minutes, so you can easily squeeze it into your lunch break or tag it on the end of a longer exercise session. You don't need any equipment either, so you can do it pretty much anywhere.
As you'll be on the ground for a lot of the routine, it's worth rolling out a mat if you can. We recommend one of the best yoga mats (opens in new tab), which provide some extra padding for your spine if you plan to try this workout on an unforgiving floor.
The circuit consists of four moves performed back to back for 30 seconds each. Repeat this three times, resting as little as possible between movements, to reach the finish line.
Some of these movements, such as hollow rocks and dynamic plank variations, may be new to you, so we recommend watching Clark's video below before you start. This will teach you how to perform each one with perfect form.
Watch Alexia Clark's ab workout
We're big fans of this quick session, which is a breath of fresh air compared to more traditional core workouts we're all used to (more sit-ups (opens in new tab), anyone?).
One of the reasons it earns our seal of approval is that the best workouts for abs (opens in new tab) (like this one) focus on more than just the rectus abdominis — the muscles responsible for the six-pack shape in the stomach.
Lesser-known mid-section muscles like the internal and external obliques, and the transverse abdominis, are pivotal for initiating twisting movements and supporting your spine, which can help improve your balance, boost your stability and protect against lower back injuries.
The dynamic movements in Clark's session hit all of these muscles, making for a more comprehensive core workout (opens in new tab). And it's an ideal option, whether you're after a quick ab-focused finisher or you need a short session when you're tight on time.
Now you've found this ab circuit, you might need a strength-building session to add it to the end of. If you're looking for an upper-body session, we suggest this chest and back workout (opens in new tab). Or, if it's your lower-half you'd rather work, the best leg workouts (opens in new tab) fits the bill.
Harry Bullmore is a fitness writer covering everything from reviews to features for LiveScience, T3, TechRadar, Fit&Well and more. So, whether you're looking for a new fitness tracker or wondering how to shave seconds off your 5K PB, chances are he's written something to help you improve your training.
When not writing, he's most likely to be found experimenting with a wide variety of training methods in his home gym or trying to exhaust his ever-energetic puppy.
Prior to joining Future, Harry wrote health and fitness product reviews for publications including Men's Health, Women's Health and Runner's World. Before this, he spent three years as a news reporter with work in more than 70 national and regional newspapers.