This man was bullied for being fat in high school, so he spent years getting ripped
Queensland's Anthony Bayer overcame food addiction and a sedentary lifestyle to turn his health around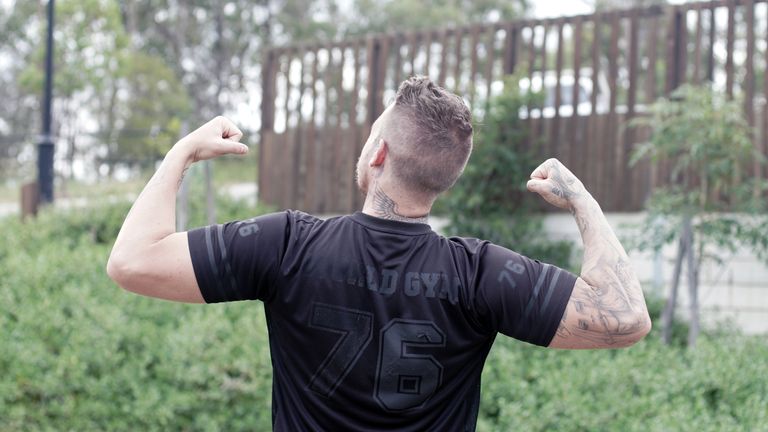 (Image credit: Future)
By Matt Evans
27-year-old Anthony Bayer from Queensland, Australia has lost a spectacular 115lbs after being rushed to the hospital at his heaviest. Anthony says his weight issues started in high school, using food as a coping mechanism and consuming over 1,000 calories a day. 
"Food was an addiction, every time I was stressed out I would eat. I would consume three pizzas, three bottles of coke and three packs of Magnum ice cream in one sitting," he told YouTube channel Truly, which is documenting dramatic weight losses as part of a series called Brand New Me. 
Weighing in at 330lbs at his heaviest, Anthony would avoid social gatherings, spending his days at home alone playing video games. "I had absolutely no confidence, I thought I was going to be alone for the rest of my life," he added. And his fears of ending up alone really intensified when he was stood up for his high school prom. 
"I asked the most attractive girl in school to be my date and she said yes. I made myself look like a million dollars and knocked on her door on the day of the formal. She started laughing and said I was too fat to fit through the door, at that moment I realised it was just a big joke, I was set up." 
Watch Anthony's inspiring weight loss story here:
A few months later, Anthony woke up in the middle of the night suffering from heart palpitations. Rushed to the hospital, the doctor explained to him that his irregular heartbeat was down to the pressure put on his body by the excess weight. On the verge of Type-2 diabetes, Anthony was urged to make a drastic change in his diet. 
Anthony said: "Something just changed inside me, it was the turning point for the transformation of my life." 
Researching diets to eat healthily, going for walks and eventually joining a gym, Anthony quickly started losing the extra pounds. Losing 115lbs in total, Anthony now weighs in at a healthy 215lbs. "My transformation changed me mentally, now I'm confident, willing to go out there and live my life to the fullest."
Anthony began his transition into fitness by walking to lose weight. This common, low-impact method of weight loss is easy to incorporate into your day: all you need is a set of the best shoes for walking to get started. 
Walking, and generally incorporating more low-intensity movement into your day, results in fat loss, better fitness (as measured by your VO2 Max) and a slimmer waist, according to studies. Don't feel like you have to go for a 10k run right away: to start, walking every day is enough. 
Anthony can also be seen doing bodyweight resistance exercises such as push ups, squats and dips to build muscle. Building muscle is a great way to improve fitness, as a body with more muscle than fat requires more oxygen, increasing your metabolism.
Push ups in particular work your chest, shoulders, triceps and core muscles, making it a great compound move to work lots of different muscles at once. Check out our guide to how to do a push up properly to re-examine your form on this gym class staple.