Why runners should track 'running power' (and a smart new way to do it)
The NURVV Run Smart Insoles use the brand's impressive biometric technology to best track athletes' running power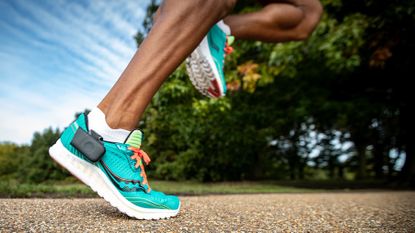 (Image credit: NURVV Run)
Runners love to discuss all things stats when it comes to their training. Seasoned runners and novice runners can all benefit from tracking their running metrics.
There are certain runner buzzwords that you have probably heard of, such as ground contact time, which refers to the average amount of time each foot spends on the ground as you run. Or some runners like to log their heart rate to keep record of just how hard they are pushing themselves. Some may also measure cadence, the number of strides you take in a given period of time.
However, one useful stat that's typically gone under the radar is running power - until now.
As fitness technology has advanced, with the likes of the best fitness watches always improving and entering the market, running power has become a popular metric in the running world. Indeed, NURVV, the designers of foot-based wearables, has have just added the running power metric to its Run Smart Insoles.
So what exactly is running power? Measured in watts, it's a way of measuring the level of physical work (output) you use during a run, meaning you exert more control over the intensity of a session and it can make you a more efficient runner. When the watts are higher you are generating more power with every step. The more power you can generate, while keeping things like heart rate low and pace high, the more efficient your runs are and hopefully the faster you become. The metric should also mean you use less physiological effort.
The metric has long been used by cyclists but has more recently become accessible to runners. And the great news is that the impressive piece of technology doesn't exclude beginners.
Fit&Well spoke to Dr Grant Trewartha, the Head of Biomechanics at NURVV, who explained that running power is an especially helpful metric for novice runners. He told us, "It can help you to better judge a consistent effort throughout the run to make sure you complete your intended session without tiring before the end."
All NURVV Run smart insoles now include the running power metric. Of course the obvious difference between the brand's smart insoles and other devices like the best running watches is that they measure running statistics from the feet rather than the wrist. Another reason that they are unique from other wearables is that they use biomechanical technology to collect data from the foot and cross-analyze this into results for the runner.
NURVV wants runners to be able to turn measuring running power into 'an exact science' so that they don't have to make assumptions about their training. The smart insoles use four features, which feeds data from your feet to the NURVV app, to help achieve this: the Power Dial, the Running Power Report, the Power Test and the latest feature, the Power Workout.
The Power Workout uses the new foot-based running power metric to help runners train in a new and challenging way. The runner can choose a Power Zone to work in during a run and during the workout audio and visual cues react to the runner's performance helping them to remain in their chosen power zone. The runner will be presented with a detailed analysis of the run afterward to see the strengths and weaknesses of their session and use this for improvement.
Power Workout is compatible with Apple Watch, iPhone and Android. The NURVV Run Smart Insoles can be used in more than one pair of trainers so that you can use the running technology in any pair of best running shoes for women or best running shoes for men.
Get the Fit&Well Newsletter
Start your week with achievable workout ideas, health tips and wellbeing advice in your inbox.
Jessica is an experienced fitness writer with a passion for running. Her career in journalism began in local news and she holds a Masters in journalism. Jessica has previously written for Runners World, penning news and features on fitness, sportswear and nutrition.
When she isn't writing up news and features for Fit&Well covering topics ranging from muscle building, to yoga, to female health and so on, she will be outdoors somewhere, testing out the latest fitness equipment and accessories to help others find top products for their own fitness journeys. Her testing pairs up nicely with her love for running. She recently branched out to running 10Ks and is trying to improve her time before moving on to larger races. Jessica also enjoys building on her strength in the gym and is a believer in health and wellness beginning in the kitchen. She shares all of this on her running Instagram account @jessrunshere which she uses for accountability and for connecting with like-minded fitness lovers.