You don't need any equipment for this quick three-move core workout
This short mid-body circuit workout will strengthen your core, improve your balance, and boost your performance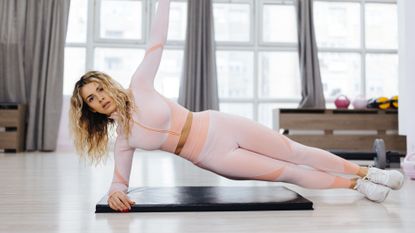 (Image credit: Getty)
You don't need to go to the gym to train your abs. In fact, you don't need any equipment at all.
This three-move workout will fire up your core using just your bodyweight. It doesn't take long either, making it a great session to have saved for when you're short on time, can't make the gym, or are looking for some quick lunch break movement.
We like using one of the best yoga mats (opens in new tab) for floor-based workouts like this one as they offer a little extra cushioning for our spine and limbs, but if you have a rug or carpeted floors, you should be fine without one.
This simple yet effective session was created by NSCA-certified personal trainer Morit Summers (opens in new tab), who says she loves the three programmed exercises for building core strength, stability, and mobility.
Find out how to perform each one by watching her video below, then follow the recommended number of sets and repetitions in the caption for a great core workout.
Watch Morit Summers' core workout
This routine uses many of the best ab workouts (opens in new tab), which contain a variety of exercises, using different movement patterns and static holds to hit multiple muscles in the core.
For example, the dead bugs in Summers' session will engage the often-overlooked transverse abdominis (key for stabilizing the spine) while the side plank with rotation is a serious challenge for the internal and external obliques (informally known called "side abs").
Many people train their abs for aesthetic reasons, but a good core workout (opens in new tab) has far more to offer. Strengthening this area can improve your balance and stability, as well as benefitting your performance in other exercises like running and lifting weights.
This is especially true of weighted compound exercises (opens in new tab) like the squat (opens in new tab), which rely on a strong and stable spine to support your body as you lift a dumbbell, barbell, kettlebell, or other weight.
You could use this as a standalone session, or add it to the end of a resistance training workout as an effective ab-focused finisher. It would pair well with one of the best leg workouts (opens in new tab), or this comprehensive lower body strength session (opens in new tab).
Harry Bullmore is a fitness writer covering everything from reviews to features for LiveScience, T3, TechRadar, Fit&Well and more. So, whether you're looking for a new fitness tracker or wondering how to shave seconds off your 5K PB, chances are he's written something to help you improve your training.
When not writing, he's most likely to be found experimenting with a wide variety of training methods in his home gym or trying to exhaust his ever-energetic puppy.
Prior to joining Future, Harry wrote health and fitness product reviews for publications including Men's Health, Women's Health and Runner's World. Before this, he spent three years as a news reporter with work in more than 70 national and regional newspapers.