Amazfit T-Rex Pro review: the fitness watch for every sport
The Amazfit T-Rex Pro is a beefy but affordable fitness watch with lots of workout modes to choose from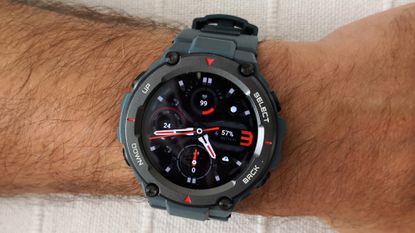 (Image credit: Rob Clymo)
The Amazfit T-Rex Pro is an affordable sports watch with plenty of features and functionality. It has lots to offer a health and fitness aficionado, with a whole bundle of workout modes. The T-Rex Pro can return plenty of data too, so you easily build up a bigger picture of your workout regime via the supporting Zepp app.
Reasons to buy
+

Great fitness features

+

Good value for money

+

Accurate
Reasons to avoid
-

Lacks integration with other fitness apps

-

Cheap feel

-

Large bezel might not appeal to those with smaller wrists
The Amazfit T-Rex Pro is a chunky sports watch that combines a rugged design with plenty of features that should keep most people happy. It's a follow-up to the original Amazfit T-Rex, although the design and feel of the device make it hard to see where the Pro bit comes into play. It's very chunky but also manages to feel quite plasticky at the same time.
However, the Amazfit T-Rex Pro makes up for things with a Pro level of functionality as this is a sports watch that comes packed with plenty of sports modes. There's something for everyone on that front, from the predictable basics such as running and cycling right on through to race walking, parkour, cross country skiing, equestrian activities, and shuttlecock kicking, of all things.
On top of that, the Amazfit T-Rex Pro also comes with beefier features for folks who want to get a little more out of their fitness activities. The sports watch works in tandem with Amazfit's Zepp app, allowing you to configure various different features and functions so that you can build up a personalized picture of both your fitness levels and your chosen sporting activities.
There are tools for measuring oxygen levels (SpO2) and stress, alongside standard features such as heart rate and sleep. There are additional tools such as a compass and barometer for the more adventurous outdoorsy types too. Waterproof down to 100 meters and with a battery life of around 18 days, the Amazfit T-Rex Pro looks like a good bet. But is it any good? Here we tell you all you need to know and whether this model is worthy of a place in our best running watch guide.
Amazfit T-Rex Pro review: price & core features
The Amazfit T-Rex Pro is good value with a price tag of $179.99 (£139 / AU$249). The model we tested was the Desert Green edition, but two other color variants are available in Meteorite Black and Steel Blue. The chunky design only appears to come in one size, but the silicone rubber wrist strap is very accommodating and fits a wide variety of wrist sizes though it's not detachable.
However, the Amazfit T-Rex Pro is also a beefy affair, so might be a little too big for some. The vast array of workout monitoring options covers all bases, and even a few leisure pastimes that you might not have heard of. Aside from that, the Amazfit T-Rex Pro offers the standard level of features you'd expect from a sports watch at this price point.
Amazfit T-Rex Pro review: design & feel
On first impressions, the Amazfit T-Rex Pro carries a similar design theme to that of its predecessor, the more basic Amazfit T-Rex. However, there are some neat design flourishes that set it apart, including the striking bezel with its four screws indicating that this is a sports watch that's built for heavy-duty use. Amazfit drops phrases like 'military grade' into the promotional blurb and, while the T-Rex Pro does feel sturdy, it's also got an undeniably plastic edge to the build.
Nevertheless, the shock-resistant design should be durable enough for most and it's able to cope with temperature extremes from -40°C to 70°C. That plastic design means it weighs less too though, at just under 60 grams, which is just as well because the 1.3-inch AMOLED touchscreen display is housed in a casing that looks chunky even if you've got average-sized wrists.
Petite owners might find it a little overwhelming due to the 47.7mm radius and 13.5mm thick design of the case. There are four buttons on the edges of the case too that deliver mode, back, up, and down functionality. The silicone rubber wrist strap completes the look and, again, this is bold and blends in nicely with the overall color scheme. Ours looked cool in Desert Green, but the Meteorite Black or Steel Blue finishes that are also available look neat too.
Amazfit T-Rex Pro review: health & fitness features
It's hard to fault Amazfit for its Zepp app, which comes absolutely packed with health and fitness features. However, not all these are all that intuitive or easy to implement. While you're initially wowed by the ability to cover the likes of ECG, blood oxygen saturation, blood glucose, and blood pressure, not all of these are straightforward to set up.
On top of that, there are menu options for body measurements and body composition, with the latter list taking in everything from basics such as weight and BMI through to muscle and bone mass plus skeletal muscle. It all looks very impressive, but we invariably ended up monitoring more of the everyday health and fitness things, such as heart rate, sleep, and step count.
If the Zepp app can be tweaked to make it easier to collate the more involved data then Amazfit will be getting top marks from us in the future. The other issue is that it doesn't work with other health and fitness apps, such as MyFitnessPal or Strava, which is similarly disappointing, especially if you're working to a reasonably regimented health and fitness plan.
Amazfit T-Rex Pro review: app connectivity
If you've purchased the Amazfit T-Rex Pro, or indeed any of the other Amazfit devices, the first port of call should be the Zepp app. Once you've downloaded it you can manage anything and everything about your watch from your phone. The app is certainly beefy, with options that include tweaking basic settings, such as screen brightness and the amount of time it stays on through to choosing different watch faces.
It's also the thing to use for firmware updates, which can subsequently be transferred to the T-Rex Pro by keeping the two next to each other. Updates can be a little slow at times, but overall the Bluetooth connectivity is largely fault-free.
Amazfit T-Rex Pro review: smart features
While the Amazfit T-Rex Pro does carry a degree of reasonably smart features, there are some that leave it a little lacking compared to the competition. Music, for example, is not contained in the device but rather, gets directed from your smartphone so you can control basic playback functions. However, you'll need to have your smartphone close at hand for that to work, and not everyone wants to take a phone on a run for example.
Bluetooth 5 connectivity does also allow you to get notifications, like text and emails too, but this is basic and hardly worth bothering with. Notifications can be configured to buzz when they come in, letting you know that something's happening in the outside world if you're 'in the zone' or pushing yourself to reach the top of a very steep hill. That's the thing with the Amazfit T-Rex Pro; it's perfect as a no-fuss solution if you just want to plonk it on and go for a run, but if you're looking for more powerful features you'll need to spend more money.
Still, for the price point, there's quite a lot of value here nonetheless. Add in the support for four satellite systems including GPS, GLONASS, Beidou, Galileo, an accelerometer, gyroscope, and a geomagnetic sensor and the package is a pretty extensive one – we loved the compass during a weekend spent camping in the wilds, though the lack of GPS navigation is disappointing given the apparent potency of the GPS tracking mentioned above.
Amazfit T-Rex Pro review: data tracking
We've been impressed by the Zepp app previously and it works nicely in tandem with the T-Rex Pro. However, while it seems potent enough there are quite a lot of features that we've yet to fully exploit. Some aspects of the app are very straightforward to configure and use alongside the watch, but others require time and thought to set up effectively. We got a firmware update during testing and this seemed to help improve some of the accuracy aspects of the T-Rex Pro that didn't seem quite right beforehand.
Heart rate monitoring does a decent job of matching rivals while Zepp's Bio-Tracking 2 PPG optical sensor also delivers data on oxygen saturation. Naturally, the device also gives you up-to-the-minute overviews on weather, sunrise and sunset times, and so on, just as long as you keep it regularly paired with the app. While the data tracking seems good enough, we're yet to fully exploit the benefit of VO2 readings and SpO2 for that matter due to their lack of intuitive functionality.
If you're so inclined it's likely you'll need to spend rather more on a device that can deliver this information in a slightly more practical way. Nevertheless, the T-Rex Pro is great at giving you the lowdown on calories burned, cadence, average stride, and so on. We also love the little buzz it gives when you achieve specific goals. That said, the Personal Activity Intelligence (PAI) points that you acquire seem impressive, but the idea doesn't really go anywhere. However, it's a good feeling to have the app report your PAI has calculated that you have a fitness age 15 years less than the real thing. We'll take that.
Amazfit T-Rex Pro review: screen
The Amazfit T-Rex Pro has a tempered glass screen with a resolution of 360 x 360 pixels and, to be fair, it looks pretty good. The circular touchscreen works to good effect, although if you've got larger fingers then you may find it a little tricky to tap the exact icon you want in order to select a mode or setting. We found that the screen does need to be kept at its highest brightness setting to be readable in some scenarios, which will also impact the battery life.
If you start using an option like the torch function though you'll really start to reduce the length of the available charge, for obvious reasons. Out of the box, the Amazfit T-Rex Pro has an analog-effect watch face, which we found a little busy and hard to read. There are a few others though, with the funky digital editions working to better effect.
Amazfit T-Rex Pro sports watch review: battery life
Amazfit claims you can expect around 18 days of battery life from the T-Rex Pro, but in our time using it we found the sports watch unable to last that long. You can tweak the settings so that it uses less power, but if you're exercising every day and moving data from the watch to your phone and back then you'll notice the charge dropping off.
However, The Amazfit T-Rex Pro is still pretty good battery-wise, even if you're putting it through its paces on a regular basis and we got about a week out of it before having to recharge the battery. Charging is easy enough too, with a supplied magnetic cable that latches on to the back of the case allowing you to replenish the battery via a USB connection.
Amazfit T-Rex Pro review: verdict
If you're on the lookout for a fitness-focused sport watch that won't break the bank then the Amazfit T-Rex Pro is good value. But, if you're looking for a more recognizable brand name with added value then head in the direction of the Garmin Fenix 5. The Amazfit T-Rex Pro has got all of the features and functions you'd expect, while also covering a multitude of workout options, which therefore makes it suitable for any kind of fitness fan.
The design and build do feel a little on the budget side, but there's no doubting the credentials of the data it can collect. While this information can't be used on a practical level by interacting with your favorite sports apps, Amazfit's own Zepp app is useful for building up a picture of how you're doing on the fitness front.
The T-Rex Pro is bulky on the wrist though, so might not appeal to everyone on a purely aesthetic level. Equally, it's nailed together well enough to let you do everything from lengths in the swimming pool to treks in extreme heat or cold without letting you down. Overall, it's not bad at all for the money.
Also consider
Garmin Fenix 5
If you are looking for a little bit more from your next sports watch, the Garmin Fenix 5 offers advanced features such as trackback mode, which means you can track your route and reverse it to guide you back to where you began your activity, or it has better durability in water with an additional 50m depth rating, but you will find yourself burning a larger hole in the bank.
Suunto 5
Alternatively the Suunto 5 which will also cost you extra and has quite a chunky feel to it which runners might not be so keen on. But it has helpful features such as auto pause, which detects when you have stopped working out and doesn't start until you start going again - great for those who like precision.
Amazfit GTS 2e
If you're already a fan of the Amazfit brand and get on with the limitations of its supporting app software then the svelte Amazfit GTS 2e is a good bet with similar features and functions, plus the ability to look remarkably like the Apple Watch.
Get the Fit&Well Newsletter
Start your week with achievable workout ideas, health tips and wellbeing advice in your inbox.
Tech expert Rob Clymo covers multiple bases when it comes to both reviewing and staying in shape, tackling everything from cars and bikes to coffee machines, as well as the latest fitness kit. Keen cyclist Rob can often be found working out, usually by manhandling very large kitchen appliances in and out of the house for testing purposes – one notorious incident saw his plasterwork damaged by LG's weighty and steam-powered 'smart wardrobe', the Styler.