NordicTrack Select-A-Weight adjustable dumbbells review: A solid bit of kit for home-based workouts
Save space and build strength with the NordicTrack Select-A-Weight adjustable dumbbells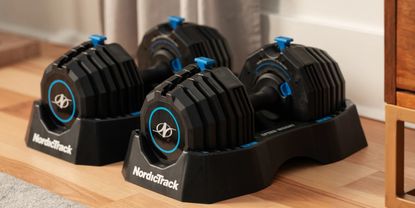 (Image credit: NordicTrack)
The NordicTrack Select-A-Weight adjustable dumbbells are a little pricey, but they do offer a great range of weights if you're trying to build strength slowly.
Reasons to buy
+

Saves space

+

Comes with 30-day iFit membership

+

Plenty of weight options
Reasons to avoid
-

Difficult to shift between weights

-

Expensive

-

Plastic parts

-

Bulky
The NordicTrack Select-A-Weight adjustable dumbbells offer a space-saving solution for at-home workouts. Whether your home gym is in a spare bedroom, garage, or, if you're like us, the living room, these dumbbells don't swallow up space like individual pairs would.
We tested out NordicTrack's 55lb/25kg model and found there was a lot to like, with their many positive attributes earning them a spot on our roundup of the best adjustable dumbbells. The octagonal plate shape means that the dumbbells won't roll away if you place them on the floor, you can add on weight in really small increments, and you'll also get a 30-day iFit family membership trial when you buy a pair.
However, they're not quite perfect. The weight changing mechanism is fiddly and we found that the handle got slightly slippery during workouts. Here are all our findings, after several weeks of testing.
NordicTrack Select-A-Weight adjustable dumbbells: Price
The 55lb/25kg NordicTrack Select-A-Weight adjustable dumbbells are $499 on the NordicTrack website. This is roughly in line with the price of other high-end adjustable dumbbells; for example, a digitally-adjustable dumbbell set from JaxJox costs $499, while a similar set from Flybird costs $519.99.
These dumbbells currently only available in the US, so UK residents might want to look elsewhere. We'd recommend the Flybird adjustable dumbbells, if you're searching for something similar.
NordicTrack Select-A-Weight adjustable dumbbells: Weight range
Each dumbbell comes with five 10lb/ 4.5kg plates. You can also add on smaller amounts using the disc selectors on the inside of the plates, which are visible in the above image. These smaller weights allow you to adjust the dumbbell by 2.5lb/ 1.1kg or 5lb/2.2kg. This means that each dumbbell can weigh up to 55lb/ 25kg in total – but there's a range of weights to play with before you hit this load.
NordicTrack is the only adjustable dumbbell set we've tested that lets you add on these smaller amounts. It's great to have this lighter option, as it allows you to build up strength at a slower, steady rate (ideal for progressive overload).
Other models require you to make much bigger leaps between weights. Flybird, for example, only allows you to increase weight in 11lb/5kg increments. This can be challenging if you're trying to work on your bicep curl, where the difference between 11lb and 22lb will feel huge.
NordicTrack Select-A-Weight adjustable dumbbells: Design
The design relies on plastic material a bit too much; the dial pin is plastic and the handles are also plastic. The handles also don't feature a knurled grip like metal handles normally do and can get slippery if sweat is involved in your workout. Being used to metal dumbbells, we found the plastic uncomfortable and even ended up with a small blister after a sweaty cardio and strength workout. They are relatively easy to clean though, because of this smooth surface. Plus, we can't fault the safety of the dumbbells – they always felt secure and sturdy in our hands.
We liked the octagonal shape of the plates, which prevents the bells from rolling when you need to put them down in between sets. It's preferable, in our opinion, to the round-design you find on other models.
They are big though, taking up 16.5 x 8-inches of space. This is less space than the 30 or so sets you'd need to replace this much weight, but you're going to notice these bells in your apartment if you're short on space.
NordicTrack Select-A-Weight adjustable dumbbells: Set-up and features
Each dumbbell has a rotating, plastic dial inside that lets you add the smaller 2.5lb/1kg or 5lb/2kg weight option, but to adjust between the larger plates you'll need to slot a pin into the device. It's straightforward, but a little time-consuming and fiddly if you're in the middle of a workout. Other models, like the Core Home Fitness adjustable dumbbells, allow you to switch weights with a simple flick of the wrist.
The biggest perk with purchasing a pair of NordicTrack Select-A-Weight adjustable dumbbells is that it comes with a 30-day iFit family membership, where you can make up to five different profiles. There's a vast video library on there, with plenty of classes incorporating the NordicTrack dumbbells as part of the workout.
Once your trial has expired, you'll need to pay if you want to keep using it – but you don't need to have access to the platform to use the dumbbells. There are three plans to choose from: a yearly family plan for $396, a monthly family plan for $39 and a yearly individual plan for $180.
Getting the NordicTrack dumbbells into our apartment proved to be a challenge. If you're walking up stairs or even bringing them in from the porch, you might want to have a helping hand around.
NordicTrack Select-A-Weight adjustable dumbbells: User reviews
The Select-A-Weight dumbbells have 4.4 out of five stars on Amazon, with 345 ratings submitted. Positive reviews praise the range of weights available on the model. They also state that the weights are easy to change over, so you can quickly make them a little heavier during a workout.
Negative reviews state that the dumbbells' weight-changing mechanism is quite fragile and that the plates slip off easily during workouts. This isn't an issue that we experience with the weights we used, but is a recurring complaint on Amazon.
NordicTrack Select-A-Weight adjustable dumbbells: Verdict
We liked working out with NordicTrack's adjustable dumbbells. The octagonal shape of the weights means they won't roll away and it's great that you get a free iFit membership trial. You'll also be hard pushed to find another design with quite as many weight settings.
But they still seem expensive to us, especially considering that the weight mechanism feels a little fiddly. If you really need a model with a plethora of weight settings, then this is a good option. But if you're happy increasing weights in 5lb increments go with the Core Home Fitness dumbbells, which are easier to adjust and cheaper too.
Alternatives: Also consider
We rank the Core Home Fitness adjustable dumbbells as the best currently available. They're relatively cheap, at just $399, and they come with a two year warranty. They also have an easy-to-operate weight-changing mechanism, which is useful if you're trying to increase your load quickly during a workout.
If you want something a big more high-tech, go with the recently released iSelect voice-controlled dumbbells from NordicTrack. According to the company, they are the first dumbbells to feature Alexa connectivity. The caveat is that you have to have an Amazon Alex-enabled device, but if you do, you can simply ask Alexa to change the weight for you.
Get the Fit&Well Newsletter
Start your week with achievable workout ideas, health tips and wellbeing advice in your inbox.
Brielle Diskin is a freelance journalist based in New York City. She covers health, fitness, wellness, and pop culture. Unable to start her day without a quick Pilates flow and a hot cup of water with lemon, she's very passionate about having a healthy body and mind. With her writing she hopes to provide readers with the tools and information they need to lead healthy lifestyles.

She enjoys long walks on the treadmill as much as she enjoys long hikes along the trails in Upstate New York. One of her favorite topics of discussion is food, particularly cooking. She works hard at creating nutritious and delicious recipes with a firm belief in meal planning over meal prepping.