Core Home Fitness adjustable dumbbells review
The Core Home Fitness adjustable dumbbells will change the way you workout.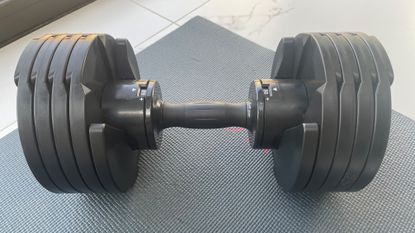 (Image credit: Vicki-Marie Cossar)
A great mid-range set of dumbbells with a speedy adjustment and an ergonomic design.
Reasons to buy
+

Incredibly easy to use

+

Comes with a two-year warranty
Reasons to avoid
-

Slightly cumbersome

-

Less premier craftsmanship than other designs
Get the Fit&Well Newsletter
Start your week with achievable workout ideas, health tips and wellbeing advice in your inbox.
Thank you for signing up to Fit And Well. You will receive a verification email shortly.
There was a problem. Please refresh the page and try again.
The Core Home Fitness adjustable dumbbell set is a mid-range option but it packs one of the best weight-changing mechanisms that we've tested. To adjust it, you simply rotate the weight in its cradle and listen out for a little click that lets you know you've hit the right weight.
Because of this, we actually rate it as the best adjustable dumbbell that you can get. Yes, there's a similar mechanism on the Flybird dumbbells, but that set costs an extra $130. Plus, this dumbbell packs in ten different weight options, while Flybird only offers five.
It's not quite perfect. The weight on the dumbbell goes up in 5lb/2.2kg increments, which is quite a big leap for those looking to gradually increase their strength through progressive overload, and we did find that it occasionally got stuck in the cradle and needed an extra tug. Nevertheless, we think the price and features packed in make it a brilliant option for at-home workouts.
Core Home Fitness adjustable dumbbells: Price
The Core Home Fitness adjustable dumbbell set is very reasonably priced at $399. For context, the premium Bowflex SelectTech 552i dumbbells retail for around $599, while a pair of basic steel-plate dumbbells will cost you around $100.
These are some of the cheapest dumbbells that we've tested, only bested by the slightly less expensive Ativafit ($379.) You'll also get free shipping if you order via the retailer's site and a two-year warranty.
Unfortunately, they will cost you a lot more if you ship them to the UK. At the moment, they're retailing for £328 on Amazon, but you'll have to pay steep delivery fees on top of that (over £200). As such, we'd recommend opting for the Flybird adjustable dumbbell set if you're a UK reader, as these are easier to track down there.
Core Home Fitness adjustable dumbbells: Weight range
This is the only set of dumbbells in the Core Home Fitness range, so they've gone for an average weight range suited to most people. Each dumbbell ranges from 5lb/2.2kg to 50lb/22.6kg, which makes them pretty versatile across most exercises.
They go up in increments of 5lb/2.2kg, which gives you a ten-piece dumbbell set in a single dumbbell. This is a bigger increment than some other models – NordicTrack, for example, allows you to add 2.5lb/1kg of weight. Having this bigger increment could force you to push a bit harder, but it could also feel frustrating if you're trying to build strength at a gentle rate.
Core Home Fitness adjustable dumbbells: Design
The all-black design of the weights looks pretty chic, but the more basic-looking silver aluminium cradle lets the side down. A matching black holder could have been more appealing here.
The plates are large and circular, but have a straight edge at one side to prevent them rolling away. This means you get the best of both worlds; the even weight distribution of a circular plate accompanied by a non-rollable shape. This also makes them feel more sturdy and safe when incorporating them into movements such as burpees and press ups - ideal if you're after a comprehensive tricep and chest workout.
They feel slightly flimsier than other premium dumbbells, but they are nevertheless smart and compact, measuring L22in/56cm x W33.5in/85cm x H31.9in/81cm including the cradle. The contoured hand-hold feels incredibly comfortable and is fully coated with rubber to prevent slippage.
Core Home Fitness adjustable dumbbells: Set-up and features
The initial set-up is simple enough. The smaller buffer weight plates both sit in the innermost part of the cradle with the ridges facing inwards, while the bigger weight plates slot in behind it with the ridges facing outwards. The handle then slots in the middle. Check the box as a reference if you're unsure, as these didn't come with an instruction manual.
Changing weight using the TwistLock technology means making a simple rotation to the right or left with the hand-hold – a click will tell you when it's complete. There's no loading and unloading of plates, no fiddly pins and no complicated digital formats, which is great.
The dumbbells need a slight tug to lift them out of the cradle and you just pop them back into the centre of the cradle and rotate for a new weight. It's that simple, and takes just seconds to change weight during a workout when you want to switch between upper and body exercises.
In comparison to other models in this category (such as the Bowflex 552i and Ativafit), the size of the weight plates is a little larger. This means that moves such as a sumo squat or tricep extension, when using both dumbbells, will need a bit of angle preparation before commencing.
On the flip side the weight plates are held at the end of the barbell, which means that executing a sumo with a single dumbbell by holding the weight plate is much easier, especially when using the heavier end of the scale.
The plates fit tightly together which means they make very little, if any, noise – except for a slight rattle with more vigorous moves such as a dumbbell snatch. We did find that at 50lb/22.6kg the dumbbell got stuck in the cradle and we needed to put our foot on the cradle to lever it out.
For an extra $179.99 you can also buy the adjustable dumbbell stand to go with these. This rack offers much safer and easier lifting as it stands at around hip height.
The dumbbells also come with a two-year warranty which is a bonus. However they lack any technical extras such as being able to sync up with an app (like the Bowflex 552i can) or offering online classes (which you get with a purchase of the Nordictrack dumbbells).
Core Home Fitness adjustable dumbbells: Verdict
All-in-all these are a great accessory to have at home, and we were really surprised with the ease at which they adjusted. Thanks to the variety, we have used them for everything from cardio classes (using smaller weights to get our heart rate up) to strength training (where we've dabbled with the larger 50lb/22.6kg for deadlifts).
They're not cheap, but they're not as expensive as some of the other premium options and when you work out the cost per dumbbell plate – you get a ten-piece dumbbell set in a single dumbbell – they're a no-brainer.
They might be a little more cumbersome compared to some of the other sets on the market, but they offer by far the faster adjustment.
Core Home Fitness adjustable dumbbells: User reviews
The dumbbells have 4.6 out of five stars on Amazon. Positive reviews praise the weight-changing mechanism, which is easy to use, along with the sturdy design of the base. However, several negative reviews state that the dumbbells are flimsy and that the plates slip out from the correct placement. This wasn't an issue we had with the dumbbells during our testing period.
Core Home Fitness adjustable dumbbells: Alternatives
If you've got a little bit more cash to splash you might want to look into the Bowflex SelectTech 552i, which are dubbed the "bad boys" of adjustable weights. We found the adjustable mechanism more fiddly – although you do get more weight options (15 sets, compared to Core Home Fitness' 10-sets).
If you're looking for something slightly cheaper, the 55lbs/25kg Ativafit adjustable dumbbells have a wider weight range with eight 5.5lb/2.5kg weight plates and two 2.8lb/1.25kg weight plates, allowing for more variation.
Get the Fit&Well Newsletter
Start your week with achievable workout ideas, health tips and wellbeing advice in your inbox.
Vicki-Marie Cossar is a UK-based freelance journalist who has more than 20 years experience writing across the topics of health, fitness, fashion, beauty and wellbeing. She was formerly responsible for the Life & Style section of Metro's features department (now called Trends) and currently writes Metro's weekly Wellbeing supplement.