Wattbike Atom review: take your indoor cycling to another level
The Wattbike Atom is a high-end indoor trainer that will delight cyclists and non-cyclists alike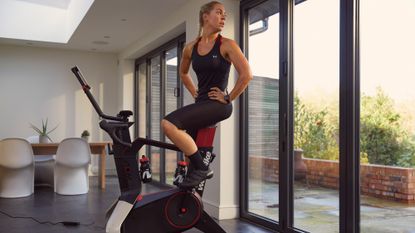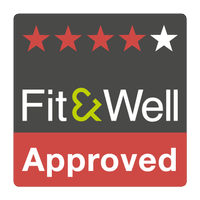 (Image credit: Wattbike)
The Wattbike Atom provides an excellent, realistic cycling experience and it has a great range of resistance options, but a lack of screen lets it down a little.
Reasons to buy
+

Feels like real road cycling

+

No need to attach a bike to a turbo trainer

+

Connects seamlessly to virtual platforms

+

A wide range of automatic resistance
Reasons to avoid
-

Price may put some off

-

It does not include access to instructors
Get the Fit&Well Newsletter
Start your week with achievable workout ideas, health tips and wellbeing advice in your inbox.
Thank you for signing up to Fit And Well. You will receive a verification email shortly.
There was a problem. Please refresh the page and try again.
The Wattbike Atom is from the brand that has been producing stationary bikes for more than 20 years, and earlier this year released the Atom Smart Bike, the company's most technologically advanced model (which made our list of the best exercise bikes).
With the rise in indoor exercise during lockdown, many of us turned to indoor trainers in order to boost our fitness from the comfort of our own living room. That's why we put the Wattbike Atom to the test to see if it's worth your money.
The Wattbike Atom sits just below the Peloton's price bracket and offers advanced training features that road cyclists and mountain bikers will appreciate and make use of.
It works equally well for those new to cycling looking to recreate a realistic cycling experience in their own home. Unlike Peloton, it does not offer live classes, but you can connect to Wattbike Hub to access training plans and workouts, or hook the Atom up to a range of third-party apps including Zwift, which you can use to train and ride.
So how does the Wattbike Atom fare under testing? Read on to find out.
Wattbike Atom: price and features
The Wattbike Atom Smart Bike is currently available for $2,599/ £1,999. You also have the option of leasing it on a monthly basis for $109/ £52 a month.
For the money, you get the bike, which comes set up to ride. You also get flat pedals with toe cages, a tri-bar and pads, a set of Allen keys, as well as a spanner to adjust the bike.
Wattbike Atom: set-up
Delivery is included in the price, and the Atom comes ready to ride. Be warned, weighing 88.1 lbs/ 40kg, it is heavy: it can take two people to move it to your desired location in the house, although, there are a set of small wheels at the front which means you can push it across floors.
The bike itself does not come with a built-in screen – you'll need to hook a computer, tablet or phone up to get the full experience from the bike. However, it does have the capacity to hold a tablet at the top of the aero bars, so you can train with a screen at eye level. The Atom is mains powered so will need to be near a power socket.
In terms of adjustability, there are multiple parts you can move to ensure the bike is the perfect fit. Saddle and handlebar heights can go up and down with the simple twist of a lever, and the saddle and handlebars slide forward and backward via an Allen key. Wattbike has plenty of information about how to set up your bike correctly – and it's well worth spending time ensuring you have the fit right as this will make for a more comfortable and efficient ride.
Wattbike Atom: design
The Wattbike Atom is designed to look and feel like you're riding a road bike. With drop handles and a set of tri bars rising up from the handlebars, if you're a cyclist you will appreciate the ability to set up the bike to the same riding position as your road bike.
The Atom is stylishly designed in black and red, is easy to wipe down after a sweaty workout, and has a sleek design. It does not take up much space – with a footprint of only 124cm x 50cm, so you can slot it in a small place, much smaller than if you have a bike attached to a turbo trainer.
It's sturdy, too. During testing, we found there's no rocking when you are pushing yourself hard on the bike or standing up on a tough climb. It feels like the real thing, which was the intention of the designers.
It comes with flat pedals, and of course, you can fit your own clipless pedals if you prefer. It also features two water bottle holders on the frame, so you have enough room to store plenty of much-needed liquid for longer rides.
Wattbike Atom: performance
Connection to third-party sensors via ANT+, Bluetooth, or FTMS is pain-free. I hooked up virtual training platform Zwift, and the Atom connected instantly, along with finding my HR belt and Garmin watch.
Once you are set up and ready to ride, you'll find the Atom provides as realistic a riding performance as is possible on a static bike. This is largely due to the electromagnetic resistance system, which can alter the resistance of the bike quickly and seamlessly.
The bike features 22 gears, which you operate via two buttons on the handlebars. This means that while training in Zwift, you can easily change up and down gears when you ride up a hill. One thing we found though was that sometimes the rubber casing around the gears slipped a little, making it harder to press the buttons, making gear changing slightly temperamental.
The Atom is relatively quiet when you are using it – there are certainly indoor trainers that produce more noise out there.
Wattbike Atom: data and connectivity
The Wattbike Atom comes with access to the Wattbike Hub training app. This provides a range of training plans, single workouts, and fitness tests. Connection to the app was quick and easy, all you need to do is sign up for a Wattbike Hub account. What's great about this app is the amount of analysis it provides post-workout – it gives info on leg balance (so you can try to even it out if you use one leg more than the other), revolution data, and information on your power output. The app also provides options to do FTP tests – FTP is your functional threshold power (aka how much power you can sustain for an hour), and once you have a record of it you can use that as a base setting on training apps.
The main platform most users will use to train on is Zwift. This virtual training platform has seen a huge rise in popularity through the pandemic, with people drawn to the opportunity to ride in a virtual world alongside other users.
Once there, you can ride with friends, race against strangers across the world or use the app's many training plans. We found using Zwift on the Atom straightforward and with no issues – the resistance changed automatically according to the elevation we were riding in the app. It made for an immersive and exhilarating workout that felt akin to riding on the road.
It also connects to other training platforms including SufferFest and TrainerRoad.
Wattbike Atom: verdict
If you consider yourself a serious cyclist looking to improve your indoor training over winter, the Wattbike Atom Smart Bike will serve you well. It also works well for novices due to the minimal design, slick integration with third-party apps and smooth electromagnetic resistance.
Also consider
Peloton Bike (Original)
The Peloton Original is designed for those who enjoy a group workout and someone in your face shouting instructions and motivation. The first-generation bike costs $1,495 / £1,350, with access to the spin classes coming in at $12.99/ £12.99 a month.
Wahoo Kickr Bike
For those who take their cycling seriously, this indoor bike is designed to replicate outdoor cycling as closely as possible. The Kickr Smartbike is a top-end piece of kit, and the price of $3,499.99/ £2,999 reflects this. However, for that money, you'll get optimized flywheel technology that gives a realistic ride feel and even a front end that moves upwards when you're climbing hills.
Get the Fit&Well Newsletter
Start your week with achievable workout ideas, health tips and wellbeing advice in your inbox.
Howard is a freelance health and fitness journalist and copywriter. He has written for publications including ShortList, Runner's World, Trail Running, Women's Running, Red Bulletin, Wareable and Cycling Weekly. He enjoys nothing more than lacing up his trail shoes and heading out to explore new trails. He's run ultramarathons everywhere from the French Alps and Canadian mountains to the Welsh coast and Peak District. When not running, he's usually found hitting his local MTB singletrack trails or on a quest to find the country's best cinnamon bun.