Best running headphones 2021: top earphones from Beats, Jaybird, and more
These are the best running headphones right now, at the best prices. Your workout playlist just got better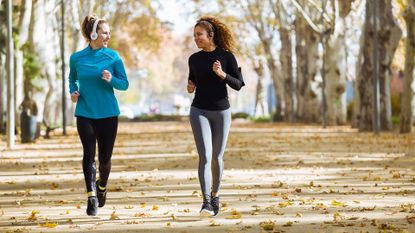 (Image credit: Getty )
Having a pair of the best workout earbuds can revolutionize your run. The top running earbuds from the likes of Bose, Beats, Jaybird, Jabra and more all come with a range of different options, and it's a minefield for anyone looking to upgrade their audio experience.
That's where we come in. We've hand-picked some of the best running headphones, from noise-canceling options to true wireless and cheaper one-cable headphones. The best running headphones will be different for each person depending on style preference, design, and how much you want to spend as well. However, if you're opting for wireless running headphones, battery life and charging speed are absolutely key metrics to take a look at.
The options we've included are designed to sit in your ears without causing you discomfort, but if in-ear isn't your thing, consider some bone-conducting headphones instead as these sit over your ears but don't touch them.
Of course, aside from design and comfort, the actual sound quality is really what sets the best running headphones apart from the rest, and you'll be able to find out which models are the front runners below. So, whatever your budget or style preference, there'll be an option for you. Alternatively, check out our best running earbuds guide or monitor your fitness with the best running watch.
The best running headphones to buy right now
The best true wireless running headphones
Specifications
Features: Hands-free 'Hey Siri' voice controls, Apple H1 chip, Bluetooth 5.0
Battery life: 9 hours (24 hours with charging case)
Water resistance: IPX4
Weight: 20.3g
Reasons to buy
+
Great sound
+
Impressive battery life
+
Unshakeable fit
Thanks to a near-perfect execution, which cater to super specific needs of so many runners and fitness enthusiasts alike, PowerBeats are a giant leap forward for the entire Beats by Dre workout range. The still-excellent PowerBeats 3 have been built upon with adjustable ear hooks that offer additional security for a truly wireless run. Battery life is exceptionally solid at 9-hours, while just five minutes in the charging case buys you two hours extra music.
Beyond the great sound, there's a number of little quirks that make these earphones so special. For example, of you like to run with a friend or require some extra situational awareness, you can wear just one bud. There's also an AutoPlay feature that will commence playback as soon as you place the bud in your ear.
If you have an iPhone, connectivity is rapid through the inclusion of the same H1 chip in Apple's AirPods and there are also hands-free "Hey Siri" voice commands for music control, message playback and so much more. The IPX4 water and sweat resistance aren't as high-end as some rival earphones. We have found they can deal with sweat, no problem but it's possible that very heavy rain might be an issue.
The best cabled wireless running headphones
Specifications
Features: In-line remote, durable rope cable, in-ear or over-ear fit, custom EQ, Bluetooth 5.0
Battery life: 14 hours
Water resistance: IPX7
Weight: 20g without ear tip
Reasons to buy
+
Great weather resistance
+
Long battery life
+
Sound mighty fine
These are Jaybird's best one-cable running headphones and the go-to solution for distance runners for whom terrain and weather are of little concern. These rugged one-cable earphones can handle it all. 14 hours of battery life from one charge headlines (a five-minute blast will get you a further two hours) and IPX7 water and sweat resistance will ensure they can handle a deluge on the longest of trails.
If the breeze is at your tail or hindering your progress the drawstring and customisable wing tips will keep the Jaybird Tarah Pro exactly where they should be. Sound quality is incredibly natural and can be customised using an EQ using the companion app, while there's also a built-in microphone that can handle calls if you like to chat while enjoying your daily jog.
3. Adidas RPT-01
The best outdoor over-ear running headphones
Specifications
Features: Washable fabric covering, Bluetooth 5.0
Battery life: 40 hours
Water resistance: IPX4
Weight: 209g
Reasons to buy
+
Sweatproof and washable
+
Excellent battery life
+
Good noise isolation
Reasons to avoid
-
That fabric can be a little scratchy
It's not easy to find a pair of great-sounding, durable over-ear headphones that offer enough lightweight comfort to make them bearable on long runs. However, the Adidas RPT-01 manages to get the job done.
The largely fabric-covered (nylon) design is a bit of an acquired taste, and while its texture helps it grip and stay in place, it can also feel rather overly snug, and scratchy. It deals with sweat and rain showers better than most over-ear rivals, thanks to IPX4 certification, while the ear covers and headband are removable and washable.
Battery life is a headline feature at an estimated 40-hours. In terms of sound quality, it is good for the price with plenty of bass, but don't expect a particularly wide soundscape. The suitability for running is augmented by a 'control jog' which enables wearers to play/pause and skip tracks with an onboard button rather than pawing at their phones.
The best bone-conducting running headphones
Specifications
Features: Moisture detection alert while charging, noise cancelling mics, Bluetooth 5.0
Battery life: 8 hours
Water resistance: IP67
Weight: 26g
Reasons to buy
+
Leaves your ears unblocked
+
Excellent water resistance
Reasons to avoid
-
Bone conduction isn't for everyone
Bone-conducting earphones are great for people running in busy/noisy environments who want to be able to listen to music and their surroundings. They can also be a godsend for those who just can't get a good fit with in-ear buds.
AfterShokz leads the pack here and the AeroPex is a great option for runners, cyclists and others. Bone conducting headphones do come with some sound quality sacrifices and the vibrations can feel distracting, so it's advisable to try before you buy. AfterShokz is clearly confident you'll warm to AeroPex, however: it offers a 45-day money-back guarantee.
They're IP67 rated for water and sweat resistance meaning they can be submerged for 30 minutes at a time in 1m of water. Not that you'll want to, but it's reassuring to know they can handle the most torrential of downpours. Add 8 hours of battery life you have a winner.
5. Plantronics Backbeat 500 Fit
Best budget over-ear workout headphones
Specifications
Features: Bluetooth 4.1
Battery life: 18 hours
Water resistance: 'P2i water and sweat repellent coating'
Weight: 318g
Reasons to buy
+
Gym-friendly
+
Rock solid Bluetooth connection
Reasons to avoid
-
Audio quality befits the low price
Running is a sweaty endeavour – at least it should be – and we are not sure the Plantronics Backbeat 500 Fit would stand up to too much of it. However for more sedate jogs and certain gym activities this is a nifty – and cheap – option.
These over-ear headphones offer a P2i-rated water-repellent coating that'll keep the innards safe in a rain or sweat shower. Runners will enjoy the relatively snug fit, as they won't be dislodged easily, but it can turn to discomfort over longer distances. The 18-hour battery life will ensure plenty of trips to the gym between charges and there's a 3.5mm input as well, if the battery does run out.
Sound quality from the 40mm drivers is good for the price, but don't expect noise cancellation, epic depth or to weep tears of joy at their musical beauty. We do love the rock solid Bluetooth connectivity, however.
6. Bose Sport Open Earbuds
The best running heaphones for sound quality
Specifications
Features: Bluetooth 5.1
Battery life: 8 hours
Water resistance: IPX4
Weight: 13.8g per bud
Reasons to buy
+
Keeps ear canal clear
+
Great Bose sound
Reasons to avoid
-
No wireless charging
-
Fit won't be comfortable for everyone
Rather than using bone conducting tech like the Aftershokz, the Bose Sport Open Earbuds keep the ear canal open by resting in the top portion of the ear, held in place by an ear hook. The buds use directional sound to ensure the listening experience is a little more natural. You can have a chat with a running mate or hear the traffic around you while enjoying great sounds - something that Bose calls OpenAudio. You can hear the world around you along with your soothing long-run playlist. There's IPX4 sweat and water resistance to protect you from the elements. Unlike others in our list, there's no battery in the charging case for on-the-go replenishment, but that does mean a lighter, more compact case. You will get eight hours from a single charge or three hours from a 30 minute blast.
7. Bang & Olufsen Beoplay Sport E8
The best running headphones for a comfortable fit
Specifications
Features: Bluetooth 5.1, wireless charging of case
Battery life: 7 hours (30 with charging case)
Water resistance: IP57
Weight: 12.8g per pair
Reasons to buy
+
Great sound range
+
Secure fit and smart design
For the longest time, sound quality wasn't the biggest priority for running headphones. Sweat and weather resistance, rock solid connectivity, durability, and a comfortable, secure fit have taken precedence over sound and, in some cases, style. But who says you can't have the lot? The Bang & Olufsen Beoplay Sport E8 true wireless earbuds deliver on that promise, albeit for a high price tag. They've got style in droves, won't drop out mid-run, are featherlight, and promise a really detailed soundscape. They're waterproof and you'll get seven hours from a single charge and up to 30 thanks to the charging case. There's passive noise cancellation for those treadmill runs too. If the audiophile in you won't be sacrificed even when you're sucking on air during a run, then these might be the buds for you.
How to choose the best running headphones for you
The days of cables flapping around, snagging on random branches, and dragging out your running headphones are over. Guess what? We're never going back. There are too many great, dedicated options offering solid wireless connectivity for us to consider wiring-up our runs ever again.
However, beyond that, there are a number of factors that go into choosing the best running headphones for you. The distances you undertake may require you to prioritize battery life, while those taking on tough terrain in varying conditions will require security and weather resistance.
Here are some pointers on what to look out for.
Wireless, true wireless, or over-ear running headphones?
The trend is true wireless. Earphones and buds like the PowerBeats Pro offer wireless connectivity and eschew a connecting cable. These buds combine nine hours of battery life with great connectivity, smart features, and a secure fit.
Meanwhile, single cable options like the rugged Jaybird Tarah Pro provide a neckband and customizable wing tips to ensure a rock-solid fit, while resisting anything the elements can through at you.
Another option is bone-conducting headphones, ideal for urban running as they keep the ear canal open to ambient noise. You will sacrifice immersive sound, but they could keep you safer.
Finally, over-ear headphones are the least popular option for runners, but if you're looking for a single pair of cardio headphones to complement your gym-based workouts there are good, sweat-resistant options here too.
If you're specifically looking for buds, then you'll find more options over in our guide to the best workout earbuds.
Battery life
Fair play to wired headphones: battery life was never a concern. No one wants to worry about outrunning their headphones, and so our selection promises a minimum of five hours battery life. However, for greater distances or time away from a power source there are much better options. PowerBeats Pro offers nine hours of battery life, but up to 24 via a charging case. For epic runs, the Jaybird Tarah Pro will give you up to 15 hours of uninterrupted listening.
Water and sweat resistance
Running in the rain can be joyful and invigorating… until your headphones short out at the first sign of drizzle. All-weather, all-terrain runners need likeminded headphones with at least IPX4 rated water and sweat resistance. Some of our selections offer IPX7 certifications, meaning they can survive being submerged in a meter of water for 30 minutes. If you tend to run in the gym, these ratings are less of a concern, but we'd still recommend headphones guaranteeing sweat resistance.
Chris is a freelance contributor to Fit&Well. He's from Shropshire, England originally, but currently lives in the United States near Miami, FL. Chris has written about health and fitness technology for a decade, including as an in-depth feature writer and product reviewer for Wareable.com, tackling emerging wearable tech trends in the sports and fitness industries. When not on the beat for Fit&Well, Chris writes about technology for Trusted Reviews and WIRED, sports for The Guardian and just about everything else for Shortlist, Pellicle, Digital Spy and a selection of other publications. He also pens books on technology use for Flametree Publishing.
Chris stays fit through hot yoga (studio not always necessary in the Florida humidity) and hopes to complete teacher training in 2021. He enjoys cycling, tennis, running and, ever-more-infrequently, playing football (or soccer, to his American friends). Those old injuries he 'ran off' as a teenager have finally caught up.