AfterShokz Aeropex review: excellent headphones for runners and cyclists
The bone-conducting AfterShokz Aeropex headphones are ideal for athletes who want to hear their surroundings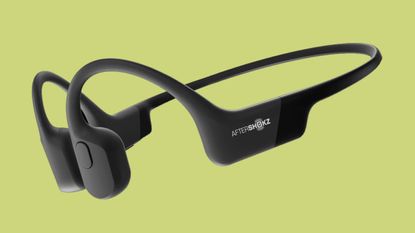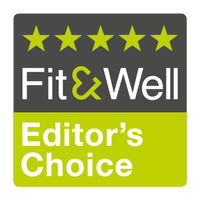 (Image credit: AfterShokz)
The AfterShokz Aeropex are the ideal headphones for runners and cyclists who want to listen to music while also hearing the world around them. Their lightweight, sweatproof open-ear design does not compromise on sound quality, meaning you can pump up the volume while still staying aware of your surroundings.
Reasons to buy
+

Open-ear design

+

Lightweight and comfortable fit

+

High-quality sound
Reasons to avoid
-

You prefer in-ear sound quality with no sound leakage

-

You mainly run along busy main roads

-

You want to swim in them
Hello and welcome to my review of the AfterShokz Aeropex headphones for Fit&Well.
If you're a runner, cyclist or gym goer, you'll know one thing – not all headphones are built the same. Some fall out when you turn your head which is not what you want when you are 6km into a 10km training run. Others block out all surrounding noise – which is fine if you want to get lost in your music, but not so great if you want to be aware of your surroundings and any dangers. Then there are ones that look good but sound like you're listening to next door's radio through the wall.
In the Aeropex, AfterShokz has engineered a product that provides a solution to all three problems in one neat, stylish package - and more than deserves a spot on Fit&Well's list of the best workout earbuds. You may well have seen other runners wearing a pair - they look like something out of a Star Trek movie. The brand's trademark band hangs above the ear and runs round the back of your head to the other ear.
But the big selling point is that AfterShokz headphones don't sit inside the ear canal; instead they rest on the upper bone of your jaw. The sound of your favorite tunes then reaches your ear canal via vibrations on your upper cheek bones. This process is known as bone conduction, and it's how certain wildlife such as snakes and baleen whales hear sounds.
The big benefit to this way of listening to music or podcasts is that they leave your ears open to hear what's around you – be it traffic, wildlife, other pedestrians or hazards you might otherwise be unaware of.
The other plus point to bone conduction headphones is that some running races that ban headphones will let you race in open-ear ones as they allow you to hear directions from marshals and other runners.
They are available in four colorways – cosmic black, blue eclipse, lunar grey and the one I tested, solar red. I wore them during multiple runs and bike rides of varying distances and intensity. They come in one size and aren't adjustable, but they fit any size head as they simply hook over the top of your ears.
Let's dive into my full AfterShokz Aeropex review below, where I'll outline why they scored five stars in my testing.
AfterShokz Aeropex: price and features
The AfterShokz Aeropex are priced $159.95/£149.95. They come with a bag to store them in, a pair of USB charging cables and a pair of earplugs for times when you truly want to listen to get lost in music.
The main selling point for these headphones - and indeed the entire AfterShokz range - is the open-ear design featuring bone-conduction technology, which enables users to hear background noise whilst also providing top quality audio.
They are waterproof to IP67 standard, making them able to handle your sweatiest workouts, heavy rain and even a dip in water of up to 30 minutes. However, it's not recommended that you swim in them (if you want music while you swim, the AfterShokz XTrainerz headphones are fully waterproof with an IP68 rating).
The AfterShokz Aeropex also provide eight hours of sound and are also cable-less, connecting to your phone wirelessly via Bluetooth.
AfterShokz Aeropex: sound quality
The sound from the Aeropex is consistently impressive. Before trying a pair of bone conduction headphones you might assume that because the sound is not piped directly into your ear it will not be tinny in quality and not go to a high volume.
Both of these assumptions are wrong. I also own a pair of AfterShokz Air headphones, which provide a useful comparison point to the Aeropex. The music playing from the Air often gets drowned out by the sound of traffic when I'm running along busy roads, but, happily, this does not occur with the Aeropex. AfterShokz says the sound is "the widest dynamic sound bone conduction can offer" – and that claim holds up, especially with so few other bone conduction headphones to compare them to.
The Aeropex feature PremiumPitch 2.0+ Stereo, which really boots the sound, making it punchy without you feeling the vibrations on your cheek. It's almost like the sound is coming from in-ear buds, which is remarkable when you think they're resting on your cheek.
Sound is louder and crisper than the Air at full volume, while also leaving you able to hear your surroundings. Once you have tried this way of listening to music while exercising, you'll find it difficult to go back to in-ear headphones.
AfterShokz Aeropex: design and comfort
The Aeropex hung over my ears comfortably, and I did not notice them there at all while exercising. They didn't bounce while I was running and they sat comfortably on my upper-jaw (even as the owner of a beard). This is no doubt in party due to the titanium frame that AfterShokz claims ensures a secure fit.
One thing that might surprise you is the low weight of these headphones. At 26g, they don't weigh much at all, especially when compared to the brand's comparably heavier Air headphones.
However, as a runner who often wears sunglasses while running, one criticism is that the headphones can become a little uncomfortable at the top of your ears when sunglasses sit on top of them.
The design of the headphones can also cause problems when performing exercises where your head rests on the floor, for example when doing dead bugs or calf bridges - the only way to combat this is to take them off.
AfterShokz Aeropex: battery life
The makers claim that the AfterHokz Aeropex will give you eight hours of battery life from a single charge, and my testing found nothing to suggest this isn't the case. When you switch them on, 'Audrey' will tell you the level of battery life remaining ( high, medium or low) so you can charge as and when required.
Charging is via the included USB cable. A full charge takes just two hours. One thing to note is that you are advised not to charge the headphones straight after a sweaty workout/workout in the rain, as water on the unit's USB connecting port can cause it to short circuit.
AfterShokz Aeropex: pairing
The Aeropex will pair with most Bluetooth devices, and I had no problems pairing with my iPhone 11. They connected instantly without any faff, which can't be said for all Bluetooth headphones.
They also come with multipoint pairing, a handy feature if you want to pair your headphones with more than one device.
You can also take calls on the headphones as they contain a pair of mics, so if you receive an important call while out on a run you can take it without breaking stride.
AfterShokz Aeropex: verdict
As far as bone-conduction headphones go, the AfterShokz Aeropex lead the charge, and I was thoroughly impressed with them throughout my testing. Their low weight, superior sound and lack of vibration on your upper jaw bone meant I didn't notice I was wearing them, and my ears were left clear to hear background noise such as traffic whilst out on runs. Plus, their waterproof rating means you can fling a ton of sweat at them and they'll still pump out your favorite tunes. As such, they come highly recommended for fellow runners or cyclists looking for their next pair of headphones.
Also consider
Jaybird Vista 2
We've long been fans of the Jaybird Vista earbud. The latest model - the Vista 2 - is built for sport and features cutting-edge Surround Sense with ANC, which cleverly means you can turn up the ambient noise around you when running through cities. They also feature a 24-hour battery life, with the buds holding eight hours and then recharging in the case.
Jabra Elite Active 75t
Another pair of in-ear headphones designed for athletes, the Jabra Elite Active 75t buds fit tightly in the ear canal with no risk of them falling out, making them perfect for working out. They're sweatproof to a IP57 rating, lightweight and feature Active Noise Cancellation so you can dial up the surrounding noise when you need to.
Vidonn F3
If you're looking for budget bone-conduction headphones the Vidonn F3 fit the bill, ringing in at under $50/£50. They are sweatproof so good for wearing while exercising, but - as you might expect for the price - they're not the lightest on the market, and the sound quality is prone to leakage.
Howard is a freelance health and fitness journalist and copywriter. He has written for publications including ShortList, Runner's World, Trail Running, Women's Running, Red Bulletin, Wareable and Cycling Weekly. He enjoys nothing more than lacing up his trail shoes and heading out to explore new trails. He's run ultramarathons everywhere from the French Alps and Canadian mountains to the Welsh coast and Peak District. When not running, he's usually found hitting his local MTB singletrack trails or on a quest to find the country's best cinnamon bun.